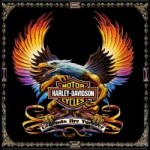 Sell your Harley-Davidson? Yeah, right! But if, heaven forbid, you run into some difficulty and have to sell, eBay is great for connecting people who want to sell their Harley-Davidson motorcycles with interested buyers. If you're in the market for a Harley-Davidson, you can find awesome deals on your favourite bike. What could be cooler than that? But be careful — like most things in life, you find the real good deals and the outright scam artists. If you follow some commonsense rules about shopping for your new Harley-Davidson, you can separate the gold from the dross in the online selling world.
Some Tips for Buying On eBay
Ask around and you can usually find both good stories and horror stories about buying any high priced item on eBay. But, if you follow some basic tips, you can usually get a good deal.
Shop around. The value of a bike can vary from region to region. The search feature on eBay is very handy for finding the particular make and model you're looking for. If you can line up several listings, you can use the tab feature on your browser to compare them side-by-side.
Pay attention to the seller's ratings. Anyone who is selling their bike on eBay is usually an experienced eBay seller. Check out the feedback other buyers have left, especially the recent feedback. If something sounds too good to be true, it probably is.
Ask a question. If you're not seeing the information you want in the description, ask the seller and see what he says. Ask for more close-up pictures of the bike or about possible shipping costs if you don't live close to the bike's location. If he's serious about selling the bike, he'll provide you with the information you ask for.
Get it inspected. A mechanic can alert you to any hidden problems with the bike. Also, make sure the title is clean; a law-abiding owner won't try to hedge about this. Run the VIN number to make sure it's not stolen.
Decide on delivery method. Allied Van Lines and Federal Motorcycle Shipping can ship motorcycles and insure them against damage in transit. Or you may prefer to pick it up.
Didn't get your bike? File a complaint. There are cheats who will take your money and disappear. Paypal has a pretty good dispute resolution service and, if somebody just flat out stole your money, you should file a report with the proper authorities.
Choosing Your Motorcycle
View the bikes in person if possible. That can limit your scope to bikes within driving distance of you but will be helpful for knowing what kind of shape it's in. Be sure to look for damage to wheels, exhaust, engine and the steering mechanism. Make a test of the bike's ability to start while cold. Check to see if it has been repainted recently and look for signs that it might have been in a wreck. Take it for a test drive to see how it operates.
Ask questions about the bike's history. Is the seller the second or third owner? Has it been raced or seen heavy use in places that can be hard on bikes? Does it have some after-market enhancements? What kind of work has been done on it recently? Pay attention to what the seller tells you and how it jibes with the actual bike's condition and appearance.
Negotiate. Like with most high-priced items, many sellers should be willing to negotiate on price. Be sure to find some recent price guides and get an idea on what a particular bike model normally sells for.
Harley-Davidson Road King
Unfortunaly, this xml/rss feed does not work correctly...
Harley Davidson Electra Glide
Unfortunaly, this xml/rss feed does not work correctly...
Harley Davidson Ultra Classic
Unfortunaly, this xml/rss feed does not work correctly...