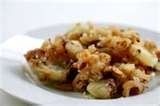 If you've ever been at a sit-down breakfast restaurant, you've likely seen some variation of "Home Fries" on the menu. Maybe you've even tried them and/or got them drenched with sausage gravy. Sure, they're total grease bombs, but very few Americans can honestly tell you that they haven't enjoyed a plateful at least once in their lifetimes. Now you want to make your own. Fortunately, they're not too difficult as long as you keep an eye on them so they don't burn. Home fries aren't just for breakfast, either. You can make them about any time of day when you want to take a break from dieting.
My Personal Home Fries Recipe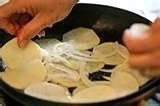 Ingredients
Large skillet
Olive oil
4-5 medium potatoes
Salt
Pepper
Chives
1 green pepper diced
1 medium onion diced
Shredded Cheddar Cheese (optional)
Instructions
Cut potatoes into thin slices.
Turn burner to medium. Add olive oil to skillet, just enough to cover bottom; heat.
Layer potatoes to cover bottom; add any extra on top. Sprinkle with salt and pepper to taste. Add chives.
Add the peppers and onions if desired. Cook, stirring often, until potatoes are just starting to brown on both sides. If it starts to stick, add more olive oil.
Sprinkle Cheddar cheese on top if desired; cover with lid and cook until cheese is melted. Serve promptly. This makes enough for 4-5 generous helpings.
Stock Up On What You'll Need
Viva La Variety!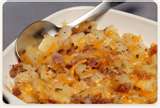 I like to fry a little turkey bacon in the skillet before making the potatoes to add a bit of flavor. Turkey bacon produces less grease than pork bacon and is also good crumbled up and stirred into the potatoes. For a more garlicky flavor, I crush a clove of garlic and add it with the salt and pepper.
For ranch home fries, you can stir in a package of Hidden Valley Ranch dry dressing mix along with the salt, pepper, and chives.
For spicier home fries, a little chili powder is good.
My favorite: For a flavorful and colorful version, try making it with sweet potatoes instead of regular potatoes. You have to watch it more carefully, though, because sweet potatoes burn more easily.
Fun With Your Potatoes!
While I normally don't advocate playing with your food, this is one way to make it fun. All these products from Zazzle make fun gifts for the potato lover in your family.