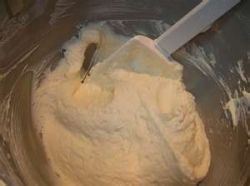 Icing comes in quite a few varieties. You have meringue for pies, buttercream icing for cakes, and flat icing for pastries. An experienced chef can combine the various forms of icing with favorite desserts to form a seemingly endless variety of treats. While they can seem fancy, icings can be easier to make than you might think. Here's a few simple recipes.
Icing A Cake
You might have wondered how bakeries get it so gosh-darned perfect. Here's a video on how they can put icing on a cake with no base showing.
Buttercream Icing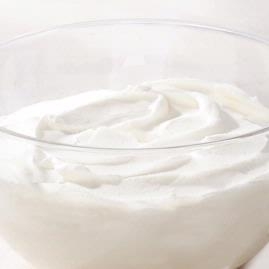 Buttercream icing is most commonly used for cakes and is the usual kind you find in the cake mix aisle of your supermarket. It contains a type of fat, usually Crisco, vegetable shortening, butter or margarine, and sugar. Other ingredients might include vanilla extract, milk, eggs, and corn syrup.
Ingredients:
1/2 cup solid vegetable shortening
1/2 cup butter or margarine
1 teaspoon vanilla extract
4 cups sifted confectioner's sugar (about 1 lb.)
2 tablespoons milk
Instructions
Cream butter and shortening with an electric mixer in a large bowl. Add vanilla. Gradually add sugar with beaters on medium speed. Scrape the sides of the bowl as necessary. Add milk; beat at medium speed until light and fluffy. If you want a thinner, easier to spread icing, add a little more milk OR corn syrup OR water. For stiffer Pure White icing, leave out the butter and add another 1/2 cup of shortening and 1/2 teaspoon No-Color Butter Flavor. Icing can be refrigerated up to 2 weeks in an air-tight container. Whip with an electric mixer before using.
 Flat Icing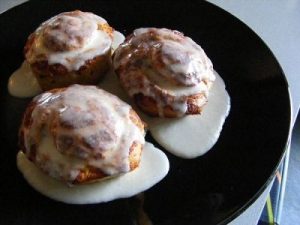 Flat icing is a simple icing made of powdered sugar and water. It can also contain flavoring or spices. Flat icing is most commonly used as a glaze for pastries like rolls and danishes.
Ingredients
2 cups confectioner's sugar
2 tablespoons butter softened
1 teaspoon vanilla
1 tablespoon milk. (Or orange juice!)
Instructions
Mix sugar, butter and vanilla. Add half the milk or orange juice. Gradually add milk or orange juice until you get a thick glaze. Spread over cooled pastries and enjoy.
Basic Foam Icing (Meringue)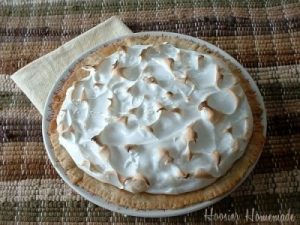 This popular pie topping can come in a variety of flavors, like Marshmallow, Vanilla or Chocolate. Basic meringue is typically made with whipped egg whites and flavored syrup. Remember that conditions like the age of your eggs, humidity and the temperature of your egg whites will affect how your meringue turns out. Eggs should be at least 3 to 4 days old for best results. You should avoid making meringue on humid or rainy days if possible because the humidity will get into your meringue. Egg whites should be allowed to warm to room temperature before whipping. Also, be very careful about separating out the egg whites because your meringue won't react well to having a little bit of egg yolk in the whites.
Ingredients
3 egg whites
1/4 tsp cream of tartar
Pinch salt
2/3 cup superfine sugar
Instructions
Beat eggs using an electric mixer, starting slowly until small stable bubbles form. Add cream of tartar and salt. Gradually increase speed until soft peaks form. Gradually add sugar.
Marshmallow Fondant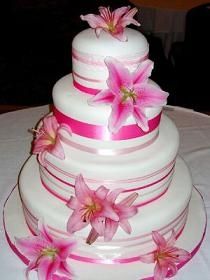 Fondant is a fancy sort of icing often used for wedding cakes and other events that a showy cake is called for. Its main ingredients are sugar, water, and either glucose or cream of tartar.
Ingredients
1 16-ounce bag mini marshmallows
3 tablespoons water
2 lbs powdered sugar
optional flavoring
Instructions
Put marshmallows and water in a microwave-safe bowl and microwave for about 2 minutes, until marshmallows are melted. Stir marshmallows to insure that they have all melted, then add sugar and flavoring and knead on a sugar-covered surface. Add sugar as necessary to make dough more workable and less sticky. It should stop sticking to your hands. Cover and allow dough to set overnight. Microwave 30 seconds and knead until pliable before using.
Fudge Icing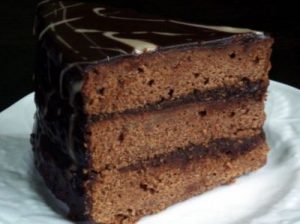 Just like it sounds, fudge icing is a rich and thick icing. The most common flavors are chocolate, mint, peanut butter and almonds. It is one of the most time-consuming icings to make but also lasts longer in the refrigerator.
Ingredients
5 oz butter
5 oz confectioner's sugar
sifted
4 tablespoons cocoa powder
3 tablespoons milk
Instructions
Slowly melt butter in pan. Skim to remove impurities like salt. Raise the heat slightly and add cocoa. Cook for about a minute, then add sugar. Add milk gradually, stirring until the mixture is the consistency of paste. Goes well with chocolate cake or cupcakes.
Royal Icing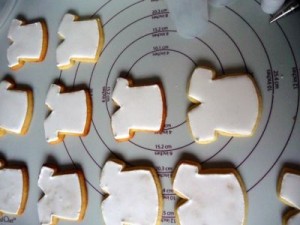 Royal Icing is similar to flat icing and is usually used for show. It has a brittle texture, making it fragile but well-suited for decorative work.
Ingredients
2 egg whites
2 lbs confectioner's sugar
1 tsp lemon juice
Instructions
In a large bowl, combine egg whites and lemon juice using a handheld mixer with hooks or electric mixer with paddles. Add some of the confectioner's sugar and start mixer. Gradually add sugar until mixture is the consistency of thick whipped cream and makes peaks when pushed down on. Adding sugar 2 tablespoons at a time, continue mixing until you get stiff peaks. Not all of the sugar may be used. Cover with cling film, a lid or a wet cloth and store in refrigerator.
Glazes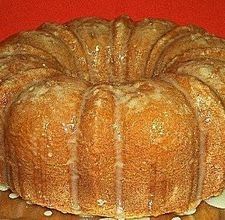 Glazes are a thin and watery icing often used to create a thin, hard shell over cakes and pastries. They are often flavored with fruit, coffee or chocolate flavoring.
Ingredients
1/4 cup butter melted
2 cups powdered sugar sifted
2 tablespoons milk or heavy cream
1/4 teaspoon almond extract or 1/2 teaspoon vanilla for flavor
Instructions
Mix butter and powdered sugar. Add milk and almond extract or vanilla, beat until smooth and creamy. Add a little more milk if desired. Use the heavy cream if a richer glaze is desired. For a fruity-flavored glaze, use orange juice in place of milk and add a little grated lemon or orange zest. Glaze over cake or pastries.
Some Icing and Cake Cookbooks To Check Out
[ebayfeedsforwordpress feed="http://rest.ebay.com/epn/v1/find/item.rss?keyword=%28cake+decorating%2Ccake+frosting%2Cfrosting%2Cpastry+decorating%29&categoryId1=11700&categoryId2=267&sortOrder=BestMatch&programid=1&campaignid=5337337555&toolid=10039&listingType1=All&lgeo=1&feedType=rss" items="10″]