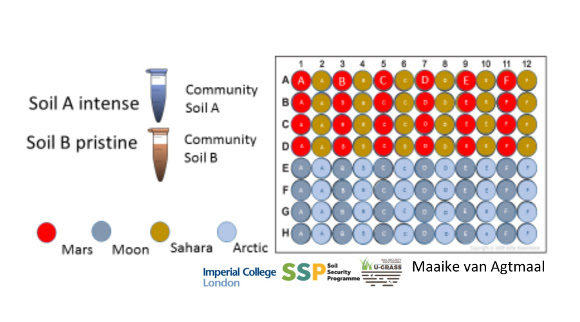 Bacteria are important to the life cycle of plants because they are responsible for breaking down dead plant parts to be "recycled" by living plants for nutrients. Plants require nitrogen, phosphorous potassium or calcium to grow. However, as these nutrients are taken up into the plants, the nutrient stock is depleted in the soil they grow in. This makes the presence of bacteria in the soil critical to recycling the parts of plants that are not used for food, as well as waste products such as urine and feces, so that the soil can be replenished.
Researchers at the Imperial College in London and Wageningen University & Research Centre in the Netherlands have announced that they will investigate the ability of bacteria that are important to this process to survive in Mars and Moon soil simulant samples. If successful, this will advance the ability to grow crops in a sustainable fashion on both the Moon and Mars."With this next step we are moving from just growing crops to building a small but sustainable ecosystem", said Dr. ir. Wieger Wamelink of Wageningen University & Research.
"We have been growing crops on Mars and Moon soil simulant for several years now", Wamelink explains, "and we have demonstrated that it is possible to harvest over a dozen different crops including tomatoes, green beans, potatoes, carrots and radishes. These are important ingredients for a healthy and tasty diet for future Mars settlers. However, the harvest is still less than from crops grown on earth potting soil. This could be due to a lower bacterial activity and this experiment may reveal this."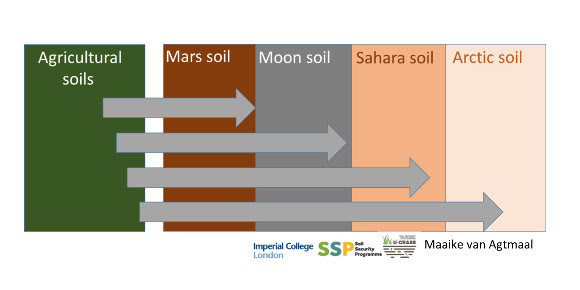 The experimental work will be carried out by Dr. Maaike van Agtmaal, a Postdoctoral Research Associate at the Division of Ecology and Evolution of the Imperial College in London. In keeping with the experiments schedule, she will start her first measurements in March. First, the Mars and Moon soil simulant is sterilized to make sure no bacteria are present. Then the simulant soil will be inoculated with bacteria from different agricultural soils and placed in microcosms. The activity of the bacteria will be monitored. "My aim is to study the process of terraforming of soils, the process of making soil habitable. We will therefore also compare the results from the simulants with Sahara sand and Arctic soil and with sterilized soil simulant without bacteria", Van Agtmaal said. The experiment will last one month during which samples will be taken every week to observe which bacteria can enter the soil, see if they survive and test which essential soil functions they can bring.
Those interested in the experimental results include the Dutch organization Mars One, of which Dr. ir. Wieger Wamelink is an advisor. The Mars One plan is dependent on its settlers being able to make use of resources found on Mars, including having a sustainable way to grow food. Bas Lansdorp, CEO and co-founder of Mars One, said of the experiment and its anticipated results:
"For our mission of permanent settlement on Mars, growing food locally is very important. While our astronauts will bring storable food from Earth, they will try to eat as much fresh food that they produce on Mars as possible, increasing their independency from supplies from Earth and increasing the quality of life. Mars One is particularly interested in this research as it could mean an important step towards producing food more efficiently on Mars."
Cool Stuff on eBay
[ebayfeedsforwordpress feed="http://rest.ebay.com/epn/v1/find/item.rss?keyword=%28astrobiology%2Cagriculture+experiments+in+space%2Cagriculture+experiments+International+Space+Station%29&sortOrder=BestMatch&programid=1&campaignid=5337337555&toolid=10039&listingType1=All&lgeo=1&feedType=rss" items="15″]