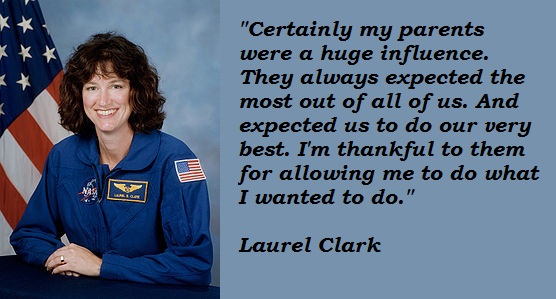 Like most people of her generation, Laurel S. Clark recalled watching the Moon landings as a little girl. She never gave much thought to becoming an astronaut while growing up. She was more interested in wildlife, and anyway, all American astronauts were men at that time. Those fuzzy images of astronauts working on the Moon stayed in the back of her mind as she pursued what seemed like a very different career path.
She had been born in Iowa but considered Racine, Wisconsin, to be her hometown. Laurel Clark graduated from William Horlick High School and spent the next eight years studying zoology and medicine at the University of Wisconsin. Receiving her doctorate degree in medicine, she moved on to become an Undersea Medical Officer and Radiation Health Officer for the Navy. She made dives with teams based in Scotland, where they worked with submarine crews who needed medical evacuations. In the process, she learned a lot about radiation medicine and working in the tight spaces of submarines and ships.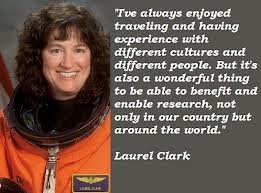 While still in Scotland, she began dating her future husband, Jonathan Clark. They were married in Racine, Wisconsin. Her Navy career continued with six months of training at the Naval Aerospace Medical Institute in Pensacola, Florida, and she became a Naval Flight Surgeon. She became Flight Surgeon for Marine Corp AV-8B Night Attack Harrier Squadron VMA 211 and made several deployments around the world, including the Western Pacific. She was reassigned as Group Flight Surgeon of Marine Aircraft Group 13, and then became Flight Surgeon for Naval Flight Officer Advanced Training Squadron VT-86.
Jonathan Clark, also a Navy officer, was assigned to become a NASA Flight Surgeon monitoring the health of the astronaut corp. She had an opportunity to learn more about NASA's work and what astronauts did. She remembered watching the lunar landings. The combination was intriguing enough for Laurel Clark to consider becoming an astronaut. She applied to the astronaut corp in 1994 and was turned down, but made it during the 1996 selection.
She trained for two years before she was ready to be considered for an actual crew and traveled to Russia to learn how to use a Sokol spacesuit and the Soyuz spacecraft trainer. Like any astronaut, she hoped to be considered for one of the crews on the International Space Station. Once she completed basic training, she was assigned to the Astronaut Office Payloads/Habitability Branch. Then, she was assigned to the crew of STS-107 as a Mission Specialist.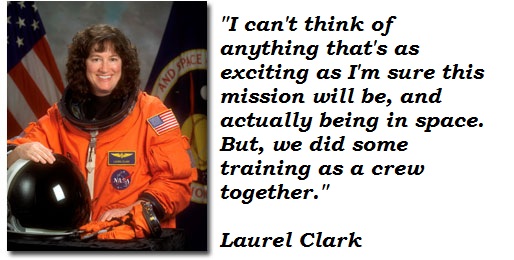 The Columbia launched on its final mission on January 16, 2003. STS-107 boasted more than eighty experiments, including several in the biomedical field. The shuttle crew divided into the Red Team and the Blue Team so they could work around the clock and cover all of the experiments. As part of the Red Team, Laurel Clark worked on experiments like the ESA's Advanced Respiratory Monitoring System and the Spaceflight Effects on Fungal Growth experiment. Because astronauts usually lose bone mass in orbit, the Osteoporosis Experiment in Orbit was of special interest. That was several cultures of bone cells aimed at studying ways to predict, prevent and slow the progress of osteoporosis.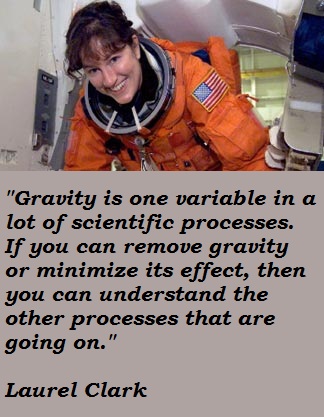 She sent test results back to various researchers and also sent emails to her family. In one of her last emails, she reported seeing Lake Michigan and picking out a landmark in Racine. She also saw spectacular natural sights like lightning over the Pacific Ocean and the Aurora Australis, the Southern Hemisphere's version of the North's Aurora Borealis. Photography was a challenge but she said she was getting the hang of it. Most of the experiments had been completed successfully by the time she sent her last email. She knew that her family, including her 8-year-old son Lain, sometimes worried about the risk but had accepted that this was what she wanted to do and wanted to share the fact that she was enjoying it. The last paragraph of her last email read:
"Thanks to many of you who have supported me and my adventures throughout the years. This was definitely one to beat all. I hope you could feel the positive energy that I beamed to the whole planet as we glided over our shared planet.
Love,
Laurel."
After her death in the Columbia disaster on February 1, 2003, members of her family told reporters that they treasured that email as the last real communication they had from her. Navy Captain Laurel S. Clark was buried at Arlington National Cemetery on March 10, 2003.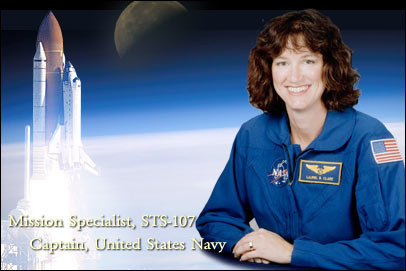 [ebayfeedsforwordpress feed="http://rest.ebay.com/epn/v1/find/item.rss?keyword=%28space+shuttle%2Cspace+shuttle+astronauts%2CNASA%2Castronaut+laurel+clark%29+-%28sunglasses%2Coptical%29&sortOrder=BestMatch&programid=1&campaignid=5337337555&toolid=10039&minPrice=50&listingType1=All&lgeo=1&feedType=rss" items="10″]