Ledger Hires iPod Creator Tony Fadell for New Hardware Wallet Model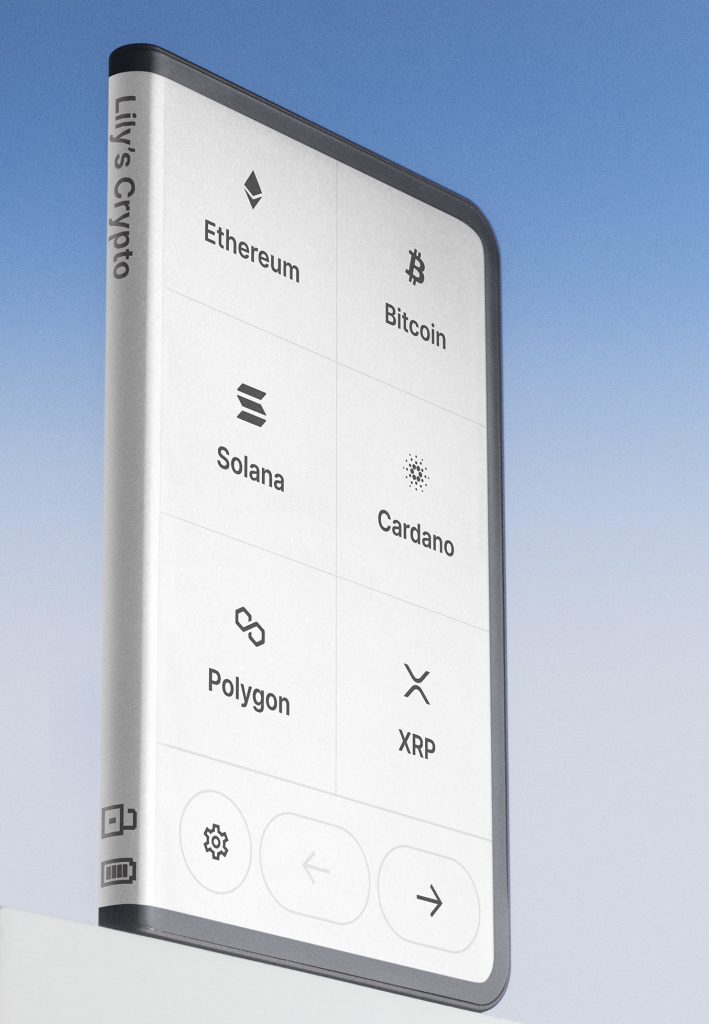 Remember the iPod? If you're used to using Apple's mobile devices, Ledger's upcoming hardware wallet is likely to have a familiar look and feel. Ledger hired iPod creator Tony Fadell to help finalize its design.
The new Ledger model, named Ledger Stax, uses e-ink technology for its display. It will be capable of displaying the most recent transactions and NFTs in its internal storage. As the name implies, the Stax's physical form will also be stackable using embedded magnets. It will be about the size of a credit card.
Ledger decided to aim for improved design and function over the Ledger X, which could easily blend in with most thumb drives. It will retail for $279.
"We wanted to do something that is more fun and fits with where culture is going," Ledger Chief Experience Officer Ian Rogers told Coindesk.
Ledger expects to start shipping the Stax during Q1 2023 and is already taking pre-orders. It will be able to connect to a laptop with a USB-C cable.
Like most hardware wallet manufacturers, Ledger has seen an upswing in sales in the wake of the FTX exchange's collapse. More people are interested in pulling their digital asset holdings off exchanges and onto their own devices. Social media chatter swirling around FTX's bankruptcy and its fallout reminded crypto investors of the commonly repeated phrase, "Not your keys, not your coin."
"We were ready for this moment," Rogers said.
Self-custody of digital assets on a device like Ledger's hardware wallets or (equally common) your laptop or smartphone requires the device's owner to keep the device secure. One big strength of hardware wallets is that they normally do not connect to the Internet unless they're actively being used. It's easy to mix a Ledger S in with a drawer full of random thumb drives.
Keeping your crypto on a device that does connect to the Internet, like your smartphone, is a little riskier. Personally, I recommend having an Otterbox for your phone in case it slips out of your hand. There have been cases in which users lost their funds in a "SIM swapping attack." The FTC does offer some tips on reducing your risk of being a victim of SIM swapping attacks but that doesn't always stop malicious actors from getting control of an app on your phone.
Some malicious actors may steal the contents of your wallet with malicious apps that can look perfectly legitimate. It's a case for not keeping more bitcoin (or your favorite digital assets) on your phone than you need to.
If you're choosing a wallet for the first time, I recommend going to Bitcoin.org, which has a tool for choosing a wallet that can best suit your needs.
(Yes, Bitcoin.org is the very first Bitcoin website. Yes, you totally should download the Bitcoin whitepaper before Craig Wright catches up with whoever Bitcoin.org owner Cobra is.)
It's important to have a backup for your wallet in case you lose access to the device it's on. If it gives you a pass phrase of several randomized words, write down those words and keep them in a safe place. Another way to do it is to copy the private key or .dat file for the wallet onto a thumb drive and keep it in a safe place that can't be reached by kids or pets. Just keeping that private key has saved my butt before when a desktop computer had a meltdown.
If you suspect for an instant that your wallet or device has been compromised, you should promptly send all your assets to another wallet on another device that you know is secure. That device will preferably be a hardware wallet that does not connect to the Internet very often.
(P.S. It's safest to buy a Ledger wallet directly on its website. It'll help keep you from accidentally buying a fraudulent product.)