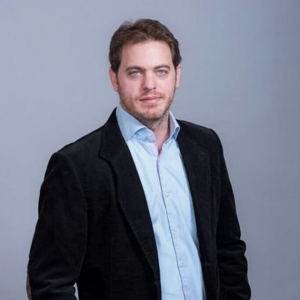 Companies that push the envelope, particularly those based principally in technology, continually need to optimize their operations and the security of those operations. Lately, blockchain technology has been touted as the solution to those needs.
Blockchain, which encrypts and decentralizes data in a way that makes it both efficient and secure, is new enough that many enterprises don't yet have a "blockchain department" or expert on their staff. Often this is because the current leaders don't yet know how blockchain can be embedded into the company's systems, and there is a lack of qualified blockchain experts available to bridge the knowledge gap.
That is why Ophir Gertner, co-founder of Stox and an expert in blockchain technology and its business applications, has been bombarded with questions from business leaders over the past 18 months. There is a hunger for expertise; and this is how entrepreneur Dror Lupu and Gertner found themselves talking about the need for a consultancy firm that could do more than just address the evolution of blockchain for innovative companies, but also manage the entire ideation-to-integration process in partnership with those companies.
It was a discussion that led to the formation of Smartologic Technologies, a consultancy and integration firm that specializes in helping companies identify how blockchain technology can fit their business model and tech infrastructure, while providing economic benefit, leading such companies through the entire process.
"Blockchain requires customization based on extensive expertise," says Gertner, "and we tailor everything from concepts, strategies, token economies, blockchain technology  architecture, community-building, cybersecurity, contract development, auditing functions, and even the inevitable white papers that such a collaboration entails." A project of this expanse may sound overwhelming, but that's why a consultancy that also manages integration is essential. "Our access to crucial resources, such as legal, financial and crypto oriented firms, can shorten development time for potential clients," Gertner adds.
Smartologic looks for clients with accomplished management teams and excellent technological concepts, as these are best-suited for blockchain development. A partial list of their current clients includes
Senno, a real-time sentiment analysis platform which recently reached its soft cap target; Buff.game, a blockchain-based loyalty program for gamers; INVioU, a factoring platform that provides financing for SMEs; and Spitball, a decentralized global marketplace for students.
"You can see that we embrace a variety of projects, each needing a different solution and a flexible approach," Gertner states, noting that Smartologic assembles a dedicated advisory team for each one. Once the client company agrees to the plan, Smartologic leads and manages the blockchain integration project from A to Z.
Gertner, who is a world-renown crypto expert, has raised over $100 million for his recent projects in the blockchain arena. "Not every company is suitable for blockchain technology — yet," he says. "But for those who are, this is an excellent time to begin development and gain an edge on competitors."