Space Center Houston Now a Certified Autism Center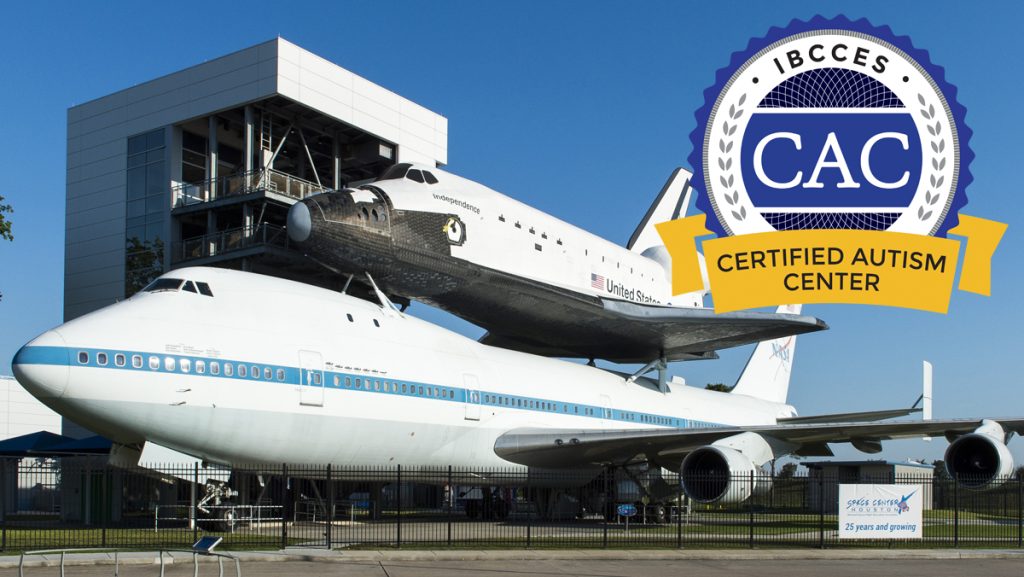 Space Center Houston, a nonprofit organization dedicated to learning experiences related to science and space exploration, has received recognition as a Certified Autism Center from the International Board of Credentialing and Continuing Education Standards.
Receiving this certification means going above and beyond the minimum standards outlined in the Americans with Disabilities Act. Becoming a Certified Autism Center requires passing rigorous training, inspections, and improvements that make Certified Autism Centers more friendly experiences for visitors with autism and similar sensory disorders.
"Science, technology, engineering and mathematics education is for everyone," said William T. Harris, the center's president and CEO. "This certification highlights our dedication to be inclusive and to inspire the next generation of problem solvers."
In Space Center Houston's case, efforts to be more inclusive included hiring Stephanie McMahon, a special education certified teacher and mother to an autistic child, as a senior lead instructor in its Education Department in 2016 and expanding her role to include acting as accessibility and inclusion coordinator in 2017.
"Space Center Houston was always welcoming to guests with special needs," McMahon said. "I was able to help support that commitment by leading informal training for my instructor colleagues on working with guests with disabilities, including autism."
The staff of Space Center Houston, for instance, learned best practices for responding to children with autism who might have a meltdown or try to run off due to sensory overload. McMahon also leads the Accessibility and Inclusion working group, composed of representatives from across departments at Space Center Houston.
The center offers "Sensory Friendly Evenings," with reduced lights, sounds and crowds, as well as Space Center University for the visually impaired and other events designed to provide quality learning experiences for guests with special needs. Space Center Houston has also prepared a booklet called the "Stellar Explorer Guide" to help youth with autism and their families learn what to expect during a visit and "Vocabulary Cards" for visitors who are nonverbal or have a limited ability to speak. The center also has backpacks with sensory gear such as noise-canceling headphones and sunglasses available upon request.