Startups & Enterprises Launch Blockchain IoT Protocol Initiative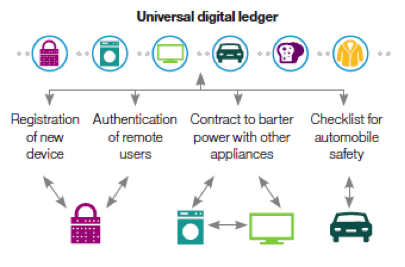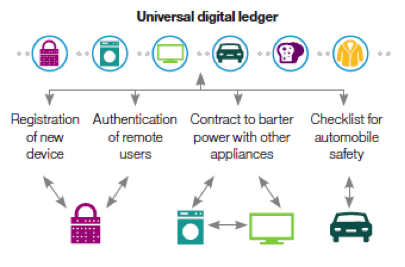 In December, representatives from a group of industry-leading startups and innovative Fortune 500 companies met in Berkeley, CA to discuss the challenges facing blockchain and IoT innovation and the potential for a collective effort to address them.
The meeting, New Horizons: Blockchain x IoT Summit, was the first step towards a collaborative effort to explore and build a shared blockchain-based Internet of Things protocol. Participants in the discussions included blockchain companies Ambisafe, BitSE, Chronicled, ConsenSys, Distributed, Filament, Hashed Health, Ledger, Skuchain, and Slock.it, along with Fortune 500 corporations BNY Mellon, Bosch, Cisco, Gemalto, and Foxconn.
The initiative was motivated by the leaps made by startups and large, blue-chip IT firms in deploying blockchain-registered tamper-proof hardware for various use cases and making new blockchain-based software systems available to enterprises. The meeting included presentations from blockchain and IoT focused startups on their established use cases, industry findings, and identification of common needs.
The group agreed that security, trust, identity, and registration and verification would be the cornerstones of any common protocol, while also acknowledging the need for integration and interoperability across multiple chip types, communication protocols, proprietary platforms, cloud service providers, and blockchain systems.
An Example of Blockchain IoT Implementation
A blockchain technology industry consortium emerging from the meeting will move forward in defining the scope and implementation of a smart contracts protocol layer across several major blockchain systems with elective steer from the attending Fortune 500 companies. The functioning of the group is voluntary at this stage with intent to emphasize nimble and fast-moving open source collaboration with any formal membership or governance structures emerging if and when necessary.
Skuchain Co-founder Zaki Manian said: "We called together leaders in blockchain, hardware, software, venture capital, technology, and finance to discuss the barriers to interoperability and security within IoT and how we can complement existing IoT platforms with a blockchain back-end.  We believe there is a real value proposition here for IoT, supply chain, and trade finance."
Dirk Slama, Chief Alliance Officer at Bosch Software Innovations, said "We are seeing tremendous potential for the application of blockchain in industrial use cases. Being able to create a tamper-proof history of how products are manufactured, moved and maintained in complex value networks with many stakeholders is a critical capability, e.g. for quality assurance and prevention of counterfeits. This must be supported by a shared blockchain infrastructure and an integrated Internet of Things protocol."
"Blockchain has the power to improve resiliency and efficiency in a fully connected world," said Alex Batlin, Head of Blockchain at BNY Mellon. "What's missing today is a solution that provides trusted, tamper-proof guarantees for any title deed, public record, compliance event, or transaction, building on the way paper documents are used currently."
Joe Pindar, in the CTO's office at Gemalto, said: "Securing identity for physical property and packaging is going to be a big business opportunity over the next decade, high value parts of logistics supply chains and regulated industries like energy, pharmaceuticals, and cold chain could all see a blockchain component over the next decade."
Jack Lee, Managing Partner at HCM Capital, an investment arm of Foxconn Technology Group, said: "We are excited to see leaders in the Blockchain and IoT space coming together from America, China, France, and Germany to develop a standard Blockchain IoT protocol.This is a positive step towards industry confidence, momentum, and interoperability. We're looking forward to collaborations in this space in the near future."
"In order to power the sharing economy, door locks, autonomous vehicles, and electric charging stations will need to have secure identities," said Slock.it Co-founder and CTO Simon Jentzsch. "We are already working on a number of use cases; by teaming up with this consortia, we can create common primitives to register and verify hardware identities on blockchain."
BitSE CTO Patrick Dai said: "If we want to secure the Internet of Things we need to standardize how we identify, manage and communicate with internet enabled devices through blockchain technology. With a standardized protocol, more people will be able to share in these benefits."
Joseph Lubin, Founder and CEO of ConsenSys, said: "ConsenSys is very excited to be part of a group pursuing rationalization and standardization of the interfaces linking blockchain and a potentially very wide variety of devices. This group has the expertise to craft sufficient yet elegant interfaces and our energy projects group and supply chain management projects group are eager to see how we can apply these to our own systems."
Ambisafe Co-founder and CEO Andrei Zamovskiy said: "We are excited to be a part of an initiative to create a secure, transferable, notary-enabled, and payments-enabled identity for any physical thing, object, device, or machine."
Ledger CTO Nicolas Bacca said: "We are building a new generation of hardware with secure elements, strong cryptography and open firmware to secure the IoT. We're excited to contribute to innovative identity protocols extending the concept of "object passports" to blockchain technologies."
Maurizio Greco, CTO and Co-founder of Chronicled, said "We recognized the need for industry-wide collaboration to accelerate the pace of industry advancement.  We're thrilled with the result and excited to work with the strong set of partners coming together."
Learn More About The Blockchain
Cool Stuff on eBay
[ebayfeedsforwordpress feed="http://rest.ebay.com/epn/v1/find/item.rss?keyword=%28blockchain%2Cbitcoin%2Cbitcoin+mining%2Clitecoin%2Cdogecoin%29&sortOrder=BestMatch&programid=1&campaignid=5337337555&toolid=10039&listingType1=All&lgeo=1&topRatedSeller=true&feedType=rss" items="10″]