Have you ever craved a mango? If so, go ahead and indulge. With all kinds of health benefits and only 110 calories in an average-sized mango, it certainly beats potato chips. Mangoes are packed with vitamins, minerals, potassium, fiber and antioxidants and contain an enzyme that can assist with digestion. That same enzyme makes mango a good tenderizer if you like adding fruit to recipes.
Choosing Mangoes
When choosing a mango, be sure to give it the "sniff test". Ripe mangoes will have a rich fruity scent coming from the stem end. Give it a little squeeze. The mango should be a little soft and yield easily to soft pressure, like a ripe peach. Mangoes can be red, yellow, green, orange, or any combination of colors. Ones with a yellow tinge when ripe have the best flavor. They can be stored for one to two weeks in a cool room (about 55 degrees Fahrenheit). If you get one that's not quite ripe, place it in a paper bag with a ripe apple overnight, then refrigerate and use within a few days.
Slicing A Mango
Mango Smoothie
Chicken and Mango Curry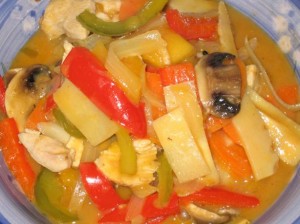 Ingredients:
1/3 cup peanut or vegetable oil

3-4 tablespoons red or yellow curry paste (more if you like your curry to be SPICY!)

2 cloves garlic, minced

2 14-ounce cans coconut milk

1 cup chicken broth or stock

1 pound boneless chicken breasts or thighs, cut into pieces

1 inch fresh ginger, cut into thick slices

1 large onion, chopped

1 red bell pepper and 1 green bell pepper, seeded and cut into strips

1 large mango, peeled, seeded and cut into strips.

14 ounces straw mushrooms, fresh if you can find them (though canned will work).

6 tablespoons fish sauce

3 tablespoons brown sugar

¼ cup chopped cilantro

4-6 cups rice, cooked
Method:
Heat oil on medium heat in deep frying pan or wok. Add curry paste and garlic; cook and stir for about 30 seconds. Gradually add coconut milk and broth; bring to a light boil, reduce heat. Add chicken and simmer 10-15 minutes. Remove and discard garlic. Add ginger, onion and peppers. Simmer 7 more minutes until peppers are tender. Add mango, mushrooms, fish sauce and sugar. Heat through. Serve over rice and garnished with cilantro.
Mango Gravy
Mango-Coconut Chia Pudding
Ingredients:
1 13½-ounce can coconut milk

1/3 cup white chia seeds

2 tablespoons honey

1 teaspoon vanilla extract

1 box vanilla pudding mix

1 mango, peeled, pitted and diced

1 cup strawberries, diced

¼ cup sliced almonds

4 teaspoons coconut flakes
Method:
Combine coconut milk, chai seeds, honey and vanilla in small bowl. Refrigerate for one hour. Equally divide pudding mix and mango between four serving dishes, alternately layering pudding mix and mango. Top each serving dish with strawberries, sliced almonds and coconut. Pour equal amounts of coconut milk mix over each serving dish. Allow pudding to set before serving.
Peeling and pitting avocados for this next recipe.
Mango Guacamole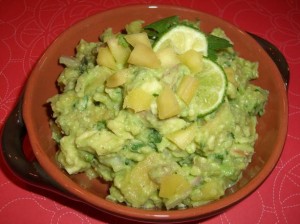 Ingredients:
3 large ripe avocados, peeled and pit removed

½ small red onion, rinsed, dried diced

½ of a fresh cerrano chili (more if you like your guacamole hot, but be careful unless you like gulping down gallons of water), seeded and finely diced

2 tablespoons chopped fresh cilantro. Optional: Save leaves for garnish.

2 tablespoons lime juice

1 medium ripe mango, peeled and diced

Salt to taste
Method:
Place avocados in bowl and coarsely mash with large fork. Add onion, serrano chili, cilantro and lime juice. Mix in 2/3 of the mango. Cover with plastic wrap and refrigerate to allow flavors to blend, not more than a few hours to keep it from turning brown. When ready to serve, garnish with remaining avocado and cilantro leaves and serve with chips or fajitas.
Sweet & Sour Mango Pickle
Do More with Mangoes
All images credit Food.com unless otherwise noted
Unfortunaly, this xml/rss feed does not work correctly...