Did you know that the average American eats 18.8 pounds of onions every year? That's not a bad thing when a serving of onions has only 45 calories and you can get rid of onion breath by chewing parsley. While that amount might seem a trifle excessive for the poor sap who doesn't like peeling and dicing onions, for once the USA is not tops in the consumption of onions. Libyans eat an average of 66.8 pounds of onions every year. If you're here, though, you probably want to see how you can make up for it in a way that doesn't involve more Bloomin' Onions. So here's some totally awesome recipes for those of you who are enthusiastic about your onions.
Onion Buns
Fried Corn and Onions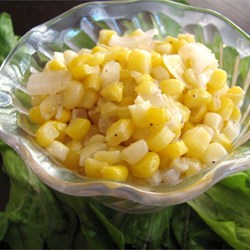 Ingredients:
4 ears corn
1 small sweet onion
2 tablespoons butter
Salt and pepper to taste
Directions:
Cut corn kernels from ears. Melt butter in skillet over medium heat. Saute corn kernels until they are just beginning to tenderize. Add onions and saute just until they are beginning to crisp. Sprinkle with salt and pepper. I like this one best while hot out of the skillet, but it can be served cold too.
Classic French Onion Soup
Onion Jam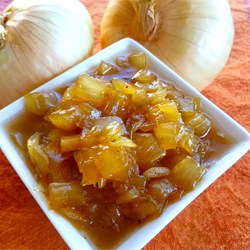 Ingredients:
1/4 cup vegetable oil
1/2 cup white sugar
4 cups onion, coarsely chopped
1/4 teaspoon salt
ground black pepper to taste
1/2 cup red wine vinegar
Directions:
Heat oil in a sturdy skillet over medium heat. Add sugar and stir with a wooden spoon until sugar is a caramel color. Stir onions, salt and pepper into the mixture and stir frequently for about 15 minutes until sugar is dissolved and onions are completely caramalized. Add vinegar and simmer for about 30 minutes until the mixture is the consistency of jam. Let cool before serving.
Spring Onion Paratha
Mongolian Beef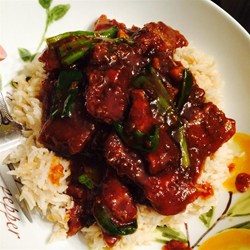 Ingredients:
2 teaspoons vegetable oil
1 tablespoon finely chopped garlic
1/2 teaspoon grated fresh ginger root
1/2 cup soy sauce
1/2 cup water
2/3 cup dark brown sugar
1 pound beef flank steak, sliced 1/4 inch thick on the diagonal
1/4 cup cornstarch
1 cup vegetable oil for frying
2 bunches green onions, cut in 2-inch lengths
Directions:
Heat 2 teaspoons of vegetable oil in a saucepan over medium heat, and cook and stir the garlic and ginger until they release their fragrance, about 30 seconds. Pour in the soy sauce, water, and brown sugar. Raise the heat to medium-high, and stir 4 minutes, until the sugar has dissolved and the sauce boils and slightly thickens. Remove sauce from the heat, and set aside. Place the sliced beef into a bowl, and stir the cornstarch into the beef, coating it thoroughly. Allow the beef and cornstarch to sit until most of the juices from the meat have been absorbed by the cornstarch, about 10 minutes. Heat the vegetable oil in a deep-sided skillet or wok to 375 degrees F (190 degrees C). Shake excess cornstarch from the beef slices, and drop them into the hot oil, a few at a time. Stir briefly, and fry until the edges become crisp and start to brown, about 2 minutes. Remove the beef from the oil with a large slotted spoon, and allow to drain on paper towels to remove excess oil. Pour the oil out of the skillet or wok, and return the pan to medium heat. Return the beef slices to the pan, stir briefly, and pour in the reserved sauce. Stir once or twice to combine, and add the green onions. Bring the mixture to a boil, and cook until the onions have softened and turned bright green, about 2 minutes.
Bloomin' Onion
More Onion Recipes