When was the last time you indulged in a shrimp-based dish? If it's a fairly regular habit, you don't have to feel too guilty. Shrimp contains a whopping 18 grams of protein per 3-ounce serving and, at only 83 calories and 1 gram of fat per serving, is very diet-friendly. It's also an excellent source of selenium, an important nutrient that helps antioxidants fight the effects of free radicals and boosts the immune system and thyroid gland. So the next time you get a craving for protein, toss a bag of shrimp into your cart for an excellent alternative to other meats in your diet.
Bacon Wrapped Shrimp
Shrimp Fajitas
Ingredients:
1 tablespoon Worcestershire sauce
1 tablespoon lime juice
1 tablespoon soy sauce
1 teaspoon chili powder
1 pound large shrimp, peeled and deveined
1 tablespoon olive oil
2 medium zucchini, cubed
1 red onion, chopped
1 (10 ounce) bag frozen corn
1 tablespoon olive oil
8 flour tortillas
1 cup shredded Monterey Jack cheese
3 tablespoons chopped fresh cilantro
Sour Cream, guacamole and cooked rice for garnish
Directions:
Combine Worcestershire, lime juice, soy sauce, chile powder and shrimp in a medium bowl; toss until shrimp is completely coated. Set aside to marinate for 15 minutes. Heat olive oil in large skillet. Add zucchini, onion and corn and cook for 10 minutes until vegetables are tender. Cover and set aside. In a separate skillet, heat olive oil and add shrimp. Cook for 3 to 5 minutes until shrimp are pink. Stir in vegetables. Divide shrimp and vegetable mix equally between tortillas. Top with cheese and cilantro. Serve hot with rice, guacamole and sour cream as garnish.
Easy Garlic Shrimp
Louisiana Shrimp Creole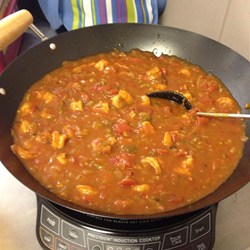 Ingredients:
1/2 cup finely diced onion
1/2 cup chopped green bell pepper
1/2 cup chopped celery
2 cloves garlic, minced
3 tablespoons butter
2 tablespoons cornstarch
1 (14.5 ounce) can stewed tomatoes
1 (8 ounce) can tomato sauce
1 tablespoon Worcestershire sauce
1 teaspoon chili powder
1 dash hot pepper sauce
1 pound medium shrimp, peeled and deveined
Rice, cooked according to package instructions
Directions:
Melt butter in bottom of large saucepan. Add onion, green pepper, celery, and garlic and saute until tender. Mix in cornstarch, then add stewed tomatoes, tomato sauce, Worcestershire sauce, chili powder, and red pepper sauce. Stir well and bring to boil. Add shrimp and cook five minutes. Serve hot over rice.
Barbecue Shrimp
Honey Grilled Shrimp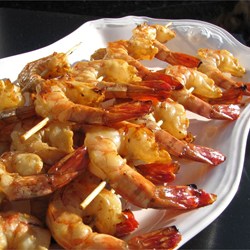 Ingredients:
1/2 teaspoon garlic powder
1/4 tablespoon ground black pepper
1/3 cup Worcestershire sauce
2 tablespoons dry white wine
2 tablespoons Italian-style salad dressing
1 pound large shrimp, peeled and deveined with tails attached
1/4 cup honey
1/4 cup butter, melted
2 tablespoons Worcestershire sauce
Directions:
In a large bowl, mix, garlic powder, black pepper, 1/3 cup Worcestershire sauce, wine, and salad dressing. Add shrimp and toss to coat. Cover and marinade in fridge for one hour. Find your skewers and preheat grill to high heat. Thread shrimp onto skewers, once through the tail and once through the head. Discard marinade. In a small bowl, mix together honey, butter, and 2 tablespoons Worcestershire sauce for basting. Lightly oil the grill grate. Grill shrimp 2-3 minutes per side, occasionally brushing with the honey mix while grilling. Serve hot with grilled veggies on the side (Grilled corn on the cob is my favorite with this one).
Prawn and Broccoli Stir-Fry
Coconut Shrimp
Ingredients:
1 egg
1/2 cup all-purpose flour
2/3 cup beer
1 1/2 teaspoons baking powder
1/4 cup all-purpose flour
2 cups flaked coconut
24 shrimp
3 cups oil for frying
Directions:
In medium bowl, combine egg, 1/2 cup flour, beer and baking powder. Place 1/4 cup flour and coconut in two separate bowls. Hold shrimp by tail, and dredge in flour, shaking off excess flour. Dip in egg/beer batter; allow excess to drip off. Roll shrimp in coconut, and place on a baking sheet lined with wax paper. Refrigerate for 30 minutes. Meanwhile, heat oil to 350 degrees F (175 degrees C) in a deep-fryer. Fry shrimp in batches: cook, turning once, for 2 to 3 minutes, or until golden brown. Using tongs, remove shrimp to paper towels to drain. Serve warm with your favorite dipping sauce.
Tempura Shrimp
Shrimp Scampi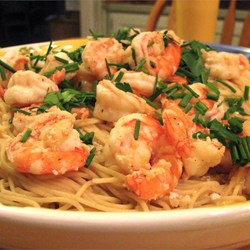 Ingredients:
1 (8 ounce) package angel hair pasta
1/2 cup butter
4 cloves minced garlic
1 pound shrimp, peeled and deveined
1 cup dry white wine
1/4 teaspoon ground black pepper
3/4 cup grated Parmesan cheese
1 tablespoon chopped fresh parsley
Directions:
Fill large pot with salted water and bring to boil. Stir in pasta; cook until al dente. Drain pasta. Melt butter in a large saucepan over medium heat. Stir in garlic and shrimp. Cook, stirring constantly, for 3 to 5 minutes. Stir in wine and pepper. Bring to a boil and cook for 30 seconds while stirring constantly. Mix shrimp with drained pasta in a serving bowl. Sprinkle with cheese and parsley. Serve immediately.
Shrimp Egg Rolls
Cioppino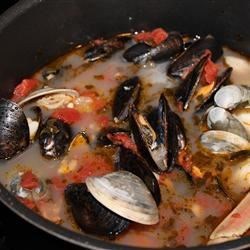 Ingredients:
3/4 cup butter
2 onions, chopped
2 cloves garlic, minced
1 bunch fresh parsley, chopped
2 (14.5 ounce) cans stewed tomatoes
2 (14.5 ounce) cans chicken broth
2 bay leaves
1 tablespoon dried basil
1/2 teaspoon dried thyme
1/2 teaspoon dried oregano
1 cup water
1 1/2 cups white wine
1 1/2 pounds large shrimp – peeled and deveined
1 1/2 pounds bay scallops
18 small clams
18 mussels, cleaned and debearded
1 1/2 cups crabmeat
1 1/2 pounds cod fillets, cubed
Directions:
Melt butter in large saucepan over medium-low heat. Add onions, garlic and parsley. Cook until onions are soft, stirring occasionally. Add tomatoes, breaking up large chunks as you go.  Add chicken broth, bay leaves, basil, thyme, oregano, water and wine. Mix well. Cover and simmer 30 minutes. Stir in the shrimp, scallops, clams, mussel, crabmeat and fish. Bring to boil. Lower heat, cover and simmer 5 to 7 minutes until clams open. Ladle soup into bowls and serve with warm, crusty bread.
More Shrimp Recipes
[ebayfeedsforwordpress feed="http://rest.ebay.com/epn/v1/find/item.rss?keyword=%28seafood%2Cseafood+shrimp%29&categoryId1=11700&sortOrder=BestMatch&programid=1&campaignid=5337337555&toolid=10039&listingType1=All&lgeo=1&feedType=rss" items="10″]