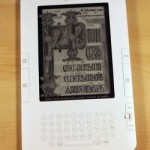 You have a Kindle and you've noticed your kids playing with it when they think you won't see. Talk about little mischief-makers, right? But you don't necessarily have to freak. With some fun apps, you could probably distract them from doing any real damage to your Kindle. While you're at it, you might as well make them educational, too. Here's a few fun apps to download for your kids to explore.
This app includes several games that teach a variety of skills needed by first graders, including math, vocabulary, spelling, patterns and ordering. Homeschooling parents like this for helping kids improve their skills on their own. Some younger kids even got into it a little bit even though they might only be able to use one or two of the games in this app at first.
Rated for all ages, this app uses current Spanish vocabulary and helps you practice using Spanish in actual conversation. It'll work on your Android device.
Study each element in detail with information about chemical and physical properties and take quizzes to see how well you absorbed the information. Each element links to the appropriate Wikipedia page, but will also include important information right in the app for easy reference. Many users loved hearing how some of the more obscure elements were actually pronounced and using the search function.
This is a pretty straightforward vocabulary builder for children who are ready for middle school and just need some help with vocabulary. This features hundreds of the words and definitions that middle schoolers should know along with quizzes with the option to email scores to the parent or teacher.
This is a good pick for elementary school children who might have already outgrown those reading apps geared toward toddlers but still need a little boost with their vocabulary. Like the Middle School Vocabulary Prep, this contains hundreds of the words that kids should know to keep up in the classroom.
Children learn about several common measurements used in the science laboratory and everyday life including activities that teach about measuring time, weight, length and money. Concepts include fractions, paying for things with cash and coins, counting by fives, and addition by tens and hundreds.
Besides its obvious function of serving as a dictionary of scientific terms, this Science Dictionary includes articles and a natural science guide. There's no reviews on this one, but if you spot a problem with this app, the listing includes ways to contact the developer.
This app includes many of the concepts that give fifth graders a head start in science class, including astronomy, biology, and simple physics. There's no in-app purchases, so there'll be no surprises on your credit card statement as a result of this app.
Your kids can master math more quickly with convenient addition, subtraction, multiplication and division tables. There were a few complaints that you have to upgrade to the paid version to unlock multiplication and some parents did wish that it went up to 12 instead of 10, but it does well for kids who have struggled with their basic math.
Although this one is only available for Android (not Kindle), it's a good way to introduce a wide variety of science topics ranging from the Moon to "Most Abundant Elements."
Besides being one of the best ereaders out there, this version of the Kindle is designed to be handled by kids, including free replacement if it gets broken. It's a couple of grades above many tablets designed for kids and includes a free year of Amazon FreeTime Unlimited. You control the content your kids can access with up to four individual child profiles.