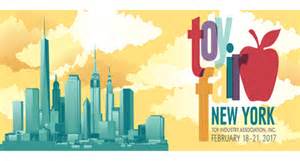 (Do you really have to do multiple press releases? Sheeeeesh.)
This year's International Toy Fair is currently taking place in New York City, February 18-21, 2017. Hundreds of thousands of toys are expected to be debuted throughout the weekend by top brands from around the world. Its exhibitors include VTech, KD Interactive, and Leapfrog, all of which are top manufacturers of interactive children's toys.
VTech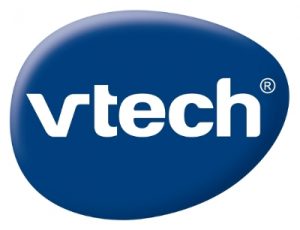 VTech is well-known for producing electronics that provide "kid-friendly" alternatives to technologies like Smart Phones that their parents use every day. If parents would like to give their devices a break from their children, they will probably like the products being introduced by VTech this year.
"Our new products deliver everything children want from their electronics – entertainment, communication and gaming," said William To, President, VTech Electronics North America. "We utilize the latest technology to continue to grow our children's electronics and introduce on-trend devices that support a child's ever-changing, active lifestyle."
VTech's exhibit will include a smart communication and gaming device which will be capable of enabling kids to explore content created just for them using apps that look similar to what their parents use. Through a messaging app, kids can send texts, voice messages, photos, drawings and animated stickers to contacts that have been approved by their parents. It also features a 5″ touch screen, rotating camera, more than 40 preloaded age-appropriate games, a kid-safe web browser and an Android-based operating system. Through the restricted parent settings, parents can further customize their child's device by adding websites and popular Android apps and games they deem appropriate. This offering is suitable for children aged 4 and up.
VTech will also introduce the new Kidizoom Action Cam 180, which enables kids to capture their adventures from every angle with a 180° rotatable camera. It comes with all the great accessories of the popular original Kidizoom Action Cam, including mounts for bikes and skateboards and a weather and water-resistant case, plus exciting new features kids will love experimenting with such as slow-speed and high-speed video recording modes. This latest version of the Kidizoom Action Cam will continue this line's tradition of being a camera that can keep up with children's active lifestyle, including the ability to handle being dropped on hard surfaces and taking a dip in the swimming pool.
The Kidizoom Smartwatch DX2 will enable children to take pictures or videos, play games, tell time and more with the Kidizoom Smartwatch DX2. Featuring a new sleek and stylish design, this durable smartwatch has 55 digital and analog customizable clock faces to help kids learn to tell time. This smartwatch features two cameras that allow children to capture everything from action photos to selfies that can be customized in the Silly Me app and made into new watch faces. The watch includes an assortment of new innovative games including Monster Detector, which uses the camera and augmented reality to help kids find and capture monsters in the real world. Kids can also use the watch's motion sensor for active play challenges or to track movements. With the included micro USB cable, children can upload photos and videos as well as recharge the battery. This will be suitable for children aged 4 years and up.
KD Interactive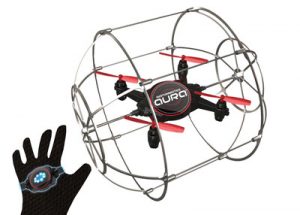 KD Interactive will be introducing the gesture-controlled flying drone known as Aura (pictured at left). Previously only used in military applications, this gesture technology gives children the control they want over their drone and removes the learning curve of using a joystick controller to pilot their flying robot. If successful, the company hopes that it will dominate the toy drone niche. Children can pilot the drone with a glove controller and the cage protects the drone from inevitable crashes as it climbs walls, rolls across the floor and flies. It does have distance limitations for safety reasons. Aura will also have headless navigation, meaning that it will always follow the controller's lead, regardless of its orientation. Aura is expected to be released to the worldwide market in Autumn 2017.
KD Interactive is also showcasing Kurio Watch 2.0, which is the next iteration of its popular Kurio Watch Smart Watches for kids. Kurio Watch 2.0 will include more fun features and customization options like interchangeable wrist bands, including color-changing bands, an expanded selection of fun photo filters and frames, and an included screen protector. Of course it still includes the features that made the Kurio Watch popular, such as the ability to take selfies with fun filters, games that can be played alone or with a friend, Bluetooth-enabled messaging, the ability to place or take a phone call when connected with a parent's smartphone (no additional phone plan required), and a calendar, alarm, fitness tracker, and calculator.
Another new product that KD Interactive plans to release this summer is the Kurio Next, which is an updated version of the award-winning, best-selling, Kurio Xtreme 2 kids' tablet. Kurio Next is a 7-inch Android device that comes pre-loaded with the latest apps and games, including new apps that introduce kids to STEM and coding concepts. It also features "Surprise-a-Week" educational apps, e-books or videos delivered to the device every week for an entire year. A new anti-shock bumper protects the device during extreme play and also makes it spillproof. Kurio Next includes a free lifetime subscription to KD's proprietary Kurio Genius Internet filtering system, which allows kids to safely search the web, covering more than 18 billion websites in 200 languages and providing in-app web filtering.
LeapFrog
LeapFrog unveiled the latest version of its popular LeapPad tablets and an updated LeapStart Learning System at the American International Toy Fair. New LeapPad Ultimate games and LeapStart activity books will feature the most popular children's entertainment properties, including Trolls, PAW Patrol and PJ Masks.
"LeapPad Ultimate provides parents with the opportunity to give their child a learning tablet that's not only kid-safe, but packed with fun, engaging content that helps develop their child's mathematics, reading and problem-solving skills," said William To, President, VTech Electronics North America. "In addition to the debut of LeapPad Ultimate, we're also excited to introduce new licensed games to LeapFrog's library of more than 1,000 titles, providing kids with the opportunity to leap to the next level of learning alongside their favorite characters."
The new LeapPad Ultimate will feature more than $100 worth of pre-loaded learning apps and videos that help kids build core skills in mathematics, reading and science as well as music, problem solving, logic and creativity. This learning tablet is designed for kid-safe play right out of the box, with a kid-friendly web browser that provides access to pre-selected websites approved by learning experts, as well as a built-in bumper, reinforced design and shatter-safe screen. Parental controls allow parents to add multiple kids to one tablet as well as set play time limits. LeapPad Ultimate is recommended for kids ages three to eight years old.
Cool Stuff on eBay
[ebayfeedsforwordpress feed="http://rest.ebay.com/epn/v1/find/item.rss?keyword=%28VTech%2CLeapFrog+tablet%2CKD+Interactive%29&sortOrder=BestMatch&programid=1&campaignid=5337337555&toolid=10039&listingType1=All&lgeo=1&feedType=rss" items="10″]