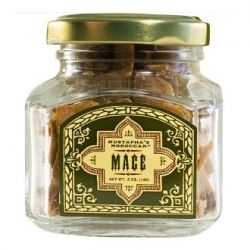 When most people think of mace, they probably think of that spray stuff that can be used to discourage attackers. But did you know that there is a spice called mace, too? Mace is made from the red, waxy coating of nutmegs and has a nutmeg-like flavor with a hint of pepper. Cooks who don't get too heavy-handed in their cooking can get maximum use of this spice. It is available either whole or ground and is versatile enough to be used in a variety of dishes from desserts to roast meats. It is a useful spice for gourmets who enjoy adding a little extra something to their cooking.
Pumpkin Cupcakes
Where Mace Comes From
Mace comes from the Nutmeg tree, which is native to Indonesia. Most mace comes from a region in Indonesia known as the Spice Islands and parts of Southeast Asia. The nutmeg seeds are highly prized for spice and were first introduced to Europe by the Dutch, who once dominated the spice trade.
During processing, mace is typically dried until it turns an orange color. The highest quality mace will retain this color, while most of it turns creamy or brown. This dried mace is called blade and professional chefs prefer the whole mace that they can grind as needed to preserve the flavor. Like most spices, mace is best when stored in a cool, dry place and used quickly for the best flavor. Stale mace can be toasted lightly to restore its flavor. You can use it in about any dish you would use nutmeg for and mace is popular in baked goods, roasts, soups, and curries.
Yellow Split Pea and Frankfurter Soup
Ingredients:
1 tablespoon olive oil
1 Spanish onion finely chopped
1 large carrot finely chopped
2 ribs celery diced
2 cloves garlic minced
1/2 teaspoon ground mace
2 1/2 cups dried yellow split peas
5 cups chicken stock
8 frankfurters or equivalent in spicy sausages sliced
Salt and pepper to taste
Instructions:
Heat olive oil in large pot. Add onion, carrot, celery and garlic. Cook and stir until they are just beginning to soften but not browned. Mix in mace and peas. Stir in stock; cover and simmer for 1 hour until peas are softened. Season with salt and pepper. Stir in frankfurters and heat through. Serve hot.
A Bottle Of Mace & How To Use It
If you came here looking for self-defense, this is for you. Go non-lethal with Mace, also called pepper spray. Handy to have around when you are out and about and want to discourage creeps who are out to give you grief. Be sure to learn how to use it safely, follow common sense safety tips and always have this on hand in case of trouble.
[ebayfeedsforwordpress feed="http://rest.ebay.com/epn/v1/find/item.rss?keyword=%28mace%2Cmace+spice%2Cpepper+spray%29&sortOrder=BestMatch&programid=1&campaignid=5337337555&toolid=10039&listingType1=All&lgeo=1&feedType=rss" items="10″]