Astronauts' Private Collections Offered at Heritage Auctions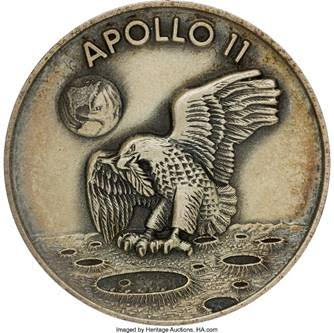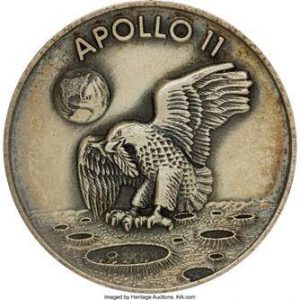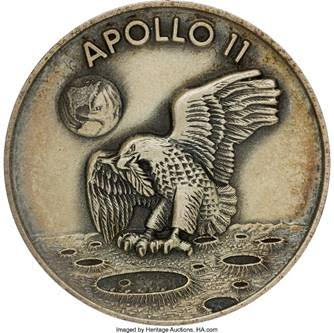 If you've ever wanted to own a "space flown" item, Heritage Auctions is offering a chance to bid on some rare and hard to find memorabilia from the private collections of astronauts and longtime space enthusiasts. In addition to the "Space Magna Carta," the first official document signed in space to mark the symbolic end to the "Space Race," memorabilia owned by astronauts and the most avid of space collectors will be among the highlights at Heritage Auctions' Space Exploration Auction Nov. 10 in Dallas, Texas. Do not pass this up if you've got some money burning a hole in your pocket and want to take advantage of a once-in-a-lifetime opportunity!
Space exploration collector Ronald Ulrich:
An Apollo 11-Flown Silver Robbins Medallion, Serial Number 409 (est. $35,000-45,000) was one of 450 flown aboard Apollo 11, the first manned moon landing, July 16-24, 1969, with crewmembers Neil Armstrong, Michael Collins and Buzz Aldrin. The obverse depicts Collins' original concept of the mission insignia, with an eagle carrying an olive branch in its mouth, a design NASA officials too indicative of war. Consequently, the branch was moved to the eagle's talons, leaving this as one of few – if not the only – major official item bearing Collins' original design.
An Apollo 11 Crew-Signed "First Man on the Moon" Stamp (est. $2,800-3,600) is an absolute rarity, a single stamp with wide selvage (surplus material on border) with the signatures of all three astronauts aboard the mission: "Neil Armstrong" in blue ink, and "Buzz Aldrin" and "M Collins" in black ink. The stamp is offered with an 11-by-8-1/2-inch color glossy close-up photo of the stamp for display.
A Neil Armstrong-Signed 1969 "Wapakoneta Homecoming" Ticket with Original Newspaper (est. $800-1,000) commemorates the Sept. 6, 1969 homecoming of Armstrong to his hometown in Ohio. The ticket is signed in blue ink by the astronaut and includes a small photo of Armstrong and a red Apollo 11 graphic. The accompanying newspaper features an enormous headline blaring "WELCOME HOME, NEIL" in letters so large (3-7/8 inches high) that the headline alone took up about half of the page.
From the family of former astronaut Richard Gordon:
An Apollo 15-Flown, Crew-Signed Limited Edition Apollo 12 Cover (est. $18,000-24,000) features the mission insignia with Navy wings by Bishop, the 6-cent flag stamp cancelled Dec. 10, 1969 (the day the crew left quarantine) and the signatures of Charles Conrad Jr., Dick Gordon and Alan L. Bean. Gordon wrote "Flown To The Moon RG" in the top left corner and "4 of 87" in the lower left corner. The verso includes the following certification: "This envelope was flown/to the moon on Apollo 15/Richard F. Gordon Jr." and contains a card reading "The Accompanying Cover/Is #4 of 87/Carried to the Moon" and is signed "Richard F. Gordon Jr/9-20-80."
A Gemini 3-Gemini 12 Presentation Set of 10 Flown Flightline Medals in Lucite (est. $9,000-12,000) is one of just 24 produced and a historical presentation of all 10 flown Fliteline medals, one from each manned flight of the Gemini program. All are in matched silver color with five (Geminis 3, 4, 5, 9 and 11) minted in sterling silver and hallmarked on the reverse.
An Apollo 12 Lunar Module-Flown Large Size American Flag and Patch on a Crew-Signed Presentation Mat (est. $6,000-8,000) are mounted on a 14-by-18-inch mat above a label reading "Sailed With Yankee Clipper/And Intrepid To The Ocean of Storms/November 1969" as well as the signatures of the crew: Charles Conrad, Dick Gordon and Alan L. Bean.
An Apollo 13-Flown Silver Robbins Medallion, Serial Number 76 (est. $8,000-12,000) is one of 404 newly-designed sterling silver medallions struck from the flown metal of medallions that were intended to go on the mission but ultimately were melted down when last-minute crew changes and other problems kept Apollo 13 from completing its mission.
An Apollo 8-Flown American Flag (est. $4,000-6,000) comes directly from the personal collection of Lovell, who signed and certified it. The certification, split over two of the flag's white stripes, reads: "On board Apollo 8 21-27 Dec 1968/James Lovell"; the lot also includes a signed Letter of Authenticity from Lovell on his company letterhead that reads "I hereby certify that this American Flag was in my PPK during my Apollo 8 flight. Apollo 8 was the first journey to the moon in December, 1968. This American Flag is from my personal collection of space artifacts and has been in my possession since the mission."
A Gemini 12-Flown Embroidered Mission Insignia Patch (est. $1,000-1,500) has a three-inch diameter and features a Gemini capsule pointing toward the Roman numeral "XII" at the top, as if on the face of a clock. The patch includes the embroidered surnames of astronauts James Lovell and Buzz Aldrin" and is signed "James Lovell" on the verso.
An Alexei Leonov Original Painting The Ashy Layer in Framed Display with Four Signed and Numbered Litho Prints (est. $2,000-2,500) with photographic provenance is a 19-by-12-inch painting showing a mirage-like reflection of the moon on the earth below, on which two areas of city lights can be seen. The "ashy layer" was claimed by Leonov, confirmed during a spaceflight and was the subject of his Master's thesis. The lot includes a color photo of Leonov holding the painting in his home. The painting has been reframed under glass, triple-matted with an engraved plaque in a 29-by-22-inch black lacquer frame.
An Alexei Leonov Original Painting Cyclone Over Singapore in Original Frame with Four Signed and Numbered Litho Prints (est. $2,000-2,500) is signed by Leonov in the lower right corner and shows a scene he saw during the Apollo-Soyuz Test Project mission: a massive cyclone over Malaysia poking through the ionosphere and covering a large section of the planet. This is the first depiction of a cyclone from the perspective of an artist in space.
Alexei Leonov's Owned and Worn Soviet Air Force Major General's Uniform with Coat, Pants, Shirt, Tie and (Signed) Hat (est. $1,200-1,800) with photographic provenance was purchased by a collector directly from Leonov in 1992 and includes a 7-by-5-inch color photo of Leonov, the first man to walk in space, at his home with the uniform hanging behind him.
Former Texas businessman and NFL owner Kenneth S. "Bud" Adams. Jr.:
An Apollo 11 White Spacesuit Large Color Photo (est. $1,400-1,800), signed on the presentation mat to then-Houston Oilers owner Bud Adams, measures 14 inches high by 11 inches wide. It is signed by Armstrong: "To Bud Adams–/Sincere Best Wishes From Apollo 11-". Beneath the photo are three signatures: "Neal Armstrong," "M (Michael) Collins" and "Buzz Aldrin." The lot is accompanied by a modern copy of the image printed on professional silk finish paper.
This example of Apollo 8: James Lovell Large "Earthrise" Color Photo (est. $700-900) is signed on the presentation mat to then-Houston Oilers owner Bud Adams: "Earthrise from Apollo Eight 12-24-68/To K.S. "Bud" Adams/How about the Oilers joining the Lunar Football League!/Best Wishes/James Lovell/Apollo 8, 13".
In a nod to Adams' stature as the owner of the Oilers and Titans, an Apollo 7 Large White Spacesuit
"Football Pose" Crew-Signed Color Photo on a Presentation Mat (est. $700-900) is a rare image that is signed in black: "Walt Cunningham," "Donn Eisele" and "Wally Schirra." Below the signatures, Schirra wrote: "Best wishes Bud-/from eight short of eleven – Apollo Seven."