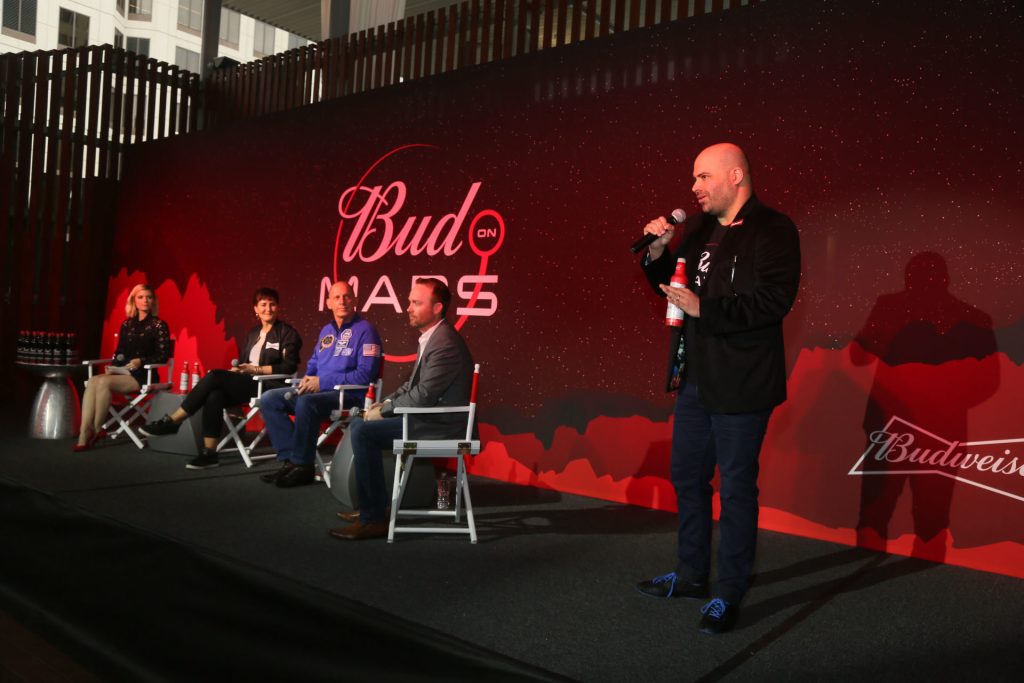 Among serious supporters of human expansion into outer space, there seems to be a tacit acknowledgment that somebody, somewhere, will be the first to set up a brewery on a permanent base, station or colony. It might be frowned on, discouraged, or outright forbidden, but people can be darned clever about improvising a still or sneaking a supply of vodka on board. If you think that alcoholic beverages won't happen on Mars or anywhere else in outer space, you don't know the Russians. In fact, Budweiser recently announced that their long-term plans include becoming the first commercially produced beer brand on Mars.
Budweiser announced its intention to produce beer in microgravity as part of its plan to be part of the final frontier with the help of retired astronaut Clayton Anderson at the South by Southwest Conference on March 11, 2017. The announcement was unveiled during a panel moderated by "The Martian" star Kate Mara, which also included Anheuser-Busch's vice president of Innovation, Valerie Toothman. The panel covered the current challenges and solutions needed to take Budweiser on an interplanetary journey along with discussing the initial experiments and research Budweiser hopes to explore. Naturally, this beer company is sober enough to admit that the process of getting its beer (and the Marstronauts who are going to drink it) to the red planet is likely to take decades.
"With this bold, new dream Budweiser is celebrating the entrepreneurial spirit in which our iconic brand was founded upon. Through our relentless focus on quality and innovation, Budweiser can today be enjoyed in every corner of the world, but we now believe it is time for the King of Beers to set its sights on its next destination. When the dream of colonizing Mars becomes a reality, Budweiser will be there to toast the next great step for mankind," said Ricardo Marques, a VP for Budweiser.
If this was a Budweiser commercial, we would be required to throw in a required disclaimer that future Martians (and current Earthlings) should drink responsibly and avoid doing anything that would start with, "Hold my beer."
Of course, NASA was also at the South by Southwest (SXSW) event over the weekend and continues its presence at the Tradeshow through March 15 with its "Experience NASA" exhibit in booth 729 at the Austin Convention Center. Visitors to the Tradeshow can learn about how to collaborate with NASA on citizen science projects, participate in NASA prizes and challenges, and get the latest information on exciting NASA missions and spacecraft, including the Juno mission to Jupiter, International Space Station, James Webb Telescope, and the latest work on the Orion spacecraft and Space Launch System rocket. Experts from across the agency are on the schedule to participate in panel discussions on topics such as Humans, Robots and Microbes, Dark Energy and Exoplanets, and NASA's next Great Observatory, the James Webb Space Telescope.
For the record, NASA has a track record of discouraging its astronauts from drinking alcoholic beverages while participating in an active spaceflight mission. However, it does seem to be okay with experiments involving the production of alcoholic beverages on the International Space Station.
Brewery Experiment on the ISS
Also Don't Miss:
The above movie trailer-style video is a preview for the upcoming documentary titled, "Mission Control: The Unsung Heroes of Apollo," which will hit select theaters and video on demand services on April 14. Beer is optional; inventing your own drinking game is required. The trailer is scheduled to be shown at SXSW 2017.
Some Down To Earth Beer Collectibles
[ebayfeedsforwordpress feed="http://rest.ebay.com/epn/v1/find/item.rss?keyword=%28budweiser%2CAnheuser-Busch%2Cbeer+in+space%2Cbeer+advertisement%2Cbrewery%29&sortOrder=BestMatch&programid=1&campaignid=5337337555&toolid=10039&listingType1=All&lgeo=1&topRatedSeller=true&feedType=rss" items="15″]