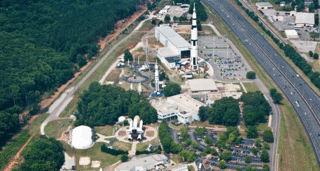 Nearly one hundred college and high school teams are prepared to compete for scientific glory and possible cash prizes during NASA's Human Exploration Rover Challenge at the U.S. Space & Rocket Center in Huntsville, Alabama, on March 30-April 1. Participating teams come from around the world including 23 states, the District of Columbia, Puerto Rico, and several different countries, such as Brazil, Germany, India and Mexico.
The challenge highlights NASA's goals for future exploration to Mars and beyond. Inspired by the lunar roving vehicles of the Apollo moon missions, the competition challenges students to solve engineering problems, while emphasizing NASA's commitment to inspiring new generations of scientists, engineers and explorers. The Human Exploration Rover Challenge is hosted by NASA's Marshall Space Flight Center in Huntsville and the U.S. Space & Rocket Center, and is managed by Marshall's Academic Affairs Office.
Humans, Start Your Rovers!
Participants will design, build, test and race human-powered rovers driven by a passenger team of one male and one female over a 0.7-mile course that includes obstacles similar to those found on the Moon and Mars. The course will take them around model rockets and spacecraft such as an engineering test rocket of the space shuttle with external fuel tank and solid rocket boosters, as well as a model of the Apollo Lunar Module.
Challenges will require the passengers to be able to carry and assemble their rover and attempt to traverse all obstacles on the obstacle course. The rovers should be no more than five feet in width and have a 15-inch clearance. Rovers will have 8 minutes to complete the course. Teams get a second attempt to complete the course if their rover is disabled on their first attempt. The fastest teams in each categoryy, the rover with the best design, and the best rookie will receive prizes that have been donated by corporate sponsors. There is an optional Drive Train Technology Challenge in which teams can develop reliable systems such as belts, drive shafts or direct drives to replace commonly used chains and compete for best performance and a $500 prize.
"The NASA Human Exploration Rover Challenge team and its innovative partners are extremely excited to host this engineering design competition," said Diedra Williams, acting manager of Marshall's Academic Affairs Office. "The Rover Challenge allows for young talent to work together to solve complex engineering problems that include design, construction and testing. It is great fun – but also reflects the real-world complexity of problem solving with practical, hands-on experience. We look forward to seeing the enthusiasm and inventive ideas they bring to the competition."
The event will be livestreamed on Ustream. Be sure to follow the event on Twitter for live updates during the event.
Mars Rovers on eBay
[ebayfeedsforwordpress feed="http://rest.ebay.com/epn/v1/find/item.rss?keyword=%28NASA+mars+rover%2Clego+mars+rover%2CNASA+Curiosity+Rover%2CNASA+Opportunity+Rover%2CNASA+Spirit+Rover%29&sortOrder=BestMatch&programid=1&campaignid=5337337555&toolid=10039&listingType1=All&lgeo=1&feedType=rss" items="15″]