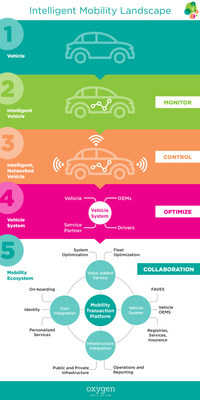 Clean technology company Oxygen Initiative is kicking off its second year of partnership and investment with Germany's leading energy company, innogy SE, by priming the U.S. market to adopt Blockchain-backed electronic wallets for drivers.
Using an electronic wallet, Share&Charge enables people to share their charging stations with drivers who pay for usage via Blockchain technology. Following successful testing in Germany, Oxygen Initiative is adapting Share&Charge to U.S. standards for the American market. In addition, other use cases for mobility services will be tested.
"E-mobility technologies are ushering in advancements in transportation that could foster the adoption of clean-tech autonomous vehicles (AVs) and electric vehicles (EVs), which could bring the dream of less congestion and pollution, shorter commutes and lower operating costs into reality," said Stephen G. Davis, founder and CEO, Oxygen Initiative. "We're excited to do our part by introducing Blockchain technology for the mobility space to the United States, starting with access and payment solutions for electric charging stations."
Like the effortless user experience consumers enjoy while charging their cars at home, Blockchain technology enables seamless payments for charging stations when they're out and about. As an example, a client loaded onto an EV's computer would not need much more than a token authorization from the owner to negotiate a connection with a local Blockchain node and arrange to pay for power usage at a parking garage that contains charging stations while the EV's owner enjoys a dinner and a concert in their city's downtown district. This kind of payment system supports emerging e-mobility solutions, what is becoming known as both autonomous, connected, electric and shared (ACES) and fleets of autonomous vehicles, electric and shared (FAVES) technologies.
"The concept of seamless charging and the possibility of microtransactions enabled by Blockchain technology may be a breakthrough for the entire mobility sector," Davis said. "We could see cars pay for themselves and handle simple transactions automatically. As an example, imagine letting an autonomous vehicle go into taxi mode while you're at work and return when you're ready to go home. With this e-mobility solution, the car could collect fares from riders and pay to charge itself for the commute home."
With new Blockchain-based technology, EV drivers can employ easy-to-use payment options, such as the real-time settlement of highway tolls, peer-to-peer roaming and sharing of charging stations or could collect fees from other people for car-sharing.
Beyond these benefits of convenience, Oxygen Initiative also points out that this technology could enable EV drivers to help utilities manage the power grid seamlessly – a way for these vehicles to pay for their own fuel. Under these scenarios, electric utilities will compensate drivers for agreeing to delay charging sessions, thereby reducing strain on power grids during times of peak demand.
"Soon, instead of paying with cash or credit cards, your vehicle could sell back excess energy during peak pricing events and pay for vehicle operation," Davis explained. "By teaming up with automakers, Oxygen Initiative will be able to solve the interoperability problem caused by various types of charging stations and charge card and payment systems to accelerate revolution-scale adoption of FAVES."
"Following successful tests in Germany, we are very happy to roll out our mobility Blockchain products in the United States with our partner Oxygen Initiative," said Thomas Birr, senior vice president, innovation and business transformation, innogy SE. "We believe the future of personal mobility will be autonomous, connected, electric and shared. Blockchain technology can be a catalyst for this, facilitating secure, simple and efficient transactions among all stakeholders of the mobility sector."
This announcement was made during the one-year anniversary of the partnership between Oxygen Initiative and innogy SE. In February 2016, innogy SE (under its predecessor European utility RWE) invested in Oxygen Initiative, operating at the time under brand name KnGrid, and tapped the California-based clean tech startup to serve as the exclusive licensee of RWE's eMobility platform in North America.
Cool Stuff on eBay
[ebayfeedsforwordpress feed="http://rest.ebay.com/epn/v1/find/item.rss?keyword=%28tesla+motors%2Ctesla+electric+vehicle%2Celectric+vehicle%2Cblockchain%29&sortOrder=BestMatch&programid=1&campaignid=5337337555&toolid=10039&listingType1=All&lgeo=1&feedType=rss" items="15″]