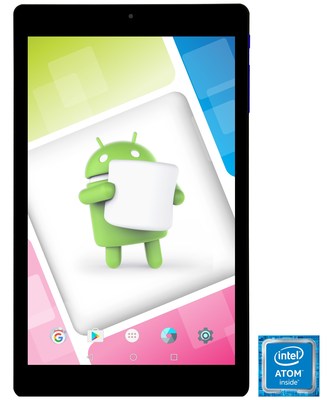 E FUN, a designer and manufacturer of mobile lifestyle products, has announced that it has made enhancements to its popular Nextbook Ares 8A Android tablet. Utilizing all that the Android OS has to offer, the unit is perfect for anyone looking for a way to stay entertained during spring break or any time of year when action is slow and the kids need to be entertained during those long summer car trips. The value-priced Ares 8A is available now at select Walmart® locations and online at Walmart.com.
"Our revamped Nextbook Ares 8A Android tablet offers high performance, fashion, and – at less than two pounds – the ultimate in portability," stated Jason Liszewski, E FUN managing director and VP of sales. "With spring in the air – or about to be – its many features, especially its ability to access the Google Play Store and its myriad selections of apps, movies, music, books, and more, make it an ideal companion for anyone just itching to get up and enjoy life. Users can easily switch between playing games, browsing the web, watching movies, and listening to music with just a swipe of their finger."
Features and Pre-Loaded Content


The Nextbook Ares 8A Android tablet comes ready to connect with its built-in Wi-Fi and Bluetooth capabilities, making it easy to connect to the Internet from anywhere that is within reach of a Bluetooth connection or Wi-Fi router. Connectivity won't be an issue, whether the unit is used in the backyard, local park, nearby beach, trip across country, or a stay at some exotic location far from home.
It comes with several excellent preloaded apps like the Barnes and Noble NOOK app, which grants access to every ebook that you care to download on Barnes and Noble for spring and summer reading. Want to sit back and while away the hours watching movies and TV shows? The Ares 8A's VUDU Movies and TV app gives you instant access to hours of them. If you would rather venture to an actual movie theater, check out what is showing on the Flixster app.
If you get tired of these goodies (not likely, right?), check out the pre-loaded Google Play Store for millions of free or cheap apps, entertainment and more reading material. From the latest video games – made even more exciting with the unit's 3-axis G-sensor for constraint-free motion – to all of the popular social media sites, music (over 35-million songs), books (over five-million titles), movies and TV shows, and news publications and magazines are at your fingertips.
Don't be shy about shooting photos or taking videos with your Nextbook Ares 8A. It comes with built-in 0.3MP front and 2MP rear-facing cameras. It has 16GB of internal memory and additional storage via a microUSB port and an up to 128GB-capacity microSD slot. So, there's plenty of room to store all of those captured memories.
The versatile unit supports the following A/V formats:
Video: MPEG4, H.263, H.264, WMV, and more
Music: MP3, WAV, OGG, FLAC, APE, AAC, and others
Photo: JPEG, BMP, GIF, PNG, and more
Plus…
The new Nextbook Ares 8A Android tablet has an 8″ 1280 x 800 IPS touchscreen with 16:10 aspect ratio that ensures easy operation and crisp, sharp, high-definition images. Fast, smooth performance is provided by its Android 6.0 Marshmallow operating system. Its Intel Atom quad-core processor lets users play games or stream videos smoothly and quickly, while a built-in micro HDMI port allows videos, streaming content, and other high-definition material to be shown on any compatible TV. A rechargeable Lithium Ion battery provides up to eight hours of battery life.
This tablet retails at $68 and is available at Wal-Mart.
More Tablets on eBay
[ebayfeedsforwordpress feed="http://rest.ebay.com/epn/v1/find/item.rss?keyword=android+tablet&sortOrder=BestMatch&programid=1&campaignid=5337337555&toolid=10039&listingType1=All&lgeo=1&topRatedSeller=true&feedType=rss" items="15″]