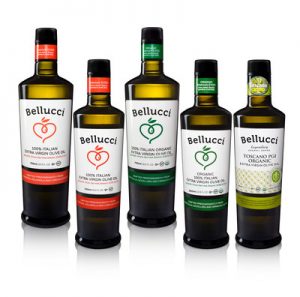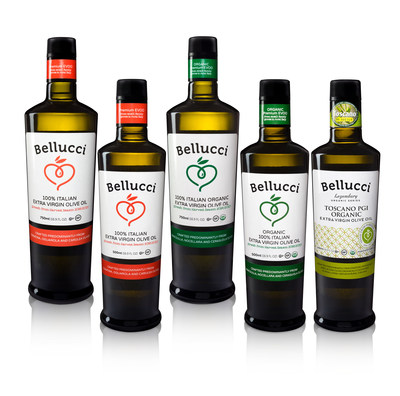 Like wine, olive oil is one product that can be affected by the growing season. That includes factors such as the quality of the growing medium (usually soil), the weather, and the risk of disease and pests. Olive oil companies such as Bellucci often take this into account when releasing new products such as Bellucci's new 2016/2017 Harvest Season lineup of extra virgin olive oil (EVOO) based products. If you are a fan of fine virgin olive oils, you might try options such as:
Classic 100% Italian EVOO – Classic flavor boosted by the Coratina olive's spicy, heart-healthy polyphenols, with an even balance between pepper and fruit. There is an aroma of herbs, apple and almond. A versatile EVOO for every day cooking. Perfect for crostini, pasta sauces and sautéed leafy greens.
Organic 100% Italian EVOO – Subtle notes of pepper give way to the favor of fruit, with hints of tomato and fresh herbs. Just right for comfort cooking such as stews, risotto and roasted meats.
Toscano PGI Organic 100% Italian EVOO – Intense flavors of both fruit and spice. The perfect finishing touch to drizzle over bruschetta, soups, Caprese salad, grilled vegetables, fish and meat. Toscano PGI (Protected Geographic Indication) Organic is certified by a consorzio in

Tuscany

that the olives are grown, the EVOO is pressed and the oil is bottled all within the region of

Tuscany

.
"We are very excited to bring this years new harvest of EVOO to our customers," said CEO Gerard Jara. "The flavors are truly unique with a beautiful balance of spicy, fruity and bitter notes throughout our entire product range."
Look out for fake olive oils, though!
If you're wondering what extra virgin olive oil even is, this is basically the oil that is squeezed right out of crushed olives and bottled for market with no other processing done. No chemicals are added and no other industrial processing is done. According to Olive Oil Times, this is the oil you want if you want an olive oil that is as close as possible to actually including actual fresh olives in your meals because it retains more of the nutrition from olives than any other grade of olive oil. Of course, this form of olive oil is not easy to produce in a consistent manner, so extra virgin olive oil is the most expensive grade. Just don't forget to use it within two years of purchase so that it doesn't degrade too much.
(How serious are industry insiders about their olive oil? Well, considering that somebody wants to send olive oil into outer space to see how it reacts to being in microgravity conditions…)
One thing that Bellucci offers as a promotional tool is a downloadable Android app that you can use to see the source of your exact bottle of olive oil and challenge your extra virgin olive oil tasting skills against a professional. If you have scored a good deal on EVOO or any other grade, you may wonder what to do with olive oil. Some recommended uses include applying it to your hair and skin to improve your health, but I doubt Bellucci would recommend its new lineup of extra virgin olive oils for that purpose. These recipes should get you started.
Pasta Salad with Raw Extra Virgin Olive Oil
Herbed Extra-Virgin Olive Oil
Ingredients
3 tablespoons fresh chopped herbs such as thyme, rosemary, marjoram or chives
Dash of grated Parmesan cheese (optional)
½ teaspoon kosher salt
¼ cup extra-virgin olive oil
Directions
Combine herbs, salt and oil in a small bowl. Add a dash of Parmesan if desired. Serve with slices of Italian bread. Makes a great opener for Italian night at home.

Grilled Seafood Salad Recipe
Rachel Ray's Spicy Shrimp and Spaghetti Aglio Olio
For Shrimp
2 pounds jumbo shrimp, peeled and deveined
Juice of 1 lemon
1/4 cup chopped flat-leaf parsley, or a couple of handfuls
1 teaspoon crushed red pepper flakes
4 cloves garlic, crushed and peeled
Coarse salt, about 1 teaspoon
2 tablespoons (a couple of generous drizzles) extra-virgin olive oil
For Aglio Olio
1 (2-ounce) tin anchovy fillets
6 to 8 large cloves garlic, crushed and minced
1/2 teaspoon crushed red pepper flakes
1/4 cup finely chopped flat leaf parsley, a couple of handfuls
Coarse salt
1 pound spaghetti, cooked to al dente
Tomato and Onion Salad, as an accompaniment
Crusty Bread (like Italian bread) with Herbed Extra-Virgin Olive Oil (recipe above) as an accompaniment
For Tomato and Onion Salad
5 medium plum tomatoes, halved lengthwise, gently seeded, and thinly sliced
1 small white skinned onion, peeled, halved lengthwise, and thinly sliced
1/4 cup chopped flat-leaf parsley (a couple of handfuls)
A generous drizzle extra-virgin olive oil, about 2 tablespoons
Coarse salt and black pepper
Directions
Aglio Olio:
Combine shrimp with next 6 ingredients and toss to coat shrimp evenly. Heat a large, nonstick skillet over medium high heat, then add half of the shrimp. Cook shrimp 3 minutes until pink and just firm. Remove shrimp to a warm platter and repeat process with remaining shrimp.Return pan to heat and reduce heat to medium low. Add 1/4 cup extra-virgin olive oil. Add anchovies, garlic, and pepper flakes to oil. Break up anchovies with a wooden spoon until they melt away into the oil and garlic mixture.Toss spaghetti in the pan with parsley and the garlic oil, then season with a little coarse salt, to your taste. Top servings of garlic and oil spaghetti with spicy shrimp and serve with Tomato and Onion Salad and Crusty Bread.Prep your garlic and parsley for aglio olio and set them, as well as drained pasta and remaining ingredients all within arm's reach of your stove top.
The aroma will be intense! Cooked anchovies have a salted-nutty (rather than fishy) taste that compliments the garlic as it sweetens and softens.
Tomato and Onion Salad:
Toss the tomatoes and onions with the chopped parsley, oil, salt, and pepper. Let stand while you prepare dinner, about 20 minutes. Re-toss and serve salad with crusty bread. (The bread is great for dipping in the Herbed Extra Virgin Olive Oil; Rachel Ray also recommends using it to mop up the oils in this salad!)
Baked Chicken with Extra Virgin Olive Oil
Oven Baked Salmon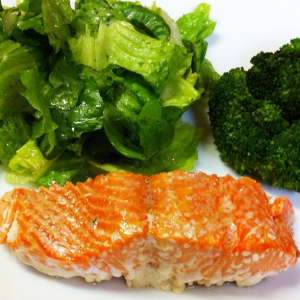 Found on Catholic Foodie — recommended for Lent!
Ingredients
1 to 2 lbs salmon fillet, with the skin on (we prefer a wild-caught salmon, like a sockeye, but farm-raised bakes well too)
Extra-virgin olive oil (a generous pour to coat well the top of the salmon)
Coarse ground kosher salt
Directions
Preheat oven to 450.
Rinse salmon in fresh cold water, then pat dry.
Place salmon in a glass or ceramic baking dish, skin side down.
Coat with extra-virgin olive oil, then generously sprinkle with kosher salt.
Bake until opaque and flaky; about 4-6 minutes for each 1/2 inch of thickness. Salmon is done when it flakes easily with a fork.
Shrimp Bruschetta with Tomatoes, Basil, and Extra Virgin Olive Oil
Olive Oil on eBay
[ebayfeedsforwordpress feed="http://rest.ebay.com/epn/v1/find/item.rss?keyword=%28extra+virgin+olive+oil%2Colive+oil%2Colive+oil+cookbook%29&sortOrder=BestMatch&programid=1&campaignid=5337337555&toolid=10039&listingType1=All&lgeo=1&topRatedSeller=true&feedType=rss" items="15″]