Henri Landwirth tells his inspirational story of surviving the Holocaust, losing his parents and nearly his own life. He came to America for a fresh start, became a successful hotel manager and then owner of a series of hotels, and befriended several well-known people like the Mercury Seven astronauts. Then, he walked away to found non-profits like "Give Kids the World." This is a must-read for anyone who likes rags-to-riches stories or wants to know more about what really happened in the Holocaust.
Henri Landwirth Tells His Story
Why You Should Read This Book
This is a true story of what it was really like to be in the Nazi concentration camps.
A horrific past need not determine the future. Henri Landwirth's story should be an inspiration for anyone who has ever survived a traumatic experience.
How many people do you know who has founded, not just one, but six charities? And that's just the ones I know about! The Nazis represented the worst of humanity and Henri Landwirth represents the best.
Why I Liked This Book
It's the sort of story that can never be told too often. Henri Landwirth lost his mother and father, very nearly lost his legs and his life, and suffered a nervous breakdown in the Nazi concentration camps. Through the kindness of strangers, he survived and recovered his health.
There's always room for a fresh start. Immigrating to America represented a chance at a fresh start. Though he only had a $20 bill, an old Torah and the clothes on his back when he came here, he was able to work his way up in the hotel business and become a part owner and manager of a series of Orlando-area hotels.
You'll applaud him for his courage. He was brave enough to overcome what the Nazis had done to him.
Give Kids The World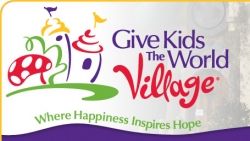 Before founding Give Kids the World, Henri Landwirth was a respected hotelier in the Orlando area. One day, a wish foundation gave him a call. A wish child named Amy was battling leukemia and wanted to see Mickey Mouse, so Landwirth agreed to donate the hotel room. Unfortunately, Amy passed away before her wish could come true. The trip had simply taken too long to arrange.
Saddened that bureaucracy had cost Amy her chance to see Mickey Mouse, Landwirth began to think of ways he could help insure that no wish child would ever be failed again. He founded Give Kids the World to help expedite trips to Florida's theme parks and enlisted help from corporations like Holiday Inn and Disney World. Before too long, demand grew so great the he began making plans for a villa where the families could stay. That villa grew into a 70-acre resort that includes an ice cream palace where children can have ice cream at any time, an Enchanted Carousel that wheelchair-bound children can ride, and weekly visits from Disney characters, Shamu the Whale, Nickelodeon, and The Flintstones. Guests at the villa can also get free tickets for local theme parks.
Gift Of Life on eBay
[ebayfeedsforwordpress feed="http://rest.ebay.com/epn/v1/find/item.rss?keyword=Henri+Landwirth+Gift+of+Life&sortOrder=BestMatch&programid=1&campaignid=5337337555&toolid=10039&listingType1=All&lgeo=1&feedType=rss" items="5″]