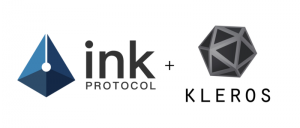 Ink Protocol, a Y-Combinator backed decentralized reputation and payments system for P2P marketplaces, will join forces with Kleros to provide users with a fair and decentralised way to settle transaction disputes.
The decentralized Ink protocol handles online marketplace payments and provides a trustless digital identity for sellers that exists across multiple marketplaces. Sellers build a public reputation over time, with buyers leaving a review after every transaction. This review is written onto the Ethereum blockchain – an immutable, permanent ledger.
As any eBay user knows however, in the online marketplace world transactions don't always go according to plan. Any number of issues can arise – from fraudulent goods to missing deliveries. In popular centralized marketplaces that's where moderators step in – authorities paid by the company to examine and resolve user disputes. But how can a decentralised system without an authority on hand tackle this problem and provide a service that is fair for both buyers and sellers?
Through its partnership with blockchain protocol Kleros, Ink may well have found the answer.
Kleros describes itself as a "dispute resolution layer for virtually everything." Disputes can be settled on the platform in a democratic and just way. It works by randomly selecting a jury from active users for each dispute who examine evidence provided by both parties, and vote on an outcome. The system acknowledges the decision of the jury and acts accordingly.
The Kleros justice system will be the final level of mediation, only triggered if the buyer and seller are unable to resolve the disputed transaction themselves. Transaction disputes can be settled with a refund or proceed ahead. If the transaction is not resolved here between the buyer and seller, then the dispute is elevated to the second stage, where community mediators step in using the Kleros system.

The mediators are financially rewarded for this service and remain anonymous. They are randomly selected which is the feature that gives Kleros its name. The Kleroterion was an allotment machine used in ancient Greek society to allocate citizens for jury service.
The mediation system will be put to the test shortly in the real world, as Ink's protocol is set to integrate with Listia and its ten million users this year. Over one hundred million items have been exchanged on the Listia marketplace since 2009, providing Ink with a large initial network to develop. The Ink protocol won't just be active on Listia however, with developers stating that it will be possible to use the payment and reputation system across the web. The reputation system plans to bring greater security to online transactions, reducing the scams that plague both buyers and sellers currently. On top of the security benefits, the payment protocol is also expected to operate much more cheaply than fee-based centralized marketplaces, making Ink an attractive alternative to centralised services.

Ink Protocol, who completed a $15M token sale last month, has been building a strong community as interest in the transaction and reputation system has been growing in anticipation of their integration with Listia.  Kleros, who has publicly stated that they will not be accepting institutional VC funding, has yet to announce details of their upcoming token sale, but the company has hinted that news about the will be released soon.