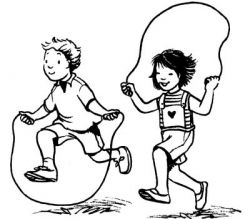 You might remember jumping rope as a kid. You had lots of fun competing with friends to see how many jumps you could do in a row or playing jump rope games with those little rhymes that seem silly now. If nothing else, you might have participated in Jump Rope for Heart to raise money for research to help improve heart health. The good news is that you don't have to miss out on the fun now that you're an adult. You can jump rope on your own for the exercise or teach your kids those fun tricks you can still do. It's all in the name of low-tech fun and getting those couch potatoes in your family up and moving.
Basic Jump Rope Tricks Demonstrated
Why Jump Rope?
You might be wondering if jumping rope is worth it. It just feels like a throwback to your grade school days and you feel ridiculous. If you can get over the initial self-consciousness, jumping rope is totally worth it for the health benefits and pure fun.
It's good cardiovascular exercise. The Jump Rope Institute estimates that the health benefits of ten minutes of jumping rope at 120 rotations per minute can equal thirty minutes of jogging. It will get your heart rate up and get that blood pumping.
You can do it in the privacy of your own home. No need to feel embarrassed if you're just doing it by yourself or showing your kids a few of the jump rope tricks you remember. Just make sure you have a clear space for the rope to swing freely.
It's cheap. If you can find an old jumping rope that's still in reasonably good shape in your garage or attic, that's awesome. If you need a new one, you can buy one for a fraction of the cost of most exercise machines or a monthly gym membership.
It's fun. Once you've got the hang of jumping rope again, you can practice some cool jump rope tricks just for a little variety. Besides, the best workout routine is the one that you'll actually stick to. Why not spice it up with a little jumping rope?
Ready To Get Back Into It?
You're thinking about it, aren't you? The truth is, jumping rope deserves to be taken seriously as a form of exercise. It's a good part of a total fitness regime, it's cheap, and it's fun. All you need is the rope and enough space so you don't knock anything over while swinging the rope, and you might find yourself chanting those silly old rhymes while you're jumping too. So go ahead and jump your heart out for your own good health.
Some Sites To Check Out
Jump Rope For Heart Learn more about how to organize and participate in your own Jump Rope For Heart event.
The Jump Rope Institute Seriously! The Jump Rope Institute is devoted to researching and spreading the word about the benefits of including jumping rope in your fitness routine.
WebMD on Jumping Rope WebMD is one of the top online resources for health and fitness tips. They weigh in on the benefits of jumping rope.
Get Started with Jumping Rope