Makerbot and Martha Stewart Announce New Partnership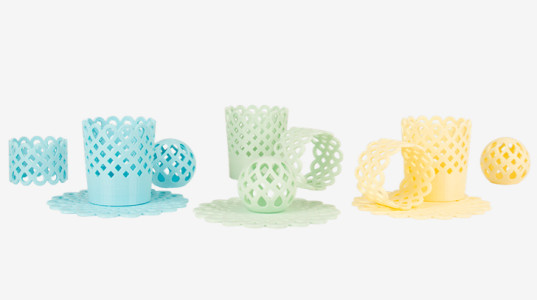 Makerbot is partnering with Martha Stewart. This is for real and not a typo, so pick your jaw up off the floor. I did a double-take when I saw that too. However, once I thought about it, this makes all kinds of sense in terms of marketing. If you've ever printed out a simple vase just to test your new additive manufacturing machine and then gave it to your grandmother with a nice bouquet inside or you already knew that Makerbot already has an impressive selection of downloadable 3D models that includes Sesame Street and Hello Kitty, you may have seen something like this coming.
Makerbot is getting out of the comfort zone of hobbyists who use this to create unique chess sets and into the world of the average homemaker who might like the convenience of simply downloading plans for napkin rings and place card holders (both part of the Trellis collection). Download the entire collection for $2.99 or $0.99 for each individual item and you can print them out as many times as you like in any available filament color including three new ones created specifically for this collection.
And why do I think this is cool? Well, I'm not a fangirl of Martha Stewart by any means, but I am a fangirl of being able to easily set out things for a party when I absolutely must. You shouldn't be rooting through the drawers for your coasters only to remember that you don't have them in the right color for the theme you want to use this time. When it comes down to crunch time, you won't catch the kind of person who already owns a Makerbot out shopping for coasters when he can simply download and print some out.
This collection is so cute that your friends who love to host parties will probably be begging you to print LED votive holders for them. No problem; selling items that are hot off your Makerbot do make for a good under-the-table business for people looking to pay for their 3D printing hobby and they also make convenient holiday gifts when applicable.
Seriously, though, this is a brilliant marketing move on the part of both Makerbot and Martha Stewart. Makerbot can reach Martha Stewart's existing audience with the convenience of being able to create your own selections from the Trellis Collection in your own preferred color with more designs from Martha Stewart coming soon from the sound of it. Martha Stewart gets the advantage of reaching 3D printing enthusiasts who like the convenience of not being dragged to the nearest home décor center simply to choose new napkin rings. Everybody wins in this case even when the new partnership might get a few raised eyebrows at first.
Don't Have A Makerbot Yet?
Unfortunaly, this xml/rss feed does not work correctly...