Stuff to Do With Mahi Mahi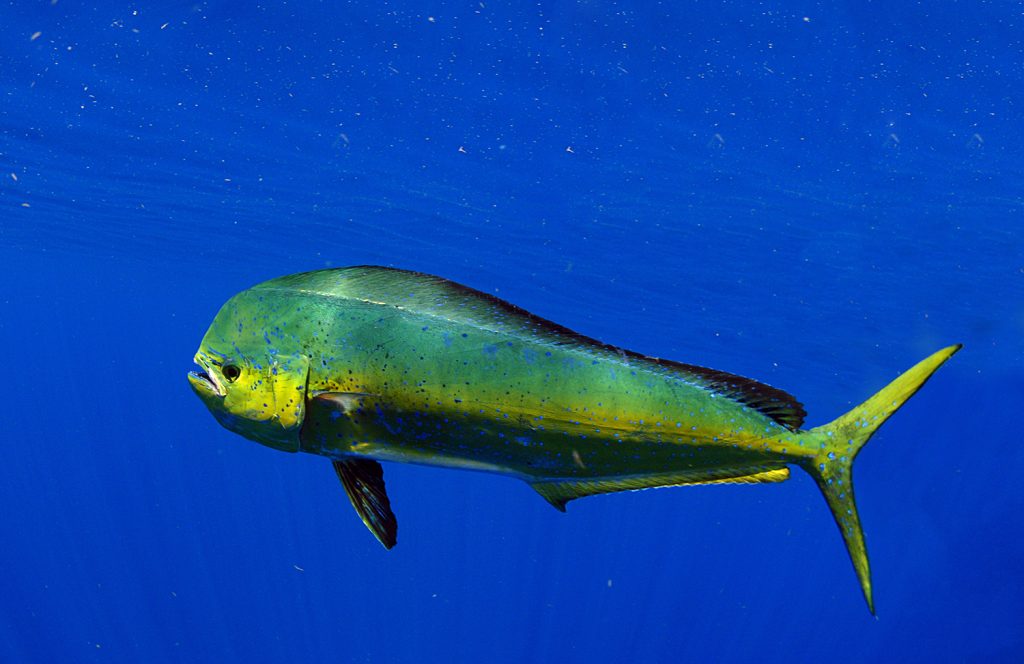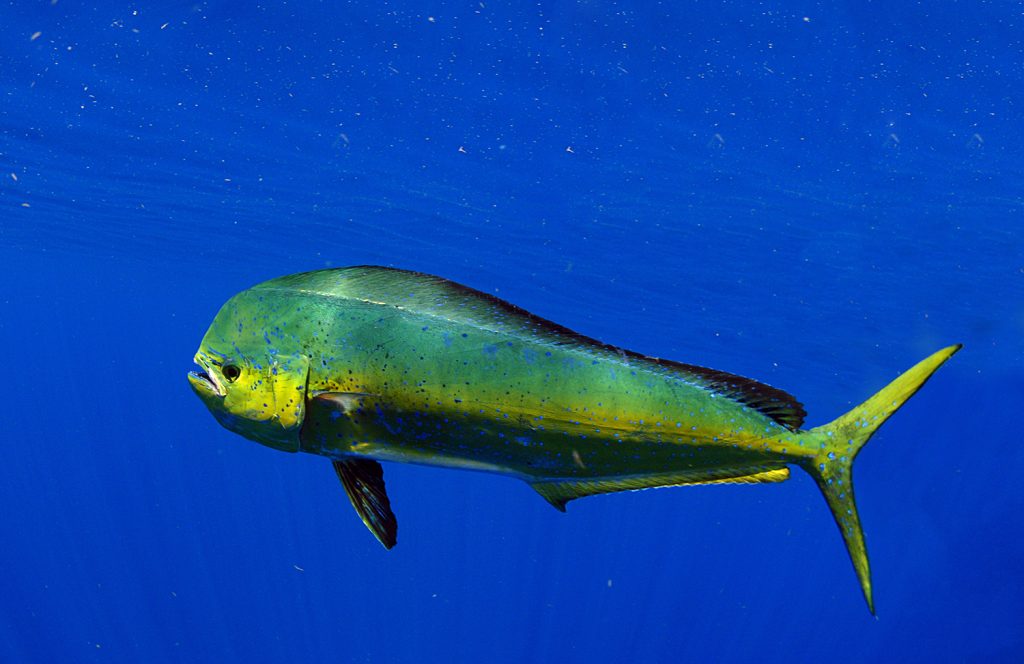 Mahi mahi is a versatile fish that is most comparable to halibut. While not found on dinner plates as often as more popular fish varieties like salmon or trout, it's a top pick for specials at some high-end seafood restaurants.
What Is Mahi Mahi?
Mahi mahi is a mild, sweet-tasting fish that is dense like swordfish but flaky like halibut. It is a versatile fish that can be grilled, baked, broiled, or even smoked. Mahi mahi is a great fish for those who are looking for a healthy alternative to red meat. This fish is high in protein and low in fat. It is also a good source of omega-3 fatty acids.
The number one thing to remember about cooking mahi mahi is that it's a lean fish that can dry out easily if overcooked. Many cooks will leave the skin on while cooking it to maintain its integrity, and then remove and discard the skin.
Fun fact: Mahi means "strong" in the Hawaiian language. They call this fish "strong strong" because it is a vigorous swimmer. However, it is a short-lived fish that typically lives not much longer than five years.
What are the nutrition benefits of Mahi Mahi?
Mahi Mahi is a type of fish that is known for its flaky, white meat. This fish is also a good source of protein and omega-3 fatty acids, which supports your brain's health and can reduce the risk of some mental illnesses. Equally importantly, mahi mahi is a good source of B vitamins, which boosts cellular metabolism.
Serving size: 3 ounces
Calories: 93
Protein: 20 grams
Fat: 0.77 grams
Cholesterol: 73 mg
Sodium: 96 mg
Iron: 1.45 mg
Vitamin A: 208 IU
Potassium: 533 mg
Vitamin B6: 0.462 mg
Vitamin B3: 6.3 mg
Selenium: 45 mcg
Where can I find Mahi Mahi?
While mahi mahi is not as common in supermarkets, if you can find it, you can use it in most recipes that call for swordfish or halibut. This fish is also called "dolphin fish" even though it is not closely related to dolphins.
Mahi Mahi can typically be found in the fish section of many groceries like Publix, Costco, or The Fish Market, or online at meat sellers like Omaha Steaks.
Blackened Mahi Mahi
Mahi Mahi Tacos
If you've ever had "fish tacos," you might have already tried mahi mahi, which is a popular meat filling for the best tacos.
What You'll Need:
For the salsa:
2 c. pineapple, chopped
1/2 medium white onion, thinly sliced
1 jalapeño, thinly sliced
1 tbsp. fresh cilantro, finely chopped
1/4 c. apple cider vinegar
2 tbsp. extra-virgin olive oil
For The Tacos
1 tsp. smoked paprika
1/2 tsp. garlic powder
1/2 tsp. onion powder
1/2 tsp. kosher salt
1/4 tsp. oregano
1/4 tsp. freshly ground black pepper
1/4 tsp. cumin
Pinch cayenne (optional)
1 tbsp. mayonnaise
1 lb. mahi mahi fillets, sliced into 6 taco-size portions
Corn tortillas
Fresh cilantro, for serving
Lime wedges, for serving
Optional: Shredded Mexican blend cheese, tomatoes and lettuce for garnish, and your favorite cool drinks to wash it down.
Directions:
Combine ingredients for the salsa in a bowl. Cover with plastic wrap and place in fridge to chill while you make the mahi mahi filling. This gives the flavors time to blend.
Combine paprika, garlic powder, onion powder, salt, oregano, pepper, cumin, and cayenne in another small bowl.
Dry mahi mahi by patting them with paper towels. Add mayonnaise and spice mixture. Toss until evenly coated. Refridgerate for 20 minutes to 1 hour.
Preheat your grill to medium high heat. Grill the mahi mahi until charred and cooked through, about 6-8 minutes. Turn mahi mahi halfway through grilling.
In the last minute of cooking, add tortillas to the grill. Watch them carefully and turn quickly after thirty seconds. They'll take only a minute to get soft and lightly charred.
Transfer the tortillas to plates; equally distribute the mahi mahi between the tortillas. Add salsa, lime wedges, cilantro, and optional garnishes. Serve with your favorite cool drinks.
Peruvian-Style Mahi Mahi
Baked Mahi Mahi
Ingredients:
Directions:
Preheat oven to 425 degrees F (220 C)
Thaw mahi mahi if necessary. Pat dry with paper towels.
Spray baking dish lightly with cooking spray.
Place fish in baking dish, taking care to avoid "layering" them.
Sprinkle lemon juice, garlic salt, and black peppter on fish.
Mix mayonnaise and onion and spread the mayonnaise mix on top of the fish.
Sprinkle breadcrumbs on top.
Bake for 25 minutes or until mahi mahi flakes easily with a fork.
Mahi Mahi With Creamy Mushroom Sauce
Herb Baked Mahi Mahi
Recommended sides for this include orzo pasta and cherry tomatoes.
Ingredients:
12 ounces mahi mahi filets
Zest from one lemon. (Juice the lemon too, and save the juice.)
1 ounce lemon garlic herb butter. (You can make your own by mixing softened butter, a little lemon juice, and a little garlic powder.)
1/2 garlic salt
1/4 cup panko bread crumbs
2 ounces grated parmesan cheese
Salt and pepper to taste
Directions
Preheat oven to 425 degrees F (220 C)
Line a baking dish with foil or spray with cooking spray
Combine butter, bread crumbs, and parmesan cheese in a bowl
Dry mahi mahi files by patting them with paper towels. Place in baking dish; sprinkle with salt and pepper. Top with bread crumb mix.
Bake for 10-12 minutes until fish flakes easily with a fork.
The Basic Fried Mahi Mahi Sandwich
Mahi Mahi in Lemon Garlic Cream Sauce
Ingredients:
Fish
4-5 mahi mahi fillets 4-6 oz. each, 1-inch thick
2 tablespoons olive oil
1 tablespoon unsalted butter
Spice Rub
3 tablespoons flour
1 tsp EACH garlic powder, onion powder, salt, paprika
1/2 teaspoon pepper
Lemon Garlic Cream Sauce
3 tablespoons minced shallots
3-4 cloves garlic minced
1 1/4 cups low sodium chicken broth
1/2 cup heavy cream
1 tablespoon cornstarch
1/2 tsp EACH dried parsley, dried thyme
2 tablespoons lemon juice more or less to taste
salt and pepper to taste
Garnish (optional)
Directions:
Mix spice rub ingredients in medium bowl.
Pat dry mahi mahi ingredients.
Rub the spices on the mahi mahi.
Melt 1 tablespoon butter in 2 tablespoons olive oil over medium-high heat in a large heavy bottom skillet.
Once hot, add fillets, turn heat down to medium and cook approximately 4 minutes, flip fillets over, then cook an addition 2-4 minutes until fish is browned and flakes easily with a fork.
Turn down heat if fish browns too quickly.
Remove mahi mahi to a plate and tent with foil.
Drain off excess oil; leave about 1 tablespoon in the bottom of the skillet.
Add shallot and saute for about 2 minutes until softened. (While doing this, scrape up some of the leavings from the fish to keep it from burning on the bottom and add flavor to the sauce.)
Add garlic; saute about another 30 seconds.
Whisk chicken broth with cornstarch until smoothly blended.
Add chicken broth mix, heavy cream, lemon juice, thyme and parsley to the skillet. Simmer until reduced by about half and thickened. Add salt and pepper. Give it a quick taste if you can do it without burning your tongue and add more lemon juice if desired.
Return mahi mahi filets to the skillet and spoon sauce over the top. Heat through and serve with rice, pasta, or potatoes.
Mahi Mahi Curry
Mahi Mahi with Tahitian Vanilla Sauce
Ingredients:
4 mahi mahi filets
Salt and pepper to taste
3 tablespoons olive oil
1/2 cup dark rum
1 vanilla bean, sliced open lengthwise
1/4 cup salt-free or low-sodium chicken broth
1 cup heavy cream
1 cup coconut milk
Extra kosher salt for the sauce
Directions:
In a medium saucepan, heat the rum and vanilla bean over medium-high heat until reduced to 2 tablespoons. Should take about 3-5 minutes.
Whisk in coconut milk, cream, and chicken stock. Heat over medium-high heat, whisking frequently, until mixture is reduced to 1 cup. Mixture should stick to the spoon.
Scoop the vanilla bean out of the sauce. Scrape the seeds out of the inside of the bean and mix them back into the sauce.
Add salt to taste to the sauce.
Sprinkle salt and pepper on both sides of the mahi mahi filets.
Heat olive oil in large skillet. Add the filets and brown over medium-high heat until golden brown, about 6-8 minutes, flipping halfway through.
Transfer to a plate and serve with sauce and preferred sides. (I like rice or potatoes.)
Mahi Mahi Fish Chili