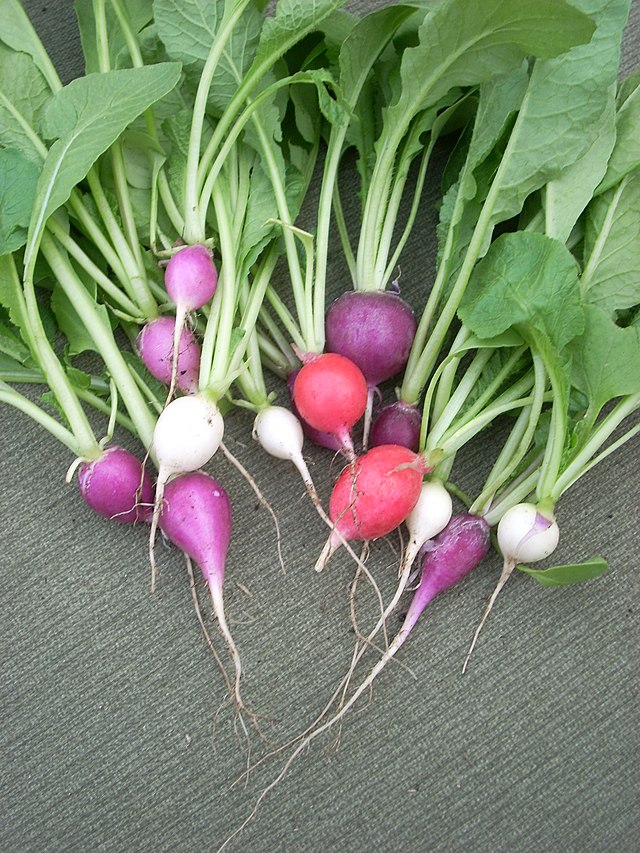 Radishes are a highly versatile root vegetable that has been around for thousands of years. They were first grown in China and then spread to other parts of the world. Radishes come in many different colors, including white, red, and black. It's most popular to use radishes in salads or as a garnish, but they can be used in a variety of dishes as well.
Why use radishes?
If you're looking for an easy vegetable to add to your diet, radishes are the perfect choice! They're easy to grow, can be planted in almost any soil type, and are high in potassium, vitamin C, and fiber – perfect for adding to your diet as part of a healthy balanced meal plan. A radish is a type of root vegetable that can be mildly spicy or sweeter depending on the variety and add a nice crunch to many dishes.
Nutritional facts of radishes
Serving size: 1 cup sliced radishes
Calories: 19
Fiber: 1.9 grams
Carbohydrates: 3.94 grams
Fat: 0.12 grams
Protein: 0.19 grams
Vitamin C RDA: 19%
Potassium RDA: 6%
Iron RDA: 2%
Calcium RDA: 2%
Vitamin B6: 5%
Radishes are easy to grow in your garden!
If you are considering gardening or plan to expand an existing garden, radishes make a great addition as a root vegetable. They grow fast, with some varieties being ready to harvest in as little as three weeks, though some varieties like the summer radish will take as long as eight weeks. In most climates that don't get too cold too fast, you can plant them in the spring or early fall and count on them being ready in a short time. Just be sure you follow the instructions in the below video and water them regularly.
Another fun thing is that radishes are easy to grow in pots. The pots don't even have to be incredibly huge.
Cucumber and Radish Salad
Roasted Radishes
Ingredients
5 cups radishes, cut in half
Melted butter
Salt and pepper to taste
Garlic powder
Method
Preheat oven to 425 degrees Fahrenheit (215 Celsius).
Toss radishes, melted butter, salt, pepper, and garlic pepper together in a bowl.
Spread the radishes on a baking sheet.
Roast radishes for 20-30 minutes until you can pierce them easily with a fork.
Easy Pickled Radishes
Cabbage, Radish, and Apple Coleslaw
Ingredients
5 cups shredded cabbage. (Can be green, but I think red makes for a more unique color for coleslaw.)
1 or 2 Granny Smith apples, cut into matchstick-sized pieces. Should be enough to make about 1 cup but no worries if it's not exact.
3/4 cup radishes cut into matchstick-sized pieces.
2 tablespoons white onion (or an equally mild onion if you don't have a white onion on hand), minced into small pieces.
1/4 cup sugar
1/4 cup cider vinegar
1.5 tablespoons water
1.5 tablespoons olive oil
1/8 teaspoon celery seed
A small pinch of powdered mustard
A small pinch each of salt and pepper
Method
Mix cabbage, apple, onion, and radish in bowl; set aside.
Put sugar, vinegar, water, oil, celery seed, mustard, salt, and pepper in a jar. Put lid on the jar and shake until it is evenly mixed.
Add sugar mixture to the cabbage mix. Stir well. Refrigerate for at least half an hour before serving.
Turnip Cakes (Daikon Mochi)
Sauteed Radishes
Ingredients
Radishes, cut into quarters
Butter
Salt and pepper
Garlic powder
Method
Melt the butter in a skillet over medium to medium-high heat.
Add radishes in a single layer in the skillet. Add salt, pepper, and garlic powder to taste. Go lightly on the seasonings if you aren't sure.
Cook radishes until they are browned, stirring very occasionally. It's a lot like making fried potatoes in a skillet.
Korean Radish Banchan
More Radish Recipes