Stuff To Do With Mushrooms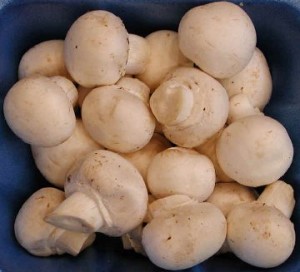 Mushrooms are weirder than you think. Somewhere between plants and animals, they are actually the fruiting bodies of some types of fungi. The typical mushroom is shaped like an umbrella and consists of a stalk topped with a flat or cup-shaped cap. Puffballs and morels are more or less closely related and might be edible in some cases, but are not true mushrooms. But don't let that scare you off. Mushrooms are very good if you're smart about choosing your mushrooms and can find some good recipes.
What You Should Know About Mushrooms:
Leave mushroom hunting to the experts. Those mushrooms you see in your yard could be poisonous. I've heard of people getting seriously ill or dying because they didn't know how to identify mushrooms. So unless you're willing to take the time to learn how to identify mushrooms, you'll be better off buying them at the store.
Mushrooms can be cultivated. Again, you want to be careful about this because unwanted mushrooms can get into your crop if you try to grow them. So learn all you can about mushrooms before you start.
Some mushrooms are hallucinogens. You might have heard of "magic mushrooms." They have an effect similar to LSD and can produce powerful hallucinations. These are also mushrooms you want to stay away from unless you like seeing pink elephants or your worst nightmare parading around your room. Not to mention nausea, headaches and muscle weakness.
"Good" mushrooms are considered a superfood. They are a good source of vitamins B6, B12, C and D, contain niacin, pantothenic acid and riboflavin, and are good sources of iron, calcium, selenium and potassium. They are also fat free and cholesterol free.
Hungarian Mushroom Soup
Ingredients:
4 Tbsp Unsalted Butter
2 cups chopped onions
1 pound fresh mushrooms sliced
2 tsp dried dill
1 Tbsp paprika
1 Tbsp soy sauce
2 cups chicken broth
1 cup milk
3 Tbsp all-purpose flour
1 tsp salt
ground pepper to taste
2 tsp lemon juice
¼ cup chopped fresh parsley
½ cup sour cream
Method:
Melt butter in large pot. Add onions; sauté 5 minutes. Add mushrooms; sauté 5 more minutes. Stir in dill, paprika, soy sauce and broth. Heat until just bubbling; reduce heat and simmer 15 minutes, stirring occasionally. Whisk flour and milk together in small bowl. Stir flour mix into soup. Cover and simmer 15 more minutes. Stir in salt, pepper, lemon juice, parsley and sour cream. Heat through without boiling. Serve hot.
Coconut Mushroom Soup
Easy Stuffed Mushrooms
Ingredients:
12 whole fresh mushrooms
1 Tbsp vegetable oil
1 Tbsp minced garlic
1 8-ounce package cream cheese
¼ cup grated Parmesan cheese
¼ tsp ground black pepper
¼ tsp onion powder
¼ tsp cayenne pepper
Method:
Preheat oven to 350 degrees F (175 C). Spray cookie sheet with cooking spray. Clean mushrooms. Neatly break off stems and chop stems into small pieces. Heat oil in pan. Add garlic and mushroom stems. Fry until moisture is gone, stirring frequently to ensure garlic doesn't burn. Transfer mushrooms and garlic to bowl and allow to cool. Add cream cheese, Parmesan cheese, black pepper, onion powder and cayenne pepper to mushroom stems and garlic; stir until evenly mixed. Evenly fill each mushroom cap with mixture. Arrange mushroom caps on cookie sheet. Bake for 20 minutes until mixture is bubbly.
Steak and Mushroom Pudding
Portobello Mushroom Stroganoff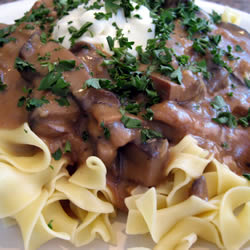 Ingredients:
3 Tbsp butter
1 large onion chopped
¾ pound Portobello mushrooms sliced
1 ½ cups vegetable broth
1 ½ cups sour cream
3 Tbsp all-purpose flour
¼ cup chopped fresh parsley
Salt and pepper to taste
8 ounces dried noodles
Method:
Fill large pot with water; salt lightly if desired and bring to boil. Add noodles; cook 7 minutes until tender. Remove from heat and drain. Melt butter in skillet; add onion and sauté until tender. Add mushrooms and sauté until browned. Remove onions and mushrooms into bowl; set aside. Add vegetable broth to same skillet, stirring to remove any stuck brown bits from bottom. Bring to boil, reduce heat and simmer until broth is reduced by 1/3. Keep heat on low. Return mushrooms and onions to skillet. Mix together sour cream and flour; add to mushroom mix. Cook until thickened. Stir in parsley. Add salt and pepper. Serve hot over noodles.
Mushroom Masala
Do More With Mushrooms
Unfortunaly, this xml/rss feed does not work correctly...