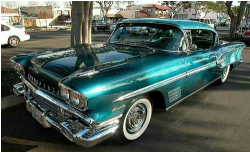 The 1950s and 1960s were two fun decades. Cars were stylish, the Space Race was on, and the music was fun. Who could forget fun doo-wop tunes like "Blue Moon" and "Get A Job?" Let's bring back those old days with some of the best doo-wop and grooviest vocal groups of this era.
Blue Moon
by The Marcels
What could be better than hearing, "Bluuuuue mooooon!" This is one of the best known Doo-Wop tunes.
More From The Marcels

Get A Job
The Silhouettes
It's nice to say, "Get A Job." But that can be tough when you're a teen and the job market is tight. This was the only smash hit for the group The Silhouettes, originally known as the gospel group The Gospel Tornadoes.
More From The Silhouettes
Barbara Ann
The Regents
Ba Ba Ba Barbara Ann! Go rockin' and reelin' to this tune!
More From The Regents
Rama Lama Ding Dong
The Edsels
Mistakenly called "Lama Rama Ding Dong" when it was released as a single in 1958, this one is still going strong under its proper name.
More From The Edsels
Sh-Boom
The Chords
An early doo-wop song from 1954, also known as "Life Could Be A Dream."
More From The Chords
Remember Then
The Earls
Are these songs bringing back memories? Remember back then, when music was fun and teenagers knew how to dance?
More From The Earls
In The Still Of The Night
The Five Satins
More From The Five Satins
More Awesome Doo-Wop
More Oldies But Goodies From eBay
Unfortunaly, this xml/rss feed does not work correctly...