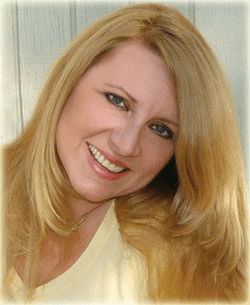 Spend your evenings with Delilah!
Delilah is the number-one radio personality working in the field today. Across the country, people spend their evenings listening to her stories and music. She devotes her show to her listener's stories and dedications and can usually find a good song to match your story. You can find her online at Delilah's Home Page or call her at 1(888) 6-Delilah. If you don't get through one night, keep trying; she is quite popular!
The Delilah Radio Program
A sampling of what you might hear on her radio program
Delilah's Family
Delilah is an advocate for adoption and has adopted 7 children on top of her 3 biological children. Obviously, this huge family needs lots of space, so she lives on a ranch outside Seattle with horses, goats, chickens, ducks and an emu. Some of her adult children have children of their own who love to visit their grandmother. Thanksgiving and Christmas are huge events that include special live, syndicated radio broadcasts, a party with celebrities, and lots of excitement.
Books By Delilah
Delilah's Favorite Charitable Cause
Delilah has founded the charitable organization Point Hope, an advocacy for forgotten children. This organization helps children in foster care or whose parents have given up on them, as well as undernourished, undereducated, and homeless children.
Contact info for this organization:
Point Hope Foundation
5936 California Avenue SW
Seattle, WA 98136
Phone: 206-766-9700
Fax: 206-766-9704
E-mail: info@pointhope.org

Delilah talks about Point Hope
Since Delilah could do a better job of describing Point Hope than me, I'll let her do the talking.
Delilah's Radio Stations
Find Delilah on a radio station near you
Delilah's Favorite Music