Where Everybody Knows Your Name…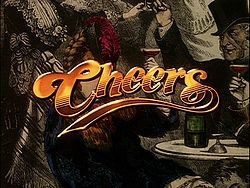 This popular sitcom, which ran from 1982-1993, still holds a special place in sitcom fans' hearts for its excellent writing, a diverse cast of characters and unique bar setting. Bit of trivia: You can find the real Cheers bar at two locations in Boston. The original is at 84 Beacon Street, Boston, Massachussetts, 02108 and the replica of the TV show set is at Faneuil Hall Marketplace Quincy Market, South Boston, Massachusetts 02109. Next time you're in New York City, be sure to stop at one of the two and enjoy a "Norm Burger."
"Cheers" Theme Song
From Episode 6 of Season 4
The Cheers Cast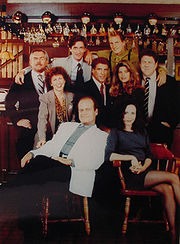 "Cheers" had an ensemble cast of core characters that went through only a handful of changes throughout its entire run. The original 1982 cast included Ted Danson (Sam "Mayday" Malone), Shelley Long (Diane Chambers), Rhea Perlman (Carla Tortelli), George Wendt (Norm Peterson), John Ratzenberger (Cliff Clavin), and Nicholas Colasanto (Ernie "Coach" Pantusso).
Kelsey Grammer joined the cast as Frasier Crane in 1984. In 1985, Woody Harrelson was cast as "Woody" Boyd, replacing Nicholas Colasanto. Bebe Neuwirth became another regular in 1986, and Kristie Alley joined in 1987.
Although Cheers operated largely around that main ensemble cast, famous guest stars often appeared on the show. Notable repeat guests included Jay Thomas as Eddie LeBec, Dan Hedaya as Nick Tortelli, Jean Kasem as Loretta Tortelli, Roger Rees as Robin Colcord, Tom Skerritt as Evan Drake, and Harry Anderson as Harry 'The Hat' Gittes. Occasionally, one or another Boston-based sports figure, such as Luis Tiant, Wade Boggs, and Kevin McHale, would put in an appearance. Other notable guests included Harry Connick, Jr. and Christopher Lloyd.
Cheers Cast Photos
Unfortunaly, this xml/rss feed does not work correctly...
TV Show Production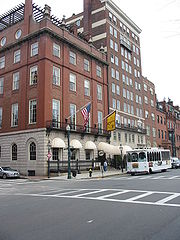 The concept for Cheers was the end result of a long consideration process. The three creators – James Burrows, Glen Charles, and Les Charles – originally envisioned a group of workers who interacted like a family, hoping to be similar to The Mary Tyler Moore Show. They considered making an American version of the British Fawlty Towers centered around a hotel or an inn. When the creators settled on a bar as their setting the show began to resemble the radio show Duffy's Tavern. They liked the idea of a tavern as it provided a constant supply of characters as people came and went on the show.
After choosing a plot, the three had to choose a location. Early discussions centered around Barstow, California, then Kansas City, Missouri. They eventually turned to the East Coast and Boston. The Bull & Finch Pub in Boston that Cheers was styled after was originally chosen from a phone book. When Glen Charles asked the owner to shoot initial exterior and interior shots the owner agreed, charging $1. He has since gone on to make millions, licensing the pub's image and selling a variety of Cheers memorabilia, making the Bull & Finch the 42nd busiest outlet in the American food and beverage industry in 1997. During the casting of Shelley Long (who was in Boston at the time filming A Small Circle of Friends), Long remarked that the bar in the script resembled a bar she had come upon in Boston, which turned out to be the Bull & Finch.
Most Cheers episodes were shot before a live studio audience on Paramount Stage 25, generally on Tuesday nights. Scripts for a new episode were issued the Wednesday before for a read-through, Friday was rehearsal day, and final scripts were issued on Monday. Nearly 100 crewmembers were involved in the shooting of any given episode. Burrows, who directed most episodes, insisted on shooting on film rather than videotape. He was also noted for using motion in his directorial style, trying to always keep characters moving rather than standing still.
The Cheers crew numbered in the hundreds. The creators stayed involved throughout the show's eleven-season run, along with Tom Palmer. Burrows directed 243 of the episodes and supervised the show's actual production. David Angell wrote many of the episodes, contributing much to the ingenuity of the show.
The Awards
The show won several awards over the years, including the Emmy for Outstanding Directing in a Comedy Series in 1983 and 1991 and Outstanding Writing in a Comedy Series in 1983 and 1984.
Actor awards included Kristie Alley's Emmy for Outstanding Lead Actress in a Comedy Series in 1991 and Shelley Long's Golden Globe for Best Performance by an Actress in a TV-Series – Comedy/Musical in 1985.
Cheers Gear For Your Wardrobe
Unfortunaly, this xml/rss feed does not work correctly...
Recurring Themes in Cheers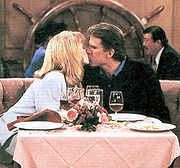 Most of the action in "Cheers" took place in the bar. On rare occasions, they would also make use of other sets, such as Diane's apartment in the first episode of the second season. Running gags included Norm's entrance into the bar, accompanied by a loud greeting of "Norm!"
Many episodes revolved around bar owner Sam Malone's romantic misadventures. During the early seasons, he was romantically involved with waitress Diane Chambers. After Shelley Long left the show, he became involved with Rebecca, the neurotic corporate-climber. Both relationships were laden with sexual tension.
Cheers bravely and usually humorously took on social issues, such as social class and homosexuality. The "upper class," in the form of Diane Chambers, Frasier Crane, and Lilith Sternin, interacted with solid working-class characters Sam Malone, Carla Tortelli, Norm Peterson and Cliff Clavin within the bar.
Feminism was another such issue. Many of Sam's romantic troubles with Diane involved his womanizing and male chauvinism and Diane's vocal diatribes on the subjects. Rebecca was an ambitious businesswoman and golddigger who hit a glass ceiling when she married a plumber and left the show.
One favorite recurring subject involved the "Cheers" bar's rivalries with Gary's Olde Towne Tavern and the upscale restaurant located just above the bar, called Melville's. Sam's feuding with Gary usually involved some bet, while the Melville's owners viewed Cheers as decidedly uncouth and enjoyed seeing Sam writhe.
Cheers Seasons 1-5
Critical Acclaim
Cheers' first season ratings placed it 74th out of 74 shows. It was buoyed, however, by a combination of critical acclaim and its success at the Emmys. When the show ended its run in 1993, NBC dedicated a whole night to the final episode. The show began with a "pregame" show hosted by Bob Costas, followed by the final 98-minute episode itself. NBC affiliates then aired tributes to Cheers during their local newscasts, and the night concluded with a special Tonight Show broadcast live from the Bull & Finch Pub. Although the episode fell short of its hyped ratings predictions to become the most-watched television episode, it was the most watched show that year, bringing in 80.4 million viewers (64 percent of all viewers that night), and ranked 11th all time in entertainment programming. The episode originally aired in the usual Cheers spot of Thursday night and was then rebroadcast on Sunday. Some estimate that while the original broadcast did not outperform the M*A*S*H finale, the combined non-repeating audiences for the Thursday and Sunday showings did. Toasting Cheers also notes that television had greatly changed between the M*A*S*H and Cheers finales, leaving Cheers with a broader array of competition for ratings.
Cheers Seasons 6-11
Spin-offs and references to Cheers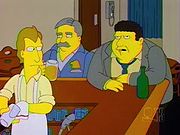 The most successful spin-off of Cheers was Frasier, which also lasted 11 seasons. Cheers characters who appeared on Frasier included Sam, Diane and Woody. "The Tortellis" was a 1987 spin-off that only lasted 13 episodes and drew protests for its depiction of Italian-Americans.
References to the show in other TV shows included one Simpsons episode, in which Homer Simpson stumbled into a Cheers-like bar populated by characters to the show. Norm once appeared as a background character buying beer at the counter of a convenience store in the Futurama episode The Route of All Evil. His only line is a direct quote from Cheers, when he's asked by the clerk "Would you like anything else, Sir?" and responds "A reason to live. Give me another beer."
The Star Trek: Deep Space Nine character Morn, who remained mostly at Quark's Bar, is named (as an anagram) for Norm Peterson. In the video game Tony Hawk's Underground 2, when you start the game in Boston, there is bar called "Jeers" that is modeled after the "Cheers" bar, both inside and out. This is where you must find the special guest in the game, who is Jesse James.
If you keep your eyes peeled, you can also find "Cheers" references in episodes of "Scrubs," "Seinfeld," and the Disney specials Mickey's 60th Birthday, and The Magical World of Disney's Disneyland 35th Anniversary Special.
Credits
Pictures from Wikipedia
Cheers Collectibles on eBay
Unfortunaly, this xml/rss feed does not work correctly...