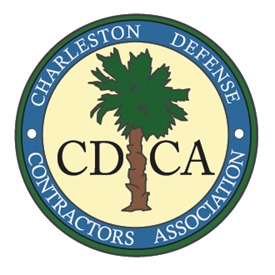 On January 26, 2017, the Charleston Defense Contractors Association (CDCA), a non-profit organization focused on attracting, retaining and growing the defense industry in the Charleston and surrounding areas, announced its new officers for 2017 and highlighted its 2016 accomplishments, which had significant impact for the community.  Through a focus on continued education and career paths in the cybersecurity, technology and defense industries, CDCA provides annual internships and awards and sponsors a mobile app competition with monetary rewards.  Overall the organization contributed more than $57,000 in education programs and also saw record attendance for its annual C5ISR Summit, focused on furthering business connections and driving defense industry growth, leadership and knowledge.
Recently-elected CDCA President, Joshua Hatter, stated, "Despite continued defense budget reductions at the national level, the Charleston defense community proved through hard work, collaboration with government and academia, and engagement with elected leaders, we could make a difference."
With more than 280 members (ranging from large corporations to individuals), CDCA is the driving force in the Lowcountry for advancing national defense capabilities through technology and innovation by bringing together experts in their field. The CDCA Small Business and Industry Outreach Initiative (SBIOI) events draw nearly 400 government and industry members quarterly, and the CDCA annual Command, Control, Communications, Computers, Intelligence, Surveillance and Reconnaissance (C5ISR) Summit, hit an all-time record this year with nearly 1400 registrants and a 33% increase in sponsorships, all of which brought in hundreds of thousands of dollars in hospitality revenue for the region.
In addition, giving back to the community by developing a future Science, Technology, Engineering, and Math (STEM) workforce is a key priority of CDCA.  In 2016, the organization provided $28,000 in college summer internships and sponsored more than $29,000 in STEM awards, robotics competitions, and summer camps in the Lowcountry.  The organization also sponsored a mobile app competition through the fall, culminating at the C5ISR Summit, where winners were announced and awarded an additional $10,000 in prize money, with the winner gaining job offers.
The CDCA Board of Directors have been focused on making the Lowcountry an attractive place to invest, educate and develop business for the defense tech market.  David Hamburger, 2015-2016 CDCA President, stated, "I could not be prouder of the accomplishments our board and members have achieved over the past two years, and I'm excited to see what the future holds for this organization."
The organization is dedicated to growing the defense industry in Charleston and the surrounding region, given that defense represents a total economic impact of approximately $19.3 billion for the state of South Carolina based on a recent study.  For that reason, the CDCA has engaged with Congressional Staff, the Charleston Metro Chamber of Commerce and the South Carolina Military Task Force to identify growth opportunities from new programs and funding that could be realigned to the Lowcountry, particularly as it relates to any future potential Base Realignment and Closure (BRAC) actions.  Additionally, the organization attracts members that include defense contracting behemoths like BAE, General Dynamics and Northrop Grumman, and also boasts some of the world's leading technology companies like Dell, HP and Microsoft, putting Charleston on the map for defense tech innovation.
On January 11, 2017, the CDCA Board of Directors elected its officers for 2017:
President: 

Joshua Hatter

Vice President: 

Heather Walker

Secretary: 

Brian Lindgren

Treasurer: 

Jimi Elderman

Fifth Executive Committee Member: 

Red Hoover
About Charleston Defense Contractors Association
Charleston Defense Contractors Association (CDCA) is an association of organizations and individual professionals dedicated to preserving, highlighting and continuing to grow the defense industry and its affiliated-organizations in Charleston, South Carolina, and its immediate surrounding region.  Since its inception in December 2002, the CDCA has worked to address issues facing the continually changing landscape that is Charleston's defense industry presence and ensure that it continues to be a thriving, sustained business opportunity in Charleston, South Carolina. Members include: Amazon Web Services, SAIC, UEC, ManTech, BAE Systems, Booz Allen Hamilton, CDW-G, Cisco, SCRA, Honeywell, and more. For further information, visit us at http://www.charlestondca.org/.