Looking for a convenient finger food to have for supper? According to foodie lore, the Earl of Sandwich was in the exact same predicament in the year 1762. This Earl, named James Montague, was playing poker into the early hours of the morning when he asked somebody to bring him a slab of roast beef between two slices of bread. By refusing to quit gambling, Montague introduced a convenient meal staple to England and gave the sandwich its name. He was really not that admirable of a person (though an incident involving a baboon managed to scare him straight) and he didn't exactly invent the sandwich anyway.
Though versions of the sandwich have probably been around for as long as people have been making and slicing bread, the first recorded sandwich was created by a rabbi named Hillel the Elder. He mixed chopped nuts, apples, spices and wine and sandwiched the mixture between two matzohs and ate the result with bitter herbs. It became known as the "Hillel sandwich" and it became part of the Seder.
"Saint Sandwich?"
Well, it does depend on which version of the sandwich's history you believe.
During the Middle Ages, thick slabs of bread called "trenchers" were often used in place of plates. Food would be piled on top of it to be eaten with fingers and knives. Table manners might have been rather lacking by modern standards, but this was before forks became widespread. Though the trenchers were usually stale, they soaked up gravy and could be eaten, tossed to the dogs, or given as alms to the poor. If you've ever ordered a bread bowl for your soup or eaten an open-faced sandwich, these are descendants of that idea.
Beginning in the 16th century and into the 17th, the phrases "bread and meat" and "bread and cheese" appeared in literature and was often shouted by peddlers on the street. This may be a reference to sandwiches. After Montague popularized its current name, the "sandwich" began showing up in literature. Today, there is a seemingly infinite varieties of the sandwich, including regional favorites like New Orleans' popular "Po'Boy". You can even do a Dagwood and just layer whatever you think of between two pieces of bread.
The Panini
Tired of the same old toasted sandwich? Watch it go upscale with the versatile panini. It's still grilled, but with the right ingredients, it can be a whole lot healthier than your usual grilled cheese sandwich. For something different, you might try this Chicken, Apple and Raspberry Panini for Four:
Ingredients:
8 slices sourdough bread
1 rotisserie chicken
1 Granny Smith apple, cored and chopped into 16 equal-sized pieces
1 lemon
4 slices asiago cheese
4 teaspoons raspberry preserves
2 tablespoons olive oil
Method:
Preheat panini grill to 350 degrees. Remove chicken meat from bones and dice into bite-sized pieces. Squeeze juice from lemon over the apple pieces. Brush one slice bread with olive oil and place bread on plate with olive oil side down. Spread one teaspoon of raspberry preserves on the bread. Top with about 1/4 of the chicken meat. Top chicken meat with 4 apple pieces and one slice cheese. Top with the other slice of bread and brush top of bread with olive oil. Place sandwich in panini grill and grill 5-6 minutes until bread is toasted and cheese is melted. Repeat process for three more sandwiches. Serve hot.
The Po-Boy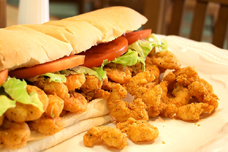 This New Orleans favorite got its start in 1929, when the Great Depression was just about to start and street car drivers stood up for their rights by going on strike. Two sympathetic restaurant owners named Clovis and Benjamin Martin supported their cause by creating inexpensive sandwiches with leftover roast beef, gravy and French bread. When a worker on strike came in, the cry of "Here comes another poor boy!" could be heard in the kitchen of the Martin brothers' restaurant and the sandwich took the name in its shortened form. The most popular versions of the sandwich feature roast beef or fried seafood with a topping of lettuce, mayonnaise, tomatoes and pickles. Any cheap food will work as a po-boy filler and more unusual versions include a "French Fry Po-boy" that includes French fries topped with gravy. If you are ever in New Orleans, look for Johnny's Po-Boys at 511 St. Louis Street for a wide variety of po-boy choices or the Bourbon House at 144 Bourbon Street for oyster, shrimp, catfish and roast beef po-boys.
Breakfast Sandwiches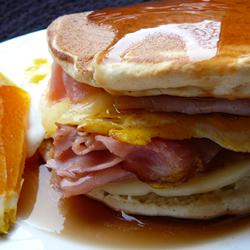 If you put a little though into it, you could probably make breakfast sandwiches and wraps that are higher quality and somewhat healthier than most fast food joints. If you want to get a little inventive, you might try this recipe for pancake breakfast sandwiches:
Ingredients:
Cooking Spray
2 Buttermilk Pancakes
1 egg
1 Slice Ham
1 Slice Cheddar Cheese
Maple Syrup
Method:
Spritz some cooking spray into a pan. Warm up pancakes if they are leftovers, or make fresh ones. Beat the egg, pour into pan and cook to desired firmness. Turn down heat and up the slice ham in pan. Place egg on one buttermilk pancake. Top egg with 1 tablespoon maple syrup. Place ham on top. Top with cheese. Top the sandwich with remaining pancake and drizzle more maple syrup on top.
Dessert Sandwiches
Let's face it, even your favorite brand of ice cream sandwich gets old after a while. You can do better. Ever have a toasted strawberry-cream cheese sandwich? Well, this does make a nice recipe for your next party:
Ingredients:
2 ½ cups strawberries, hulled and sliced
¾ cups pink wine
1 8-ounce package cream cheese, softened
¾ cup finely chopped chocolate
2 teaspoons fresh orange zest
2 tablespoons fresh orange juice
8 slices cinnamon raisin bread
2 tablespoons olive oil
½ cup maple syrup
Method:
Marinate strawberries in wine for 20 minutes. Drain wine, reserving the wine and ½ cup of the strawberries for garnish. Combine cream cheese, chocolate, orange zest, and orange juice and blend until smooth. Spread mixture evenly over 4 slices of cinnamon raisin bread. Arrange strawberries evenly over cream cheese mixture. Top each sandwich with a slice of bread. Brush both sides with olive oil. Grill until toasted lightly on each side. Place on serving plates and cut in half. Drizzle with maple syrup and top with the reserved strawberries.
Making The Perfect Sandwich
We'll allow that the "perfect sandwich" will depend on who you ask. For some, the perfect sandwich means getting that panini just right. For others, it's all about the po'boy. Here's one person's take on making the perfect sandwich.
More Sandwiches