And I don't mean the TV show! Well, not THAT one…Anyhow, you know them: Dorothy, the Scarecrow, the Tin Man, the Cowardly Lion. They face magical perils throughout Oz along with friends like Glinda, the Wizard of Oz, the Munchkins and many more. Invented by L. Frank Baum from stories he used to tell his children, he soon found himself with a major hit on his hands.
About Lyman Frank Baum
b. May 15, 1856, d. May 6, 1919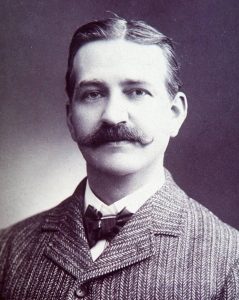 The son of a wealthy oil man, Lyman Frank Baum grew up indulged by mid-19th-century standards on his family's New York estate. He had a weak heart and could not enjoy many of the athletic activities of young boys. At the age of 12, his family sent him to Peekskill Military Academy. Army life did not agree with him and, after two years, he suffered a heart seizure which sent him home.
Free again to pursue his interests, he and his brother, Henry Clay, published a newspaper called The Rose Lawn Home Journal, using a printing press which their father bought for Baum at the age of 15. It included short stories, poems, riddles, scientific, and nonfiction articles. Two years later, with help from a friend named Thomas G. Alford, they started their second paper, The Empire. This featured, among other things, news about postage stamps.
During Baum's early adulthood, he explored a number of career fields, including acting, theater management, and chicken breeding. In 1882, he married Maud Gage and, over the next six years, had two sons. Like several authors of children's books, this gave him a chance to exercise his fertile imagination and he entertained them with stories.
The first of several financial difficulties came to head in 1887, when his father died. A clerk had embezzled most of the oil company's capital, leaving it dry. In an attempt to put this setback behind him, he moved to Aberdeen, South Carolina and opened a bazaar. It was foreclosed on two years later, mostly due to Baum's generosity in refusing to accept money from destitute customers. His third newspaper also collapsed due to the firmly established competition.
With two more sons, he moved on to Chicago in 1891, where he found work as a reporter, a department store window dresser, and a traveling chinaware salesman. In 1896, he applied for copyright on his first two children's books, Adventures in Phunniland and Tales from Mother Goose. The Mother Goose book was published in 1897 under the name of Mother Goose in Prose, a collection of short stories that featured a little farm girl named Dorothy. Encouraged by the success of this book, he then began producing The Show Window, a magazine for window dressers which was an immediate success.
Teaming up with artist William Wallace Denslow, he turned out Father Goose: His Book in 1899 and sold 60,000 copies. This would soon be overshadowed by this team's next effort, titled The Wonderful Wizard of Oz, which was released at the turn of the century. The general public loved it and at least one critic compared it to Alice in Wonderland.
Though Baum kept a scrapbook of critics' reviews of The Wizard, only two of which were unfavorable, he did not fully realize the power of this book and turned his attention to other books. In 1904, though, he released The Marvelous Land of Oz to help stem off financial difficulties. In 1907, Ozma of Oz was released and, after that, he produced one Oz book a year until The Emerald City of Oz, which he announced would be the last.
A combination of financial difficulties, which included bankruptcy, and children's please for "more Oz" and "more Dorothy" caused him to capitulate and The Patchwork Girl of Oz was released in 1913. He was dubbed "The Royal Historian of Oz" and continued to release an Oz book every year until his death in 1919. The last book by him, Glinda of Oz, was published posthumously in 1920.
Mother Goose and Father Goose
Two of L. Frank Baum's Early Works
Story of a Creature: The Wogglebug
Told in L. Frank Baum's own words in a 1904 interview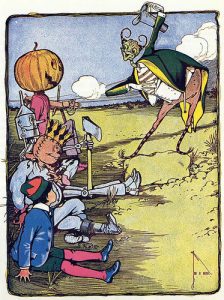 "I was out on a California beach," said L. Frank Baum. "There was a pretty little girl I was very much interested in beside me. She was making sand pies and enjoying herself immensely, when suddenly she saw one of those little sand crabs, fiddler crabs I suppose they are.
'Oh, what is it?' she said.
'A wogglebug,' I said, unthinkingly, using the first term that popped into my head.
'The child was delighted and ran to her parents shouting: 'Oh, see what I've got! It's a wogglebug. Mr. Baum says it's a wogglebug.'
"The name was so catchy that the same evening my wife told me I should put the Wogglebug in 'The Marvelous Land of Oz.' The book was one-third written and Jack Pumpkinhead was the hero, but I brought in the Wogglebug right away.
"After that H.M. Wogglebug T.E. was the hero and has become my most popular character."
The Oz Books Written By L. Frank Baum

Oz Collectibles
[ebayfeedsforwordpress feed="http://rest.ebay.com/epn/v1/find/item.rss?keyword=The+Wizard+of+Oz&categoryId1=1&sortOrder=BestMatch&programid=1&campaignid=5337337555&toolid=10039&minPrice=100&listingType1=All&lgeo=1&feedType=rss" limit=10]