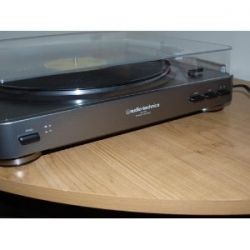 So you're the one with an impressive collection of vinyl records featuring yesterday's megastars like Tom T. Hall, the Beatles and Hank Williams Sr. There's only one problem. You have nothing to play them on. They quit making turntables a long time ago, right? Wrong! Most of today's turntables have been modernized and a few can even play music from your iPod or MP3 player right along with those vinyls, so you can still play that awesome music just like it used to sound before the days of HD everything and digitalized music. It doesn't get more authentic than playing yesterday's hits using retro technology to make it sound exactly like it's supposed to.
Pyle Home PTCDS2UI Classic Turntable
There's no mistaking the Pyle Home PTCDS2UI Classic Turntable for anything but a turntable that can play your 33-1/3, 45 and 78 RPM records and it also has some nice hidden features like the ability to pull AM/FM radio, play cassettes and CDs, and hook up your iPod with a USB slot. It has no software, but what do you expect from a turntable. Sound quality is good. The ability to hook up more modern music media is popular with people who like a nice blend of music from across several decades. There were some gripes about cheap-looking elements but it should work fine as long as you don't drop or abuse it.
Audio Technica AT-LP60 Fully Automatic Belt Driven Turntable
The Audio Technica AT-LP60 Fully Automatic Belt Driven Turntable features fully automatic operation with 33 1/3-rpm and 45-rpm speeds and a professional aluminum platter. It's basically a simple turntable with a replaceable stylus that can be upgraded from the ATN3600L to the ATN3600DLX for better sound. You would be hard-pressed to find a better turntable in the under-$100 range. It's not a top-of-the-line MP3 player and, remember, you are playing vinyl records on this baby. But it does turn out top sound for the technology and it's easy to set up if you can follow the simple directions in the manual.
The Stanton Turntable has a heavy-duty torque motor for playing LPs and steel construction and can convert output into a CD record. DJs like this one for mixing/scratching effects and regular people who want something to play their vinyls with like this one for its sound performance. There were notes that it produces a loud hum but one person solved the problem by putting a 2-prong adapter on a 3-prong cord. The torque is excellent for turntable artists and most who have actually tried it agreed that it's hard to beat for the price.
Crosley CR6010A-Re Collegiate Portable USB Turntable
The Crosley CR6010A-Re Collegiate Portable USB Turntable features a diamond stylus, USB compatibility, belt-driven 3-speed turntable and a headphone jack. The sound is good and the ability to transfer sound to a USB device is popular for people who want to transfer tunes you can only find on a vinyl recording to a more modern media player. It has a nice retro look that actually looks better than the pictures with rounded corners and plastic instead of cardboard materials. The stereo speakers are a nice touch and the headphone jack is nice if you're the only one in your family who likes classical and jazz from the days when vinyl was the way to go.
Grace Digital Victoria Tunewriter III
The Grace Digital Victoria Tunewriter III is available in three colors and a classic design. It plays 33-1/3, 45 and 78 RPM records, AM/FM radio, CD, cassettes, MP3 and iPod music, has stereo speakers and a headphone jack, and can connect to your Mac through USB and to an external stereo system equipped with RCA. It can also record your music on CD or cassette to take with you in the car using software you can easily use on your Mac. Be sure to pay close attention to instructions and warnings in the manual because it is possible to completely mess up a recording or damage the arm for the vinyl record player by not carefully following directions. It's a good value for the money and produces great sound.
Crosley Troubadour Entertainment Center
The Crosley Troubadour Entertainment Center can play your LPs along with CDs, MP3 files from your USB device, and AM/FM radio and is likely to remind retro lovers of 1950s automobiles and drive-in diners. It also has stereo speakers for listening to your groovy retro recordings with a modern twist. It makes a nice gift for that person in your family who has a small collection of LPs and wish they had something that could sit on their desk and play them the way they were meant to be listened to.
Pyle PVNP4CD Vintage Phonograph Horn Turntable
With a recognizable vintage look, nobody will ever guess that this turntable can play CDs and MP3 files without a close inspection. It can convert your vinyl records to MP3 to preserve that good classic music and play it back with Stereo RCA Output.
It might say vintage, but this turntable doesn't fool around when it comes to combining yesterday's music technology with modern music devices. It can connect to USB and SD, play MP3s, and convert vinyl and cassettes to MP3 files.
Studebaker SB6051 Wooden Turntable
If you're looking for a turntable, you probably associate Studebaker with the vintage car that John Glenn used to drive. However, the turntable with the same name does not disappoint when it comes to playing your vintage records. It's not huge, but then, it doesn't really have to be and it turns out very good sound.
CROSLEY RADIO CR6001A-PA ARCHIVER USB TURNTABLE
Save the music on those old dusty vinyls you've been storing in your attic by transferring it to your PC through the USB cord. This turntable accommodates three common vinyl speeds and can also play AM/FM radio, cassettes and CDs.
More Turntables on eBay
Unfortunaly, this xml/rss feed does not work correctly...