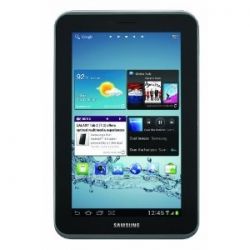 So, what's on your wishlist this year? If you're like me, you've probably been eyeballing a new tablet or smart phone, though it probably wouldn't hurt your feelings if you also got a new portable hard drive so you can back up all those cool apps. If you're a true geek, it might be a little tough not to put together a wish list that could run into the thousands of dollars once you've added everything up. That usually means narrowing things down into something your family can actually afford. To get you started, here's a few of my favorites.
The Samsung Galaxy Tab 3 features 8 GB of onboard storage that is extensible up to 64 GB with a micro SD slot along with a high-resolution 7″ screen. People who own both this and the Kindle Fire say that the Samsung Galaxy Tab is better at handling web browsing along with favorite online games like Words With Friends. The ability to extend the memory is another plus. It does have two onboard cameras though the photo quality you get is closer to a Smart Phone than a dedicated digital camera. TigerDirect is really pushing this nice tablet right now, so buy from them and get 3 months of free Netflix and a red cover case.
More Top Tablets

Western Digital My Passport 1 TB USB 3.0 Portable Hard Drive
The Western Digital My Passport 1 TB USB 3.0 Portable Hard Drive is the portable hard drive you want to get if you have a lot of data to back up. If one full terabyte isn't enough for you, you're obviously a huge memory hog who is more than ready for the pentabyte age. (And yes, there are 1.5-TB and 2-TB versions of this available.) It comes with a 2-year limited warranty, USB transfer rates up to 5 Gbps, password protection, hardware encryption and automatic backup software. Treat this baby with some TLC and it will take good care of all your backup needs.
More Top Hard Drives
Bose QuietComfort Noise Cancelling Headphones
The Bose QuietComfort Noise Cancelling Headphones may be precisely what you need if you're like me and you're tired of all those irritating sounds that everybody insists are not that loud. Well, short of a complete checkout of your ears which may be recommended anyway because there are actual medical conditions that can cause this, you probably won't convince them. That means investing in headphones like these which can cancel out those annoying noises. The Bose QuietComfort headphones can keep the bad sounds out and deliver only the kind of sound you want to hear.
More Top Noise Canceling Headphones
Belkin Dual-Band Wireless AC+ Gigabit Router
Take advantage of the latest standard in wireless networking with this Belkin Dual-Band Wireless AC+ Gigabit Router. With Intellistream QoS standards and a blazing fast 867 Mbps on the 5.0 GHz channel, this router leaves no excuses for failing to perform and is also backwards-compatible with older standards like 802.11g/n. Take advantage of browser-based setup for getting started easily.
More Wireless Routers
If you're a total movie lover, this projector will not disappoint when it comes to putting your favorite films on a projection screen. With DLP technology and 1920 x 1200 resolution, you can make your own popcorn and save on movie tickets just by creating a home theater the way it's supposed to be.
More Video Projectors
The same people who brought you the Wave Music System have done it again with the Bose Solo TV Sound System. It is designed to broadcast even sound across a wide angle with clear sound coming out of Bose's proprietary digital sound system. It fits easily under your HDTV with only two chords, one to plug into the TV and one for the power strip. Bose certainly knows how to keep things simple with only four buttons on the remote to control the essentials of any sound system. Buy it for the impressive sound and keep it to fool your friends who are expecting that kind of quality to come out of a larger sound system.
More Sound Systems
Audio Technica Fully Automatic Belt Driven Turntable
Did your grandfather introduce you to his impressive collection of 45- or 33 1/3-RPM records? If so, you might be tempted to play a few of those if only for the sake of comparing it to more modern technology. The Audio Technica Fully Automatic Belt Driven Turntable makes a fine replacement for that turntable that bit the dust decades ago with an Integral Dual Magnet stereo cartridge with replacement stylus. You'll have all your friends going, "Where on Earth did you find something like that?" while you play classics from folks like Hank Snow and Hank Williams Sr.
More Belt-Driven Turntables
Or maybe you're looking for something a little more modern than a turntable like, say, a place to park your iPod. The Sony Clock Radio for iPod is compatible with most iPod models and can also be set for FM radio or buzzer. Wake up to your favorite tunes so you can get started in a more cheerful mood when you have to get up in the morning. It also has a backup battery in case of power outages so you won't oversleep just because your clock chose to go all blinky-blink overnight.
More Clock Radios
Philips 9″ Portable DVD Player
The Philips 9″ Portable DVD Player is perfect for all those long car trips when you want to just pop in a DVD, put on your headphones and forget about the world around you for a while. Installation is hassle-free and takes only a few seconds with no mess or cables. Really, you're getting two DVD players in one so you can install one in the back seat and one in the way back for those times when your kids can't agree on what they want to watch.
More Portable DVD Players
Swingline 12-sheet Cross Cut Personal Paper Shredder
If you've been looking for a shredder that can handle your junk paperwork, you might have noticed that it can be tough to find one that works reliably and also fits under your desk. This shredder does both and meets Security Level 3 standards so you don't have to worry about criminals reassembling your documents.
More Paper Shredders
Android Unisex Paris Swiss Stainless Steel Purple Dial
An Android watch is more about functionality than luxury diamond-encrusted fashion and this unisex watch is no different. It's not the Android OS but it's pretty decent if you just want a ballpark estimate of the time without feeling like you're wearing a big weight on your wrist.
More Watches
More Electronics on eBay
Unfortunaly, this xml/rss feed does not work correctly...