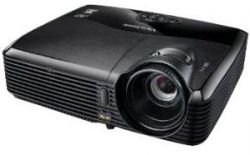 Let's face it, movie lovers. Tickets at your local movie theater are expensive these days, not to mention the insane cost of concessions. Whenever theater managers and big Hollywood studios complain about ticket sales being down, it should make sense to anyone who has taken Economics 101. More people are staying home to watch television and favorite Netflix movies. But you still want the experience of munching on popcorn while you watch that highly anticipated movie on the big screen. What should you do? Well, one of the most economic ways to do it without going out to the theater a lot is to invest in a good at-home video projector.
ViewSonic 3D Ready DLP Projector 576p
The ViewSonic PJD5134 SVGA DLP Projector features an impressive lamp with 2700 lumens and a lamp life up to 6,000 hours in Eco Mode, SVGA 800X600 DLP projection, 3D capability, and compatibility with Apple Mac. If you're looking for a cheap projector with good quality video projection, this is a good option. Ignore the written documentation, which is typical "English as a Second Language" confusing, and go straight to the CD for setting it up and learning how to run it. This projector does decently in rooms that are exposed to some daylight but its main strength is projecting video and presentations in darker conditions. The fan and overall body of this projector seems to be designed by somebody who has read a textbook on thermodynamics and you can basically run it for an entire class, turn it off, and put it in its case for transport. Overall, it's cheap, but don't let that fool you. It's actually pretty good.
Epson PowerLite Home Cinema 8350 Projector
This is one of those pricey projectors that is worth it if you are a serious movie watcher who wants the best of the best with bright colors, 2300 lumens of brightness, and a whopping 100″ screen along with a quiet fan that never gets louder than 28 decibels. It's simple to set up and use. The picture is decent in a fully lit room, but to bring out the best in it, dim the lights and enjoy the show. Kids tend to enjoy watching it so much that parents sometimes worry about wearing out the expensive bulb. It's big enough that, once you have it in place, you'll probably want to leave it. At over $1000, it can be a bit pricey for people who don't use projectors all that much. For the serious movie watcher, though, it's worth it.
The Acer X1161P 3D-DLP Projector is compatible with DLP 3D video formats and has a native resolution of SVGA 800X600, which can be boosted to UXGA 1600X1200. It can generate 2500 lumens in Standard Mode or 2000 lumens in Economy Mode and has a ColorSafe element to help reduce degradation of color over time. It's a good unit for projecting PowerPoint presentations and projecting TV images on. One person tried using it with an XBOX 360; it's doable though the video output wasn't what he was used to. The economy mode works best in a dark room and the standard mode can work in both darkness and a moderate amount of light. It doesn't have built-in audio. The bulbs last for a good while and there are replacement bulbs available if you know where to look (Amazon searches turned up nothing but Provantage.com had one at last check). For the price, the performance is impressive and some reviewers reported getting some fun movie parties out of this.
ViewSonic PJD7533 SVGA DLP Projector
The ViewSonic PJD7533 SVGA DLP Projector has a resolution of SVGA 1280 x 800, contrast of 4,000:1, a bulb that can last up to 3500 hours and produce 4000 ANSI Lumens. One reviewer who wasn't convinced that a really good home theater projector could be this cheap got this one after sending back a comparable Optima and was impressed by what he got for the money. Images are clear and vivid with very little fuzziness. It doesn't have all the features of the high-end models but it works good if all you want to do is project movies and try playing a few video games with it. The coloration settings can be tweaked to your liking. It claims it can project on a 250″ screen though no word on whether anybody has actually tried that and it works very well for most average-sized screens. It works with Apple products like a Macbook and iPad 2.
The Epson EX7210 Projector features a projection output of up to 2800 lumens, WXGA 1280X800 widescreen HD resolution, support for 720p HD, USB and HDMI connectivity and a compact portable design. It can handle presentations though it may be overkill if that's all your doing with your projector because its real strength is movie projection. It's lightweight and can be transported in the included carry case. It does hum and whir, not very loud but loud enough to be audible. Like most projectors, it gets hot so you might want to give the fan a few minutes to cool it down before you unplug it. If you're debating between this one and the EX3210 for movie projection, get this one for the HDMI output and higher resolution.
The BenQ MX660P 3000 Lumen DLP XGA Projector features USB connections, compatibility with a Wireless Display Connector accessory for wireless function, a bulb that can pump out 3000 lumens and last up to 5000 hours, a teaching template for making notes on whiteboards, and compatibility with 3D videos. It works very well with Blu-Ray movies and video games and it makes a good outdoor theater. With 3000 lumens, you don't necessarily have to wait until the sunset has faded to start your movie. The operation is quiet and if it develops a humming noise within the first few hours of use, just send it back for a new one. The quality and range of functions you get for the price is impressive.
InFocus IN112 Portable DLP Projector
The InFocus IN112 Portable DLP Projector is compatible with 3D video formats and has a bulb that can produce up to 2700 lumens and last up to 6000 hours in Eco Mode. If you're picky about how you want your presentations or videos to look on the projection screens, you could probably spend up to 20 minutes tweaking the settings, but the projections look good once you get them exactly right. The lumens this pumps out helps the image look good even in bright lighting. The fan is pretty quiet and efficient. It isn't very heavy, so no worries about it weighing you down when you're transporting it. It doesn't have HDMI, which was surprising for a projector that is advertised for 3D movies. It didn't slow some clever technical people down, though, and it's fun for outdoor movie projecting on a white screen if you miss going to the drive-in theater.
ViewSonic PJD5533 WXGA DLP Projector
The ViewSonic PJD5533 WXGA DLP Projector features WXGA 1280X800 resolution, HDMI input, compatibility with 3D video formats, and a bulb that can produce 2700 hours and last up to 6000 hours in Eco Mode. It works with Windows 7 with Plug-and-Play technology and some of the early negatives some people noted in reviews must have been fixed by the manufacturer. Later reviewers commented that those negatives (rainbow effect and iffy Plug-and-Play were the main issues) were barely noticeable when they got theirs. It's easy to set up and use. It doesn't come with a lens cap, but the lens is recessed to help protect it from abuse. Some buyers recommended not skimping on a projector if you want real quality but liked that the price has come down on this one.
Optoma HD20 High Definition Home Theater Projector
The Optoma HD20 High Definition Home Theater Projector features 1080p HD resolution, 1.2X zoom, a bulb that can last up to 4000 hours in STD mode and project up to 1700 lumens and a 4000:1 contrast ratio. The fan doesn't produce a ton of noise even on standard mode and a lamp life of 4000 hours is pretty decent for an older projector in this price range. It doesn't exactly produce an IMAX-sized screen but you might well notice some details in your videos that you might have missed in the IMAX theaters. It works well with PS3 and XBOX 360 gaming. You can set it to automatically turn itself off after receiving no input after so many minutes. For less than $1000, getting 1080p projection is pretty impressive.
Epson EX3220 SVGA 3LCD Projector
The Epson EX3220 Projector sports an output of 2800 lumens with a resolution at 800X600 and is better suited for presentations. It's portable at a lightweight 5.1 pounds and is easy to set up and operate. Selecting the input is simple; just push the Source Search button and it will automatically detect input methods. It has a Kesington lock slot for people who worry about somebody walking off with their projector. It can also be password-protected. If you want a longer bulb life along with cooler and less noisy operation, stick to Eco Mode for a bulb life up to 5000 hours. You can tweak the color setting to your liking and upload a logo or similar image for the startup screen.
More Projectors on eBay
Unfortunaly, this xml/rss feed does not work correctly...