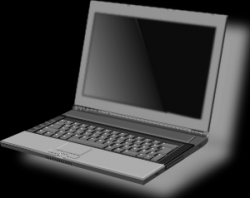 So you're looking for a new laptop because your last one finally tanked from its chronic overheating problem. You just want to make sure you choose one that can handle your usage, especially if you're a gamer who earns the money to pay for your gaming habit by mining cryptocurrencies when you're not actually playing your favorite online games. So I went through and picked some of the top laptops on Best Buy for your consideration. To avoid accusations of operating system favoritism, I picked a nice spread of Windows, Apple and Linux so you can choose your favorite. Have fun, shop around and if you're partial to one laptop model over another, be sure to let me know and I'll try to find it on Amazon.
Alienware has a reputation for creating badass gaming computers and this selection with a 14″ screen, 8GB of RAM that is expandable to 16GB, 2.5GHz processor speed with Turbo Boost up to 3.1GHz, and a 750GB hard drive is no different. Like most Alienware laptops, this one has what it takes to handle your gaming needs. Gamers who know laptops commented that this is one of the most reliable they've seen with hardware that can handle music and graphics beautifully.
This selection from the ASUS Republic of Gamers lineup boasts a 2.4GHz processor speed with Turbo Boost up to 3.4GHz, 12GB of DDR3 RAM expandable to 32GB, a 1TB hard drive designed for fast read/write times, and 2GB GDDR5 dedicated video memory. Gamers who are familiar with the Republic of Gamers line like their long battery life and ability to handle fast-moving games with complex graphics without a problem.
Though not a gaming computer, this is a decent selection for when you want to take care of some basic everyday tasks while on the go. While there were comments that this wouldn't be a "Mac Air-killer," users liked its responsive keyboard and non-glare screen. Gripes included the fact that the battery life wasn't as long as the Macbook Air and one reviewer recommended using the "double-tap" feature instead of the right-click key. Overall, most reviewers thought this was a good option for the price.
With 256GB of flash memory and 8GB of RAM, this Macbook is a good pic for Apple enthusiasts who are looking for a good new laptop. It has a sweet retina display that makes it popular with people who work with graphics a lot.
As the name implies, this Best Buy exclusive is a good option for tapping out ideas before you lose them. It has a touchscreen, 128GB solid state drive with no moving parts that can wear out, and a screen that can rotate into laptop, tablet, tent and stand modes.
You know your favorite operating system has not yet gone mainstream when you can only find one or two options on Best Buy. However, this selection from Acer features Linux LinPlus, a 1.5GHz processor, 4GB RAM, and a 500GB SATA drive.
Linux Laptops on eBay
Unfortunaly, this xml/rss feed does not work correctly...