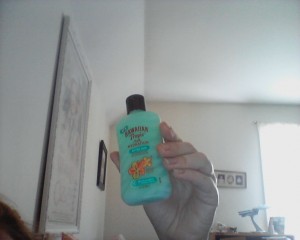 So I got this box in the mail a couple of days ago. Of course I was curious – Influenster had been promising me some free samples and it looks like they finally got here. I took a pair of scissors to the tape and opened it up. Contents included a drinkable pain reliever called First Aid Shot Therapy which will be useful for the next time I get a really bad pain in my neck, a bottle of Hawaiian Tropic Silk Hydration After-Sun lotion for moisturizing and cooling the burn, a bottle of professional bright orange nail polish from SinfulColors, some tubes of Not Your Mother's Beach Babe Shampoo & Conditioner, and a coupon for a free Jamba Juice Smoothie Kit of my choice. (Only thing missing was the mascara and/or the coupon for it, not that I care much really. I would've just given it to my sister who's a much bigger fashion freak than I am.)
This is sweet. Of course I promptly put the First Aid Shot Therapy in the medicine cabinet next to the Advil so I'll know where it is when I really need some pain relief. The coupon for the Jamba Juice gets put in my purse so I can use it next time I visit Wal-Mart. The rest gets saved for the next time I'm out in the sun long enough to get a sunburn and need products like that. It's still summer, so it could still happen.
I really hope that the Influenster team isn't too disappointed that I'm not using them right away. As a content writer, I know from experience how difficult it is to write a review for a product that I haven't actually tried yet. It comes off sounding like I'm just rehashing other people's reviews. But I promise I'll get that in during my next beach vacation. Until then, I managed to find a few interesting facts about the companies involved.
First Aid Shot Therapy: The company shorten this as F.A.S.T. and has exactly two products. One helps with pain and the other helps with upset stomach. It claims to start working within minutes for people with intense lifestyles who have a tendency to be sore all over at the end of the day or suffer from frequent upset stomachs. While the ingredients are approved by the FDA, apparently it's not available everywhere and their website couldn't find any stores within 50 miles of my location.

Hawaiian Tropic: The makers of the Silk Hydration After-Sun lotion are all about protecting your skin from the effects of the sun when you're out having fun. They've got sunscreens that go up to SPF 50, tanning lotions, and the lotion I got is one of their after-sun products with a Coconut Papaya fragrance. They even have some tips for using their products as part of protecting yourself from the harmful effects of the sun right on their website.
SinfulColors is best known for its boldly colored line of nail polish. The bright orange selection I received is toluene, formaldehyde and DBP free, a reassuring statement in a world where you don't always know exactly what's going into the creation of beauty products. The people behind SinfulColors developed their products for use in professional beauty salons, yet manage to keep their prices as low as $1.99 in a field full of high-priced luxury brands.
Not Your Mother's Beach Babe Shampoo & Conditioner: Ulta Beauty is behind this one and, at a convenient travel size, this shampoo and conditioner set will be going with me on my next beach vacation. Ulta Beauty isn't just behind beach products for the ladies. They also have a respectable lineup of beauty products.
Jamba Juice:You might have seen a Jamba Juice location near you and even tried one of their delicious smoothies. With this free Jamba Juice smoothie kit, I can create fruit and vegetable smoothies just like I would get at any Jamba Juice location. These guys don't fool around when it comes to making healthy smoothies and you shouldn't, either.
So, basically, this is a cool kit for summer. Thanks, Influenster, and I'll be sure to write those reviews as I use the products.