Have you ever gotten tired of the same old recipes? I don't blame you. Seems like there are only so may ways you can make green bean casserole. However, you can break away from the same old food routine with new recipes out of cookbooks you've likely never heard of. Why are they so obscure if they're so good? Well, these cookbooks are published by "indie" authors who likely don't have the marketing budget of the heavy hitters in the book world. Readers in their local community might be familiar with them from their appearances in local bookstores, but they aren't likely to be going on a nationwide tour anytime soon. All they really need is to connect with people just like you who want a new adventure in food. So here's a list of ten of the best.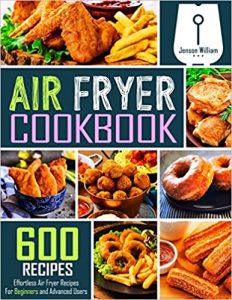 So you've seen these new things called air fryers and are wondering what you can do with them. This cookbook shows you how to create dishes for breakfast, lunch, and dinner that are almost as good as what you can get out of a deep fryer with less fat. You can even create vegan dishes with an air fryer just by following the instructions in this book.
What's breakfast without pancakes, biscuits, waffles, or at least a bowl of your favorite cereal? If you can't eat grains for whatever reason, you probably think you're stuck with just making bacon and eggs for breakfast. However, you can break that cycle of thought and enjoy your favorites while still avoiding grains with this cookbook.
This one was written by a Southern woman who married an Italian man. That calls up images of good food, doesn't it? This cookbook will not disappoint. The instructions are easy to understand, there's pictures of every recipe and it's an all-around excellent blend of Southern and Italian cooking.
This is a reprint of a cookbook that was popular before Chinese restaurants became widespread in America. I do enjoy supporting that little restaurant in the corner as much as you do, but if you've ever wanted to enjoy Chinese and Japanese food while skipping the MSG, this is a good cookbook to have on your shelf.
Do you still have a freezer full of venison from the last hunting season? If so, I wouldn't be surprised if you're running out of ideas. This cookbook is a must-have if you're looking for new ways to prepare that venison in ways that the hunters in your family will love.
You'd be surprised by how versatile crepes are. They can be used as wraps for just about anything from breakfast recipes to savory appetizers. How many recipes for crepes do you already know? This cookbook will provide more.
As you might guess, this was written by the descendant of Czech immigrants. She shares both traditional recipes and interesting stories about the history of poppy seed and the Kolach.
Have you ever wondered how professional cake decorators get their frosting absolutely perfect? This book answers some of the most commonly asked questions about cake frosting and decoration that you might have thought was an arcane art. It takes practice, but pretty soon, you'll be the one getting questions about how you got the frosting on that wedding cake so smooth.
This is another reprint of another old but still good cookbook, this time from 1907. It contains some excellent suggestions for serving oysters, some of which I didn't know that I didn't know. Next time you're hosting an upscale affair that seems to call for oysters, try out a few of these recipes and impress your friends.
It's not easy to be a vegan when all the main dish recipes you can find involve some level of cooking. To make your life easier, this cookbook features 20 delicious, raw main dishes.