Casio GA710
Casio G-SHOCK announced the new premium variation of the GA700 base model, the GA710, in the new Garish Color Series which features a metal front button and stainless steel buckle, along with a metallic dial on the face. The new models with garish coloring create the image of the accessories or fashion items worn by b-boys.
First introduced in the fall of 2016, the GA700 model features a front button case design and 3D bold hands on the face, for a dynamic, tough look. The GA700 and GA710 models come equipped with standard G-SHOCK technology, including 200M water resistance and shock resistance, in addition to a high-brightness super illuminator LED light, 3D bold hands, World Time (31 time zones / 48 cities + UTC), 4 daily alarms and 1 snooze, 1/100th second stopwatch, countdown timer, 12/24 hour formats, and a 5 year battery.
The GA710GB-1A will retail for $150, and the GA710-1A and GA710-1A2 for $130. The GA700-7A and GA700-2A will retail for $99. All models will be available beginning in March 2017 and can be purchased at authorized retailers like Bloomingdale's.
G-Shock GA110 Layered Neon Color Series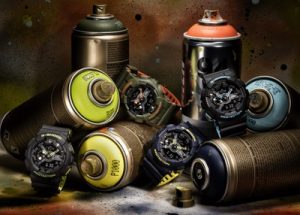 Casio has also unveiled the new Layered Neon Color series, which styles the GA110 model with a dark base accented by vibrant neon colors just in time for spring. Developed using a bi-color molding process to showcase the various hues in the design, each watch includes an overall matte finish, layered with pops of color on the buttons, face, hands and underneath the band. This style was inspired by the bright colors found on sneaker and athletic apparel to highlight the ability of G-Shock watches like these to keep up with everyday athletic activity without letting you down.
The GA110LN-1A, GA110LN-2A, GA110LN-3A and GA110LN-8A will retail for $120 beginning in March 2017, and can be purchased at major G-SHOCK retailers, including Bloomingdale's, shopcasio.com, and the G-SHOCK Soho Store.
G-Shock Watches on eBay
[ebayfeedsforwordpress feed="http://rest.ebay.com/epn/v1/find/item.rss?keyword=%28G-SHOCK+watches%2CCasio+G-Shock%29&sortOrder=BestMatch&programid=1&campaignid=5337337555&toolid=10039&listingType1=All&lgeo=1&feedType=rsshttp://rest.ebay.com/epn/v1/find/item.rss?keyword=%28G-SHOCK+watches%2CCasio+G-Shock%29&sortOrder=BestMatch&programid=1&campaignid=5337337555&toolid=10039&listingType1=All&lgeo=1&feedType=rss" items="10″]