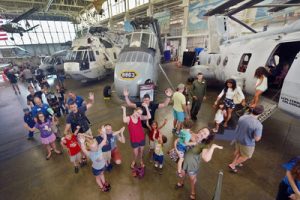 Families, aviators, and kids of all ages got up close and personal with aviation today, climbing into the open cockpits of many of the historic aircraft in Hangar 79 at Pacific Aviation Museum Pearl Harbor. The event was the Museum's annual "Open Cockpit Day," and more than 800 people attended.
"Open Cockpit Day" featured pilots, ground crew, military volunteers, and women pilots commemorating Women in Aviation and Women's History Month. Guests talked with aviators who shared their love of aviation. The world's first licensed armless pilot Jessica Cox made a guest appearance.
Flight suits and helmets were provided for pictures. Re-enactors such as WWII favorites "Rosie the Riveter" and W.A.S.P. pilot "Cornelia Fort" shared historic stories and posed for photos with guests. In Lt. Ted Shealy's Restoration Shop, guests were taught to shoot a rivet to learn how aircraft are assembled. The US Air Force offered a Tactical Air Control Parties (TACP) booth where guests could send and receive using military radios.
The Museum has more than 50 in their aircraft collection of iconic warbirds, jets, and helicopters. Open today were the CH-46 Sea Knight, OH-58 Kiowa Warrior, SH-60 Seahawk, RC-3 Seabee, C-47 Gooney Bird, F-5 Freedom Fighter, and the F-111 Aardvark. Newer displays include the F-16A Fighting Falcon, which arrived in July 2016.
F-16 Fighting Falcon
Pacific Aviation Museum Pearl Harbor is a 501(c) (3) non-profit organization. Its mission is to develop and maintain an internationally recognized aviation museum on Historic Ford Island at Pearl Harbor that educates young and old alike, honors aviators and their support personnel who defended freedom in The Pacific Region, and to preserve Pacific aviation history.
Aviation History on eBay
[ebayfeedsforwordpress feed="http://rest.ebay.com/epn/v1/find/item.rss?keyword=%28aviation%2Caviation+technology%2Caviation+museum%2Caviation+history%29&exclCategoryId1=281&sortOrder=BestMatch&programid=1&campaignid=5337337555&toolid=10039&listingType1=All&lgeo=1&feedType=rss" items="15″]