Roland DGA Introduces New Dental 3D Printer and Dental Mill with Automatic Disc Changer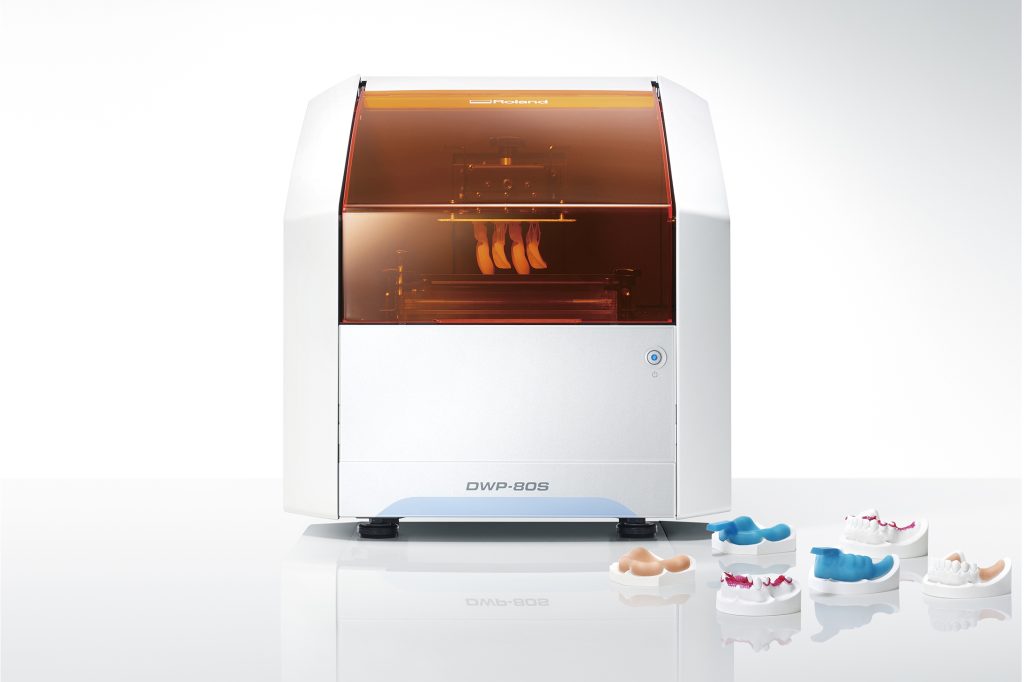 Roland DGA Corporation, a leading provider of dental milling devices, has released two new products – the DWP-80S dental 3D printer, and the DWX-52DC with Automatic Disc Changer, the company's most advanced dental mill to date.  With the simultaneous launch of these exciting products under the company's new DGSHAPE brand, Roland becomes the first and only manufacturer in the U.S. dental lab industry to offer both additive (3D printing) and subtractive (milling) technologies.
Roland's DWP-80S dental 3D printer is bundled with new feature-rich, user-friendly Quick Denta software, ideal for the creation of 3D-printed prosthesis such as custom trays, denture base plates, and partial frameworks for casting. Components of all types can be printed in three steps using the pre-configured workflow wizard. Optimized settings make it a perfect solution for users of all skill levels. The DWP-80S digital production method intelligently determines the way components are positioned for printing, creates the ideal layout of support points, and adjusts for material shrinkage. In addition, the DWP-80S boasts a large (80 mm x 80 mm x 80 mm) work area, allowing for the simultaneous printing of multiple units*.
According to Dwight Blair, Roland DGA's product manager of dental solutions, the DWP-80S is engineered to streamline the fabrication of dental prosthetics like dentures. "Traditional denture fabrication relies heavily on manual processes, which require a tremendous amount of labor, skill and years of know-how," said Blair.  "The new DWP-80S is a game changer in that it helps automate several of the most technical and precise parts of the fabrication process. Automating this dying art will allow labs of the future to keep up with existing customer demands."
Since the launch of the first Roland DWX series device in 2010, Roland mills have contributed greatly to the widespread digitalization of dental restorations, gaining industry recognition for their desktop size, simple operation, robust reliability and open architecture. This open architecture allows users to integrate the new DWX-52DC dental mill into their existing workflow with popular scanners, software and the latest materials. The new DWX-52DC is also equipped with a host of cutting-edge features that further automate the digital production process, taking performance, accuracy, efficiency and ease of use to an even higher level.
The DWX-52DC features a newly-developed Automatic Disc Changer that holds up to six discs and allows labs to maximize productivity by milling precision dental restorations unattended. A variety of indications, including copings, crowns, full bridges and abutments, can be produced simultaneously with confidence, using a range of materials. Users will appreciate the built-in 15-station Automatic Tool Changer (ATC), which replaces tools without interruption, for optimum efficiency. An Intelligent Tool Control (ITC) function enables automatic swapping-out of used burs, while included Virtual Machine Panel (VPanel) software offers easy production and device monitoring,
With its sturdy and efficient ball screw-driven 5-axis machining, the DWX-52DC supports complex restorations with undercuts. It also eliminates air control errors during milling by automatically changing air volume based on the CAM material used.  The versatility of the DWX-52DC allows users to choose from a wide selection of materials, including multiple zirconia shades, wax, PMMA, composite resin, PEEK, gypsum, Chrome Cobalt sintered metal, fiber-reinforced resin, and more.
Blair is quick to point out how both the DWP-80S 3D printer and the DWX-52DX will impact the industry. "The DWP-80S, Roland's first 3D printer specifically designed for dental applications, expands the field of digital dentistry, while the DWX-52DC ramps up automation to optimize dental restoration productivity and efficiency," he noted. "I have no doubt that the advanced capabilities of these new, state-of-the-art DGSHAPE products will help significantly improve dental fabrication."
For more information on Roland's new DWP-80S dental 3D printer and DWX-52DC dental mill, visit www.rolanddga.com/dental.
* Approximate number of simultaneously printed components: up to three custom trays, up to four base plates, and up to four frameworks (quantities may vary depending on the size of components).
Industrial 3D Printers on eBay
[ebayfeedsforwordpress feed="http://rest.ebay.com/epn/v1/find/item.rss?keyword=%28industrial+3D+printer%2Cmedical+3D+printer%2C3d+printer%2Cadditive+manufacturing+machine%29&sortOrder=BestMatch&programid=1&campaignid=5337337555&toolid=10039&minPrice=1000&listingType1=All&lgeo=1&feedType=rss" items="15″]