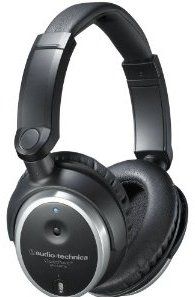 Do you frequently find yourself in situations with lots of loud or annoying sounds? We've all been there. It might be anything from that jackhammer you hear outside your window every day to that kid throwing a tantrum in the seat behind you in an airplane. In cases like that, it makes sense to have a good set of sound-muffling or, better yet, noise canceling headphones. These headphones actually create a firewall around your ears by emitting sounds that are the exact opposite of the noise going on around you. Sound strange? It did to me at first, too. Because noise is essentially a wave that moves through the air, it's possible to send out waves that are the exact opposite of the sound of that crying baby and the two waves will negate each other. If you get a chance, be sure to try a few pairs of noise canceling headphones so you can see exactly how well they work.
Audio Technica ATH-ANC7B Active Noise-Cancelling Headphones
The Audio Technica ATH-ANC7B Active Noise-Cancelling Headphones reduces external noise by as much as 90% along with closed-back earcups that deliver your favorite music right to your ears. Reviewers liked the durable construction and commented that these fit comfortably over their ears. It's good about canceling external sound though it doesn't beat Bose. Music quality is good without being too heavy on the bass. The Audio Technica isn't overly priced, either.
Bose QuietComfort 15 Acoustic Noise Canceling Headphones
A limited edition? Seriously, Bose, you're not selling collectibles. But, honestly, these QuietComfort 15 noise cancelling headphones look cool and are about as good as it gets when it comes to canceling sound. There were a few complaints about how cheap this pair of headphones felt for a $300 set and they're a bit on the small side. Operation is pretty basic with only an on/off switch. One reviewer learned the hard way that you get what you pay for when it comes to noise cancelling headphones. He bought a $30 set before buying these and found out that they weren't good enough for most noisy situations, so he "manned up" and bought these. He noticed the difference right away and stuck with his Bose headphones.
3M Peltor Optime 95 Noise Reduction Earmuff
The 3M Peltor Optime 95 Noise Reduction Earmuff can reduce noise by up to 21 decibels and is handy for situations where you want to be able to hear what's going on around you without going deaf. It's recommended for environmental noise up to 95 decibels, so you might want to upgrade to an active noise cancelling headphone set for that intense rock concert that's going to be pumping the base, but it's good for most situations. An aircraft mechanic liked this set for jumping from airplane to airplane while he kept them all up and running. It's also nice for people with a hearing condition that makes them hyper-sensitive to loud sound. These earmuffs are comfortable and low-profile enough for some people to sleep in.
JVC HANC250 Noise Cancelling Headphones
The JVC HANC250 Noise Cancelling Headphones features noise reduction up to 85%, double housing for sound isolation and on/off switching. Reviewers commented that these compare favorably to a similar pair of Solitudes with better sound isolation and good music quality with minimal hissing sound. This set only needs one AAA battery and a conventional cable along with audio play even when the battery dies. Replacing the battery can be a little tricky. For the cheap price, this is a pretty good set of noise cancelling earphones.
Vic Firth Stereo Isolation Headphones
The Vic Firth Stereo Isolation Headphones is designed for people who frequently work in high-decibel situations, including musicians and sound professionals. It is self-aligning for better fit and comes with a 6-foot straight cable. Reviewers commented that it doesn't eliminate all noise, but if you're pumping the bass at 120+ decibels you shouldn't expect any set of headphones to block all of it and it does a creditable job of reducing the impact. The quarter inch adapter is handy for plugging into amps and keyboards. One drummer wondered how he ever managed to record a decent drum track without them. They're sturdy and you can't beat it for the price.
Direct Sound EX29 Extreme Isolation Headphones
The Direct Sound EX29 Extreme Isolation Headphones cuts environmental sound by as many as 29 decibels and can play music between 20 Hz and 20,000 Hz. People who tried these headphones commented that they can be a little tight at first, but they loosen up over time. They don't overwhelm with the bass; in fact, the sound quality can be somewhat flat throughout the entire range. People who wear them to NASCAR races and in noisy offices with heavy machinery running nearby report that they work good at reducing the sound level without entirely eliminate it. If you don't play music, you'll still be able to hear what's going on around you but the risk of ear damage is reduced.
Sennheiser HD-280 PRO Headphones
The Sennheiser HD-280 PRO Headphones can reduce the environmental sound by up to 32 decibels and features a lightweight ergonomic design and a 9.8-foot cord. This is not a large set of headphones and seems designed for people with smaller heads, but it delivers quality sound and it does well for reducing, though not entirely eliminating, outside sounds. While I don't recommend being rough on any set on headphones, they hold up better than many cheap headphones to occasionally being bumped or the cord being yanked because somebody forgot to unplug it before heading somewhere with these headphones on.
MEElectronics Sport Noise-Isolating In-Ear Headphones
The MEElectronics Sport Noise-Isolating In-Ear Headphones features a secure over-the-ear fit, six sets of earbuds for good fit and comfort, and seven cool color schemes. This is a nice set for people who don't want to mess with bulkier headphones. They do exactly what they're supposed to do and isolate sounds. The six earphones in different sizes are popular with people who have tried earbuds before and were less than impressed with the fit. It also delivers on the music side and is especially good at delivering that bass line. The headphones are plastic but durable and the cord should hold up as long as it's not repeatedly abused. For the price, it's an excellent set of headphones.
Audio Technica ATH-ANC23 QuietPoint Active Noise-Cancelling In-Ear Headphones
These ear buds work very well for quieting all but the most high-pitched or sudden sounds. While it isn't complete silence, it can help you deal with those daily repetitive sounds that have gotten on your nerves. Remember that every ear is different, so you may end up trying different sizes to find the ones that work for you, but they work very well for those times when somebody is running a jackhammer just outside your window and you want to reduce that to background noise.
CAD Audio DH100 Drummer Isolation Headphones
The CAD Audio DH100 Drummer Isolation Headphones can cut ambient noise by as much as 19 decibels and features foam cushions to provide the right blend of sound isolation and comfort along with high-output Neodymium drivers. These are a good set of headphones for the drummer on a budget and many drummers liked that they could actually record drum tracks along with their band. They are a few steps above a few mid-range headphones for build quality though one drummer wished that Amazon sold extra arms. The cord is a decent length, not so stretchy that you can walk all the way around the room with it but also not so long that it's going to get tangled up and possibly trip you. They're good at reducing, though not completely eliminating, outside sound and delivering impressive MP3 recordings.
More Noise Canceling Headphones
Unfortunaly, this xml/rss feed does not work correctly...