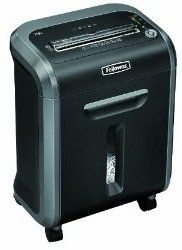 Has your shredder bit the dust recently, or do you know somebody who needs a good one? If so, you don't need me to tell you that shredders are a good option for trashing those unwanted credit card offers, ancient CDs that have been damaged beyond recovery, and those cards you don't want to use anymore. Shredders can reduce, though not entirely eliminate, the risk of having your identity stolen and they are also a good way to get rid of the documents that you absolutely don't want anyone to ever see. You just want to find one that's a good bargain and can hold up to those heavy-duty shredding jobs without jamming or giving out on you. So it makes sense to compare a few models like the ones below and consider what you really want in a shredder.
Advantages of a Shredder
Powershred 79Ci Medium-Duty Cross-Cut Shredder
The Fellowes Powershred 100% Jam Proof Cross-Cut Paper Shredder can handle up to 14 sheets of paper at a time and also features a 6-gallon easy-to-empty bin with time-saving sheet capacity indicator and a sleek modern design. It can work smoothly at higher capacities and periods up to 15 minutes without a problem. This shredder is also good about shredding credit cards and old CDs without a problem. It's pretty quiet though shredding things like computer disks will naturally make more noise. The included instruction manual could be improved with instructions on how to oil the shredder, not just when, though Fellowes is good about including a small bottle of oil with this shredder. The durability and capacity is good. It is a bit pricey but worth it if you plan on doing a lot of shredding.
The Comet Sheet Micro Cut Paper Shredder can handle between 13 and 15 sheets of paper at a time as well as credit cards, DVDs and paper clips and features quiet 58-decibel operation and a 1-year limited warranty. For the capacity, this is one of the quieter shredder models and it's easy to empty without making a mess. It's not quite one of those shredders that can turn paper into dust particles, but the small pieces it shreds things into is sufficient for most people's needs. The ability to handle up to 15 sheets of paper is pretty good. If you smell smoke while running it, you're probably overloading it. With the cheap price, it's a good bargain for a quality shredder.
Honeywell 6-Sheet Strip-Cut Paper Shredder
This Honeywell shredder can handle up to six sheets at a time and slice them into 7mm strips without much problem. It does have safeguards against overheating and overloading, so if it shuts down, wait about fifteen minutes and then try feeding fewer pieces of paper through it. Reviewers call it "nothing fancy" but like that it's good enough for light shredding needs.
With the capacity to shred up to nine sheets at a time, this shredder is created by a company that has a reputation for making quality paper shredding machines for home use. It can run for up to five minutes at a time with a fifteen-minute downtime in between uses and also boasts a safety feature that turns it off if fingers touch the moving parts. It is a bit noisy at 70 decibels — if you are at all sensitive to the sound of a running motor, you might want to consider a quieter shredder, but if getting rid of all those annoying credit card offers is more important than the noise, this is a good choice.
The Norazza DD3001 Data Destroyer is specifically designed for handling DVDs and CDs and can destroy up to 15 discs a minute. It will only take one at a time, though. This option absolutely destroys disks to the point where it's not likely that the data will be readable by ordinary means. This option also includes five software programs for stopping online nuisances like Spam. It doesn't actually physically shred the disc and leave tiny pieces everywhere. What it does is sort of melt the disc, causing it to curl up like a potato chip and become unusable. This is a good option for businesses where data security is a concern and you don't want to just throw away your old media.
HSM Securio B32S TAA Compliant Shredder
This Securio shredder is a good pick for businesses that have to shred sensitive documents on a regular basis. The shreds it creates meet TAA Security Level 2 standards. It is designed with a capacity of up to 30 sheets at a time and a power-efficient operation. A bit pricey? Sure it is, but worth it for the sake of making sure the documents you need to dispose of in a secure manner will not be reconstructed.
Royal RL170MX 29172A 17-Sheet Cross Cut Paper Shredder
With a 17-sheet paper capacity, this shredder can also handle CDs and credit cards. It has a decent 6.87-gallon bucket and is good about not jamming as long as you keep the capacity in mind. It seems to be on the high end for home-use shredders, but a 17-sheet capacity, easy disposal of old CDs and an alert when the bucket is full is pretty good for a home shredder.
This commercial-grade shredder doesn't fool around when it comes to handling those shredding jobs with mechanisms that prevent jams and sense paper thickness. It's a level-three shredder that can turn sheets of paper into confetti and also shred CDs, DVDs, credit cards and staples. It's easy to move around on four casters and reduces the mess associated with shredding with features that send shreds straight to the 22-gallon bucket without letting them fly around.
Dynex 10-Sheet Microcut Paper Shredder
With a microcut style that slices paper down to 1/8″ by 3/8″ pieces, this shredder makes your sensitive documents and all those annoying credit card offers so finely shredded that it would take a very patient identity thief to reconstruct them. It also handles CDs and DVDs with no problem. It does have a tendency to overheat if you use it for several minutes at a time, but it's easy to set up and handles old papers without making a lot of noise.
GoECOlife 10-Sheet Microcut Shredder
This shredder produces microcuts of 0.1″ by 0.4″ to practically eliminate the possibility that your old documents will be reconstructed. It's basically a small home-use shredder, so don't get into too much of a hurry and try to jam twenty sheets at a time into it, but it does a decent job of shredding ten sheets pretty quickly.
More Shredders on eBay
Unfortunaly, this xml/rss feed does not work correctly...